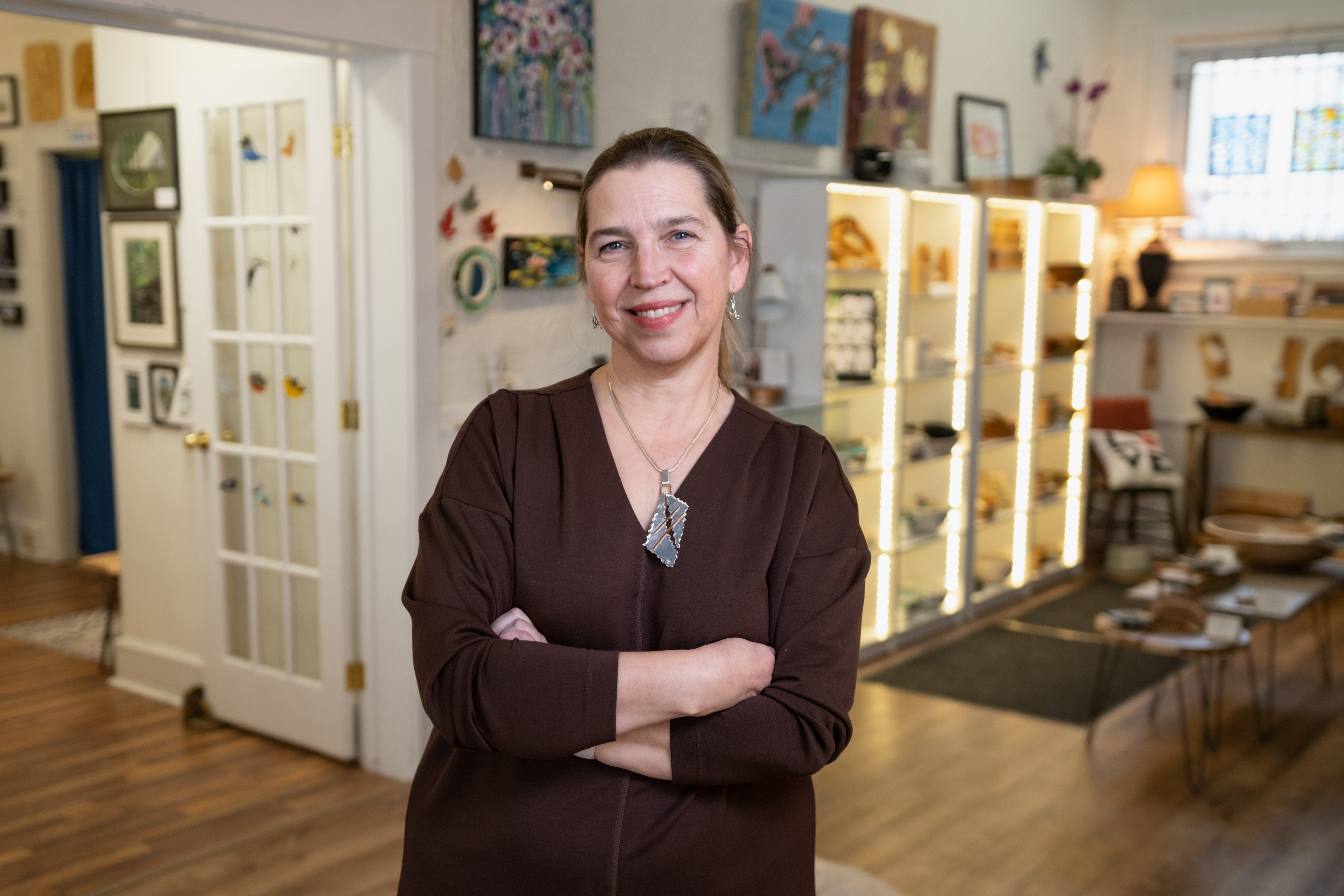 The stars align for a new business that showcases local artisans
Everything happens for a reason. That's Andrea Miller's take on life and, most certainly, the last few years of her life.
In 2020, like so many others, Andrea lost her job during the COVID-19 pandemic. At the time, she was devastated to leave a career that she had spent years building. While contemplating her next steps, she was unsure of what the next chapter might look like.
Running her own business was always something Andrea had in the back of her mind but she knew there were risks. It was unexpected, but suddenly, the stars aligned. She was shopping at one of her favourite stores that sold locally made artworks. She casually asked the owner if he'd ever thought of selling the store. Nine months later, Andrea was the proud, new owner.
Within two weeks of having the keys, she had reimagined, restructured and rebranded the shop to become a haven for exceptional artwork from local artisans. The Artisan District, located on Queen Street in downtown Fredericton, is now Andrea's focus and passion.
"I've curated a collection of woodcrafts, pottery, glassware, paintings, metalworks, fibre art and much more," says Miller. "I've chosen artists from throughout the Maritimes and I focus not only on their artwork, but who they are as a person."
Over the past few years, Miller notes, artisans have struggled, and she's keen to help them gain traction again by showcasing their works in her shop. 
"Right now, I'm working with about 70 artists of all kinds who have exceptional talents and beautiful pieces that I can display in a comfortable, accessible and aesthetically pleasing way for customers to browse through." 
Miller is a self-described relationship builder, which suits her new venture very well. She enjoys nurturing relationships both with her customers and with the artists. 
"It has to be a good fit," she says. "I get just as much joy from selling a $21 piece of art as I do from selling a higher priced piece of art, because in the end, it's what the customer wants and I've played a part in bringing them joy."
Miller says she had modest expectations for diving in and opening the shop, but business has been going very well since opening in September of 2021.
"The community has really showed up to support local businesses like mine, and local artists who represent our region."
When Miller made the decision to start her own business, she found CBDC Southwest, which helped to ease the growing pains of starting her own business. She was able to secure resources to ease the financial burden, as well as gain support for every step and hurdle she encountered along the way. 
"The self-employment benefit program helped me tremendously," says Miller. "There were various programs and business experts who were available to help and guide me through the process and these people truly cared about my success."
"I love that I can help our local artists bring their wonderful work to the public and I help my customers find that special something that makes them happy. That brings me joy."
When you stop by The Artisan District, your visit will include a warm and friendly greeting from Andrea and her trusty pal, Dory the dog. You'll then be engaged in a visual, tactile and distinct sensory experience that will also give you appreciation and knowledge about local artisans and their works.
"I am excited to continue to grow my business and support more creative and innovative artisans from the region," Miller says. "And I know CBDC Southwest will be there to foster my ideas, and for that, I am so grateful. I couldn't have done this without them."