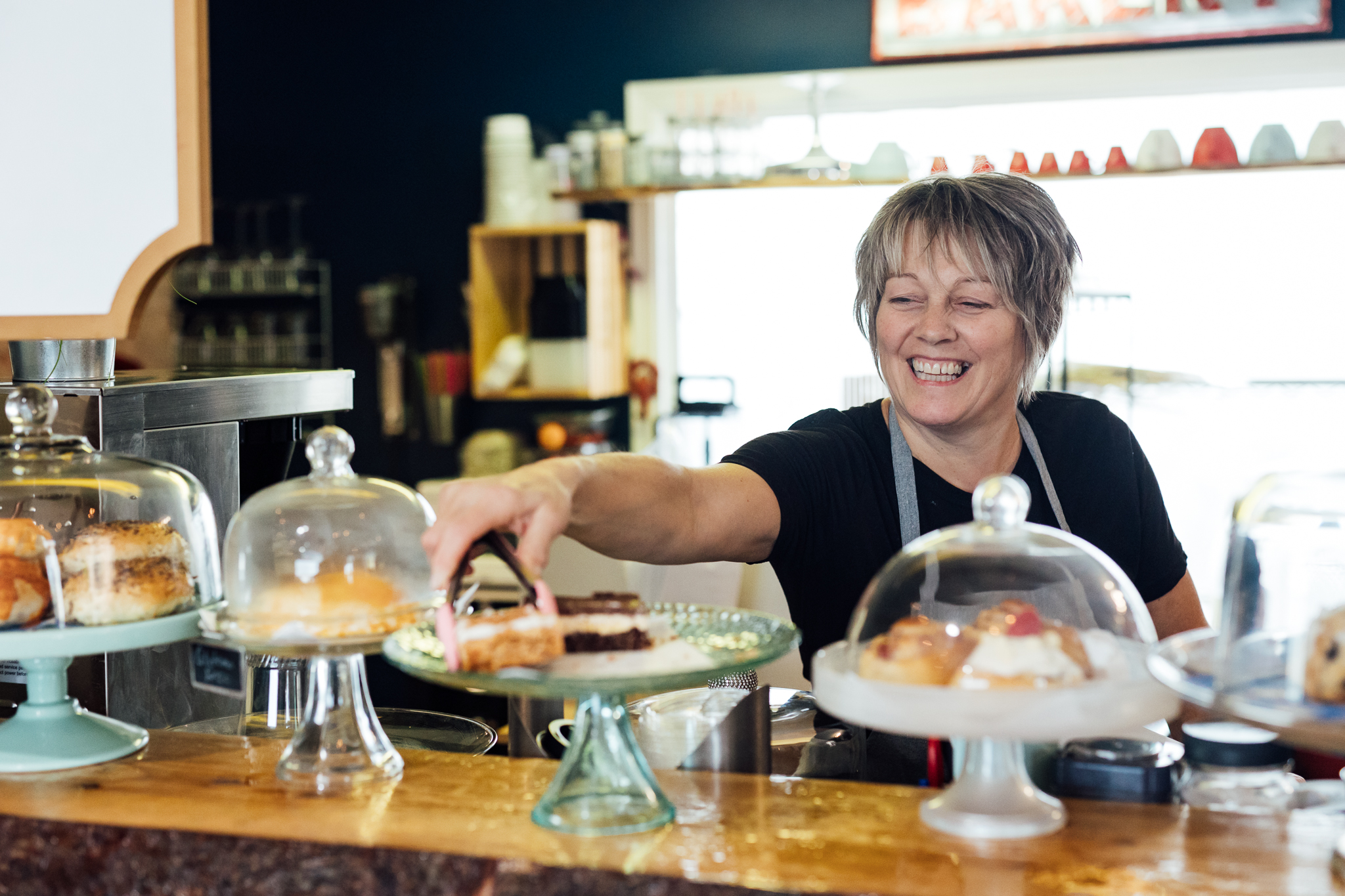 Ice Cream to Cafe Lattes: A mother's support gives life to a business of her own.
A business can be much more than a job. It can bring communities together.
The Front Porch has become a gathering place in Mulgrave, for families, friends, reunions of all kinds. Robin Keeping, owner of The Front Porch witnesses these emotional moments regularly and shared her experience, "there's so many hugs we see, it's very nice."
The waterfront cafe was an idea Robin had been contemplating for 10 years. She always thought someone else would do it.
"Mulgrave needed a place like this," she said. "There was no place in Mulgrave for people to sit and meet,"
When the town put the perfect waterfront location up for rent, Robin immediately knew it was the ideal location for her cafe. She consulted with Wanda MacDonald at the CBDC Guysborough County, after all, she had connections with CBDC, for years they assisted with her daughter's ice cream business.
When her daughters Katlin and Leah were attending Mulgrave Memorial School, they were given the opportunity to create a summer job with the help of CBDCs Students in Business program which awarded $50 loans to create a summer business. Together with a friend they pooled their money to start an ice cream business. "Travelling Treats" was born and with a wagon, a cooler and a supply of freezies and ice cream their mobile ice cream business was now rolling.
"Travelling Treats" eventually became the "Ice Cream Barn," when a small building was built on their property, once again with help from the CBDC. The girls were excited about making $20 in a day but often played Monopoly on the floor out of boredom, then business picked up and they were hiring people and managing lineups down the street.
"The last few years, they were just flat out," Robin said.
As Katie and Leah went off to university the younger sisters got older and took over the Ice Cream Barn themselves, Robin now found she had a little more time to pursue a business of her own. Combining the profitable ice cream business, the new waterfront location, and the support from CBDC, made a recipe for success, and Robin could confidently pursue her dream of a cafe — the Front Porch soon came to life.
"Nowhere else in Mulgrave would it have worked, I don't think," said Robin. "People come to get a coffee for the view. Just to sit here."
As people started visiting the cafe, bringing friends, and coming back regularly, Robin has been conscious of providing what the customers want. Originally, The Front Porch did not offer lunches but now they try to maintain an ever-changing menu. Occasional specialty events, like their "old-fashioned meals" have also proved to be a hit with the community.
"We have many businesses coming from here and outside the community," Robin said. "I'm shocked at how far people are travelling."
In the beginning, they tried to keep selling ice cream out of one of the windows, but it quickly became too crowded. The Ice Cream Barn was moved beside the café last summer, and a solarium was recently added to help accommodate all the visitors and regulars that Robin is so happy to serve.
Even with plenty of success, there are still challenges, whether it's the rising cost of food, or the main bookkeeper venturing to Australia for school. But luckily, Robin knows she can rely on the CBDC.
"When you call them, they're always willing to help," she said.
"I always tell friends and family, or anyone that's asking about a business, to go to CBDC first," Robin said. "There's so much less risk than going to a bank. The bank doesn't care. The CBDC cares."