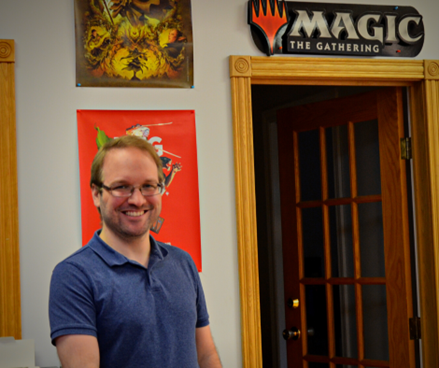 Sebastien Bilodeau – Next Level Games
Sebastien Bilodeau – Next Level Games
Who would have known that Sebastian Bilodeau's middle school hobby would evolve into the business he now runs today?  "Magic the Gathering", also known as "Magic", is a multiplayer boardgame using cards that require strategy and political maneuvers to outsmart opponents.  It was first invented in 1993 but has since grown into a huge franchise complete with international tournaments, merchandise, game add-ons, and even video games.  For Sebastian, it also became a way to join like-minded communities.  He first discovered his love for "Magic" in grade nine when he and his friends would spend their lunch breaks and weekends hanging out at "Magic" shops in Summerside and Kensington.
This fondness for the game continued to connect him with new friend groups when he moved to Newfoundland for university, and again when he began working in a hotel in Hamilton post-graduation.  However, after discovering his aversion to working within the hospitality industry, Sebastian began toying with the idea of moving back to PEI and opening his own "Magic" store.  All these years, he had visited various retailers and received lots of feedback from fellow players on their likes and dislikes of the other establishments they had frequented.  Having this insight into the industry gave him confidence on how he could run his own store.  Although working in a hotel was not something he wanted to continue, Sebastian also recognized that the management skills he had developed during his employment had prepared him for starting his own venture.  So, with this idea, Bilodeau packed up his bags and moved home to pursue this dream.
Coincidentally, the only "Magic" shop in Summerside closed its doors just as Sebastian was opening his.  This provided easy access to an existing client base and created a new space for local "Magic" lovers.  More than anything, Bilodeau wanted to create a safe and welcoming environment for anyone who needed it, with products that were priced fairly.  Whether that meant they were just there to watch others play or paying to be in the tournaments themselves, he recognized this need within Summerside to keep youth off the streets and out of trouble.  While he hoped his store could also help him pay the bills, Sebastian wanted to provide an outlet for the Summerside population.
Being able to achieve this has given him a strong sense of success and continues to motivate him through the ups and downs that come with operating through a pandemic.  He largely attributes this success to the CBDC Youth Loan that helped him to pay for his first large inventory order, as well as some of the store equipment that he needed to set up.  In his own words "the CBDC loan helped to skyrocket me into having all of these products available, if I hadn't have had access to the loan, I wouldn't have been able to do any of that", he explained.
Today Sebastian runs Next Level Games where he sells games, cards, and snacks, with tournaments occurring a few times per week.  Customers also have the option to rent other boardgames besides "Magic the Gathering".  His dream for the future is to expand his services and create a space for any type of gamer.  Whether that be board games, table-top games, or Dungeons and Dragons role playing games, he wishes to incorporate them all into the Next Level Games experience.  Eventually, Sebastian also wants to hire an employee and find a larger location to accommodate more players.  But most of all, Bilodeau hopes to inspire others within the Summerside community to create their own fun locations, perhaps an arcade for instance, to create more inviting spaces for people looking for something to do.