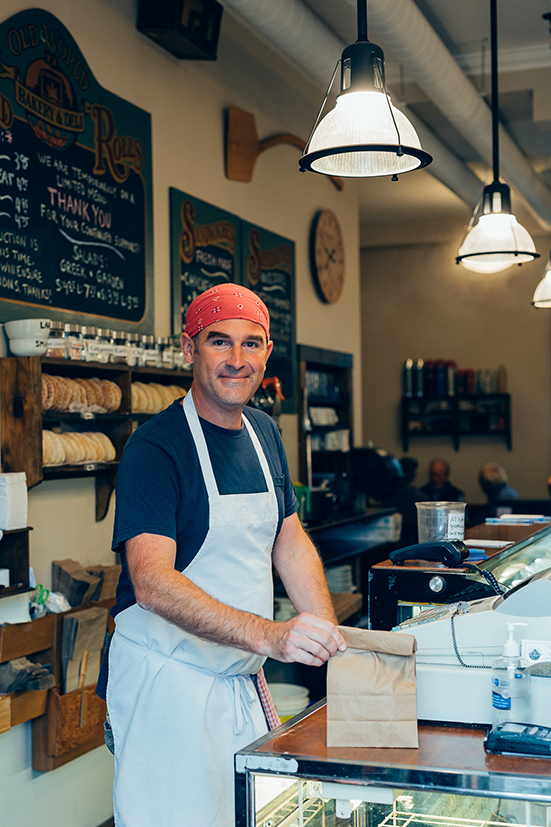 Old World Bakery, Yarmouth
Old World Bakery & Deli, located in Yarmouth, is a family-owned bakery and deli that focuses primarily on fresh-made sandwiches, soups, pastries and house-roasted coffee.
As owner, Nathan Bain's journey to entrepreneurship might be a little bit different than most.
He started as an employee of the Old World in 2008, and in 2012 he decided to lease the business. Eventually, he purchased the business in 2014 and began renovations of the new and permanent location in 2017.
Nathan's favourite part of his business is "the ability to come to work every day, with great staff, and so many great friends and customers. We do our best so that people enjoy their experience here and in return we've had the pleasure to, literally, watch our community, our friends, and our families grow."
When Nathan decided to move locations he turned to CBDC Yarmouth to provide funding to renovate the old Bank of Yarmouth and "take the history of the space and our vision for the bakery and fit them together as one."
His experience working with the CBDC was "great, not only pertaining to business but also because they are face-to-face people who appreciate and support the communities around them."
Nathan's advice to aspiring entrepreneurs "Ask lots of questions. The more information you have as you build the foundations of a plan can serve you well when the vision begins to become a reality."
Need help starting or expanding your small business?
CBDC Yarmouth offers financing, training and practical advice for small businesses. Contact them today at 902-742-5364 or visit www.cbdc.ca to learn more!