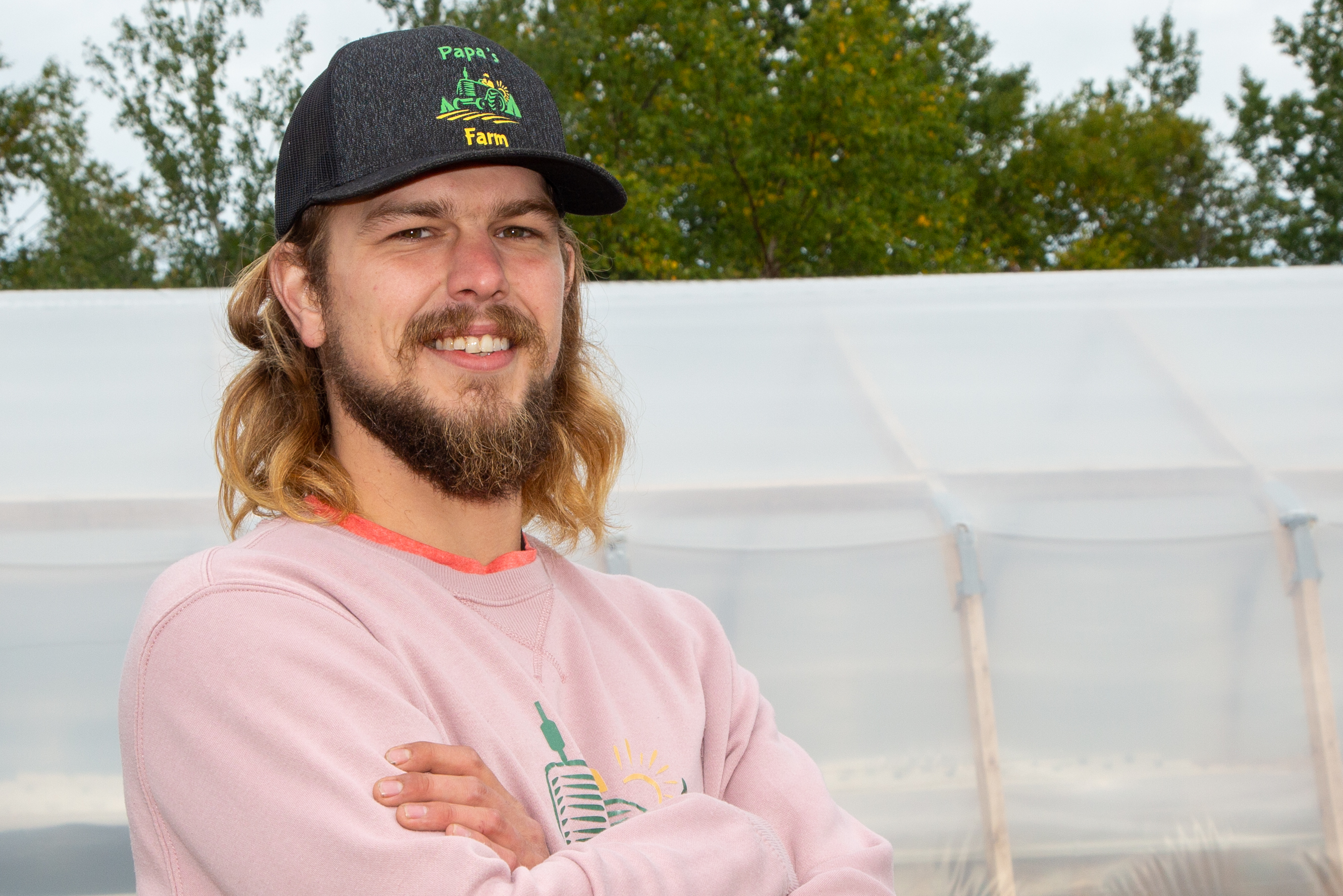 Growing sustainable success in Springdale, N.L.
Discover how CBDC Emerald helped Mackenzie Warford make his dream of improving his community's food security a reality in Springdale, Newfoundland and Labrador.
Mackenzie Warford's mission to improve Newfoundland & Labrador's food security through hydroponic greenhouses became a reality with the help of CBDC Emerald.  
To provide his community with an alternative to imported produce, Warford uses hydroponic greenhouses that pump liquid nutrients to PVC pipes to grow kale, lettuce, Swiss chard, herbs and more.  
"Technology with a rustic twist," explains Warford. "We deliver hydroponic produce year-round with the aim of reducing the need for imported produce by setting up greenhouses province-wide."   
To fulfill his goal of nourishing his community with high-quality vegetables, he sought the help of CBDC Emerald, located in Baie Verte with a satellite office in Springdale.   
Community Business Development Corporations (CBDCs) are not-for-profit organizations that support the success of small businesses in rural areas by providing financing, training, and advice to entrepreneurs.    
"CBDC has been the best possible route for me to start my first business. They helped me to achieve the goals I set out to fulfill and continue to support my growth to this day," says Warford. "I couldn't ask for a better ally than CBDC. Once you establish a connection, they work their best to see you achieve."  
Warford started Papa's Farm in 2021 with the help of CBDC Emerald's Youth Loan and a Kicks$art Loan.   
CBDC Youth Loan focuses on people aged 18 to 34 and helps them start their businesses, while the Kicks$art Loan provides low-interest loans of up to $5,000 for entrepreneurs under the age of 35.   
Warford says the people at CBDC became his rock––a place where he knew he could find the assistance he needed to make his business a reality.   
Papa's Farm focuses on the need for fresh, quality produce that provides an accessible healthy, nutritious option for people in his community.     
"The lack of quality we receive from produce in the grocery stores, especially during winter and out of growing season, is ridiculous. I've seen shelves empty before when the trucks have to stop running, and even when we get produce, it's not fresh," says Warford. "I saw a solution through hydroponic greenhouses, where I can grow year-round."   
To grow in Newfoundland weather is no small feat, and Warford spent hours researching hydroponics and greenhouse farming getting inspiration from similar projects in Northern Ontario.   
"Once I figured out we could do it at 40 below, I said, 'why aren't we doing it?'," he says. "The hydroponic system has many benefits like increased produce quality, reducing fuel emissions from delivery and farm equipment, making produce more available, and in turn bringing down costs while keeping money in our province."    
Since starting Papa's Farm, Warford and his co-founder have also launched a national organization––the Canadian Hydroponic Association––for hydroponic farmers to share information, tools and resources.  
They have also started teaching children the benefit of high-quality, locally grown and sustainable food through virtual school visits that aim to build self-esteem and encourage students to try growing.    
Warford says the best part of being a business owner is having the potential to change the way people in this province eat.    
"Increasing the amount of healthy food choices benefits everyone––including my children and grandchildren to come," says Warford. "I'm implementing, expanding and always learning. If there is something to learn, I will listen, prosper and persevere."    
This past March, Warford worked with CBDCs Youth Ventures program to create business-in-a-box––agriculture venture boxes to inspire the next generation of young farmers. The venture boxes provide a business start-up guide and the materials to plant your own indoor herb garden.    
Warford is looking to expand his hydroponic capabilities by growing root vegetables year-round.  
"We aim to impact the province and take hydroponics to its maximum level to benefit the community," says Warford.   
Story link: https://www.saltwire.com/atlantic-canada/more/custom-content/growing-sustainable-success-in-springdale-nl-100839387/