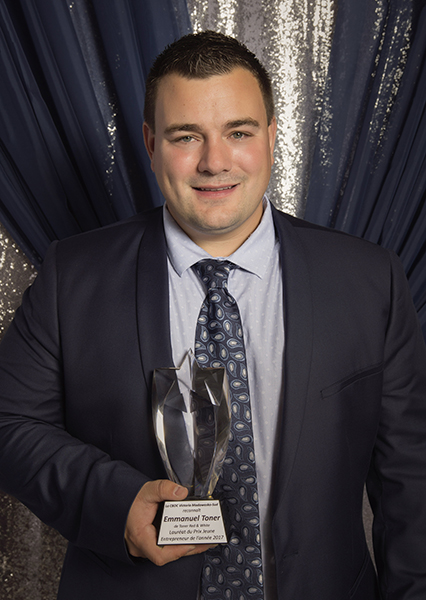 Young Entrepreneur Mission
Emmanuel Toner, 30 years old and winner of the 2017 Young Entrepreneur of the Year Award in the Grand Falls region and owner of Toner Red & White, since 2012, a family business that he bought entirely.
Emmanuel became self-employed around 2007 when he started his first business. During high school, Emmanuel set up his first business, which was a pressure washing company. He is currently the owner and operator of a grocery store in the Grand Falls region and has recently ventured into retail of recreational and commercial trailers, having a long term goal of expanding his inventory in order to encourage the population to buy local. Emmanuel and his team always prioritize customer service by providing their customers with personalized service and by accommodating them 365 days a year. Customer satisfaction remains an important value for Toner Red & White that is passed from one generation to the next.
The business works as much as possible in conjunction with local entrepreneurs by selling many of their products in-store. This is what distinguishes Toner Red & White from its competitors. In addition to offering a range of local products in-store, Toner Red & White offers ready-to-eat products as well as tailor-made meat cuts to accommodate their customers. Toner Red & White is a well-established business that has a major impact on the growth of the local economy of the Grand Falls region. The company presently employs 15 individuals and has a long term objective of hiring additional staff to eventually offer a wider selection of products in store.
In order to modernize the business Emmanuel and his team have put lots of efforts into turning to the Internet for all aspects related to promotion and advertisement of the business. You can now find the weekly flyer on their Facebook page as well as other relevant information in regards to the business activities such as contests.
With their recent efforts into transitioning to the Internet to better communicate with their clientele and their recent expansion into retail of recreational and commercial trailers they are certain to positively respond to their mission of providing personalized and quality service. Innovation is key in order to keep your customers satisfied.