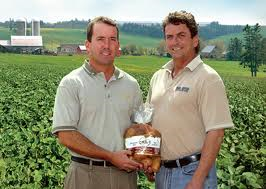 W. P. Griffin
W.P. Griffin Inc. is a family owned and operated farming and packaging facility located in Elmsdale, Prince Edward Island. Their farming business has grown to be a leading producer in specialty potato products.
John Griffin, President of W.P. Griffin Inc., acts as General Manager in charge of administration and oversees the farming and packaging operations. Peter Griffin is the Vice-President and Operations Manager in charge of the packaging warehouse and the farming operation. W.P. Griffin Inc., which was founded by John and Peter's father, Wilfred Patrick Griffin, presently farms 1,100 acres of potatoes, 1,050 acres of grain, and 400 acres of hay.
W.P. Griffin Inc. approached CBDC West Prince Ventures in September, 2004 when they were seeking to modernize and expand their potato packaging facility. Through the technology and development fund, financing was approved to expand the business with the development of new packaging concepts and technology upgrades for an existing market.
Today, W.P. Griffin Inc. packages many different types of potatoes in various sizes of traditional paper, poly, mesh, and poly-mesh bags under brand names such as Griffin, Dole and Bud the Spud. Thanks to the help of their local CBDC, W.P. Griffin Inc. has been able to position themselves as a National leader in providing fresh potato meal choices for their customers.
When John and Peter Griffin were asked about the benefits of working with their local CBDC they stated "they're located in our community", "and they understand our business needs". "W.P. Griffin highly recommends the CBDCs".