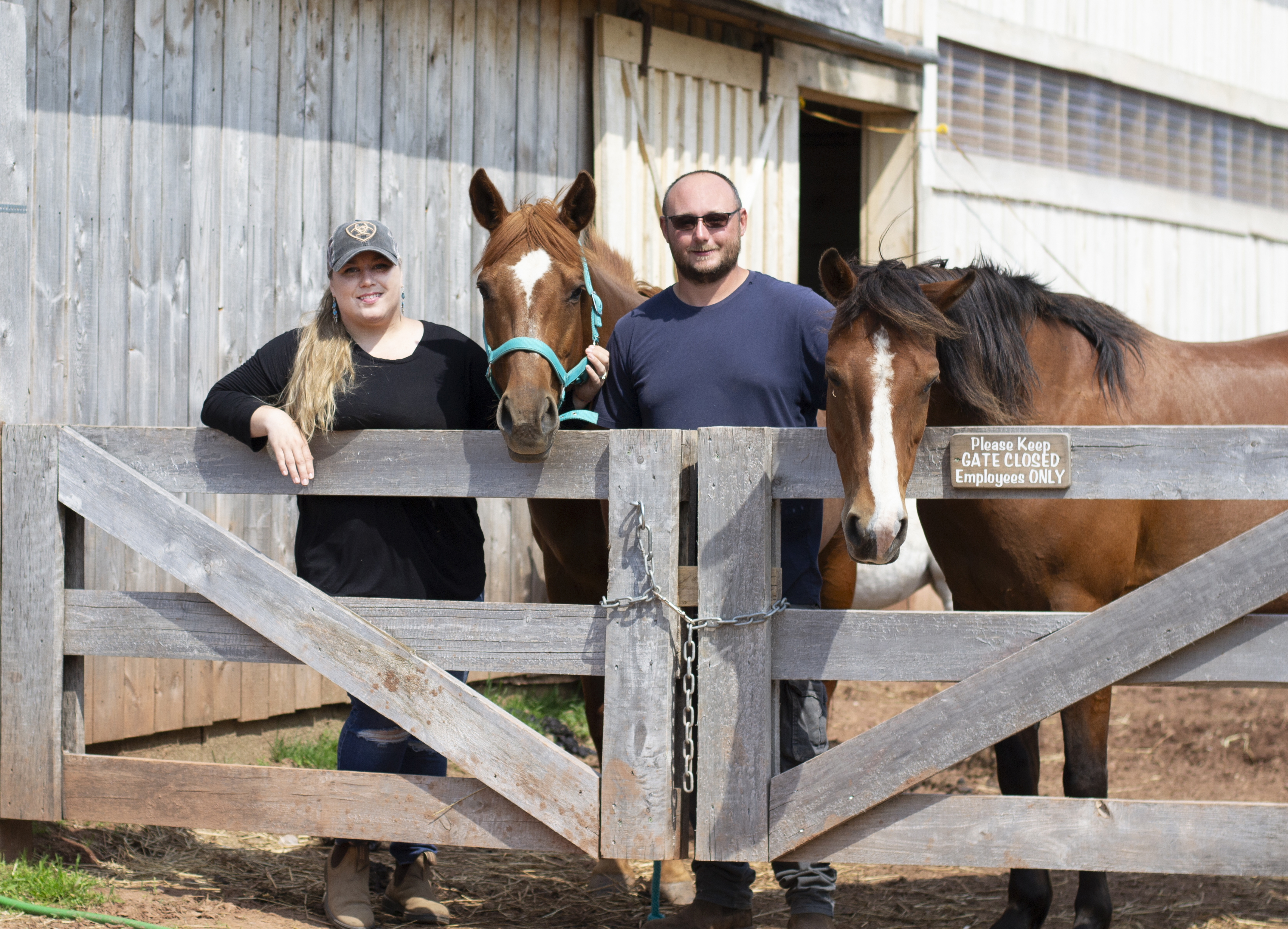 If you find yourself near Tyne Valley in PEI be sure to stop by Whispering Hope Farm on Ellerslie Road.
During covid many people, especially children, longed to be outside. Tired of being cooped up and yearning for contact Kayla MacIntyre's children were struggling with isolation. It was affecting their mental health.
Living on a small farm allowed some freedoms and the purchase of 2 horses became a healthy outlet that kept her children outside, occupied and learning the valuable lessons of responsibility and compassion. It was the best therapy. After sharing photos on social media of her happy children, she began fielding inquiries from family and friends – could they come by too?
As rules relaxed and it became feasible to share the farm, those family and friends benefited from the healthy interaction. The horses, the animals, the farm, the experience, it all proved to be very therapeutic. It gave people hope and the farm grew during that time to include goats, sheep, ducks, pigs – a full menagerie.
Her children benefited emotionally and mentally from the experience of interacting with animals and it was when the mental health of others improved that Kayla and her husband Cody were inspired to open the miniature petting farm to the public. With each animal having a different 'feel' it meant they could also function as a sensory farm.
Enter CBDC Western PEI. As a larger operation required a larger barn, there was a need for financial assistance. Kayla noted, "CBDC allowed me to bring my dreams to a reality, by providing me with a small business loan to build a barn for my animals as well as a warm room where a bathroom, kitchenette and art studio will be."
Then the adventure began, in the fall of 2021 the farm opened to the public and Kayla and Cody have not looked back. When asked, why Community Business Development Corporation (CBDC) and not the atypical bank Kayla chimed, "I choose CBDC for my loan because they provide small businesses support and guidance for operating a small business." 
Fast forward to 2023 and soon the kitchenette, bathroom and art studio will be complete and help with the initiatives that have grown since opening: Christmas on the Farm, Day Camps, Summer Camps, Art Camps, visits from schools and organizations, even a travelling farm exhibit or birthday petting farm – they welcome all to the farm but if requested they will also bring the farm to you.
With certification from the 'Mindfulness with Animals' workshop, Kayla teaches others how to enjoy the farm in a mindful manner – being in the moment, enjoying the experience of engaging with an animal, entering their home, and making that connection. It is extremely rewarding for children who participate in the 'Mindful me Camp' to learn about their emotions, horse behaviour, building healthy relationships, meditation, journaling and expressing through canvas and enjoying outdoor play. From petting farm, after-school programs, academic learning, special events, birthday parties to soap, Whispering Hope Farm has become a passionate family enterprise.
Add that Kayla has recently earned additional certification as an Equine Assisted Learning Facilitator, and she is excited to see where this new avenue of therapy with animals takes her little farm – CBDC is too.