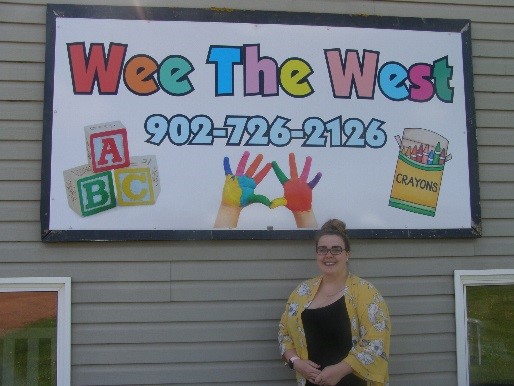 Wee the West Childcare - Kati Melville
On September 4, 2018, Kati Melville opened the doors to her newly Licenced Early Learning and Childcare Centre "Wee the West." Kati has been actively involved and working within the early childhood sector for nearly 10 years. Her education background includes a Bachelor in Child and Family Studies at the University of Prince Edward Island and Early Childhood Education Diploma at Holland College.  She has a strong passion for working with children which has led to her opening Wee the West Childcare, located on 44 Gard Road, Bloomfield, PE.
Kati reached out to CBDC West Prince Ventures with her business plan and through CBDC's financial assistance, she was able to turn her business idea into a career. "The CBDC helped me and my business; Wee The West Childcare financially. They supported me during the process of the purchase of my facility, and the start-up materials to operate a Licensed Early Learning and Childcare Centre under the province of Prince Edward Island. I am grateful for the CBDC because their financial support allowed me to inspire the lives of children and family within the Western Region of Prince Edward Island." 
As an entrepreneur, she enjoys the ability to implement policies in the best interest of each child at the Centre and to ensure that every child receives what is needed from their educators. Kati ensures that at Wee the West, it is a child led learning environment and teacher support to help children learn and grow while gaining experiences and skills needed to strive. 
Kati finds being an entrepreneur and working with children is very rewarding. After opening Wee the West 9 months ago, the Centre currently has 9 employees and 45-50 children daily. The childcare spaces are limited for new children, as the Centre is licenced for 50 children. Wee the West has extended service hours, 6 am to 6 pm, to accommodate the needs for working families; such as seasonal workers, shift workers, and those that need to travel long distances for work. Wheelchair accessible renovations have begun at the childcare centre, to include all persons and families. 
"I believe inspiring the lives of children and families within the working Western Region truly is the most rewarding career I could ever have." – Kati Melville, Owner of Wee the West Childcare.