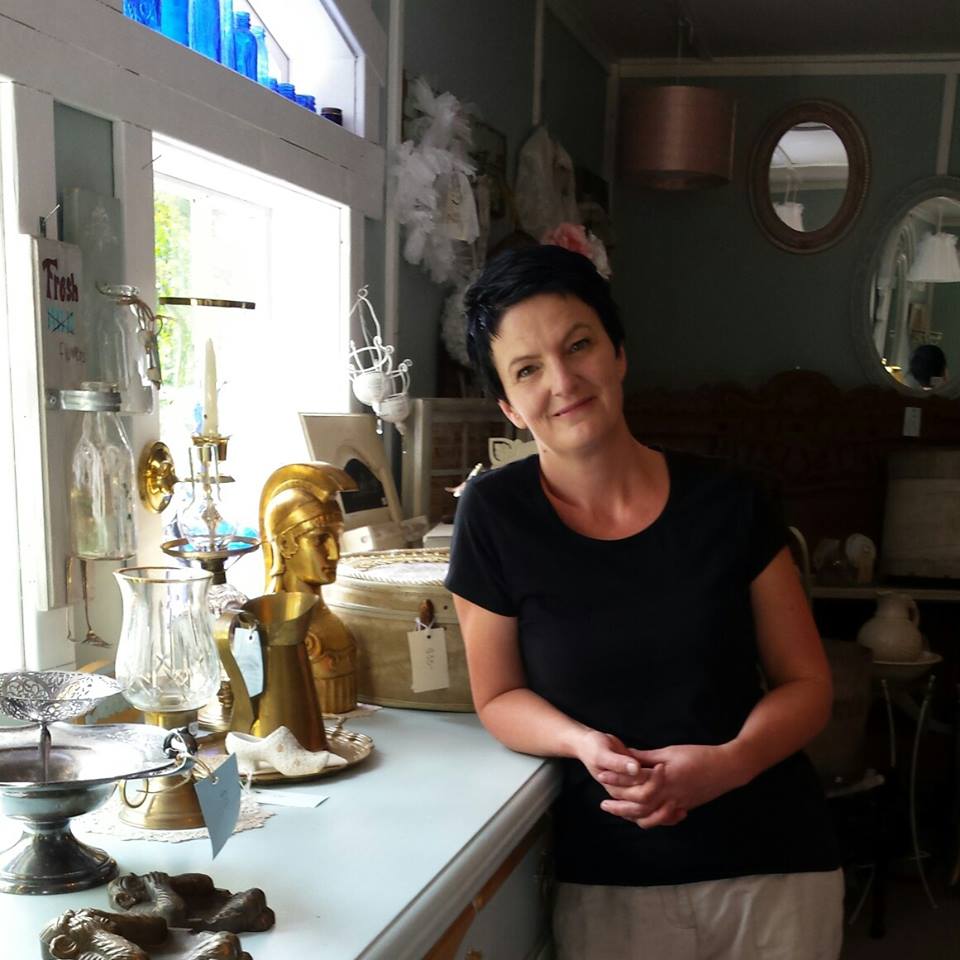 Upcycling is the New Recycling
The old saying "One man's trash is another man's treasure" could very well be the mission statement of Nadine Chamberland's business, namely Nadine's Touch, located in Salisbury, NB.
In the past few years there has been a growing trend of repurposing or refinishing old furniture, glassware, and general home décor so that the life of the pieces are extended. Since Nadine has always had a passion for recycling and reconditioning things, she decided in August of 2015 to open her own shop and sell some of her treasures. "I love refinishing furniture and other objects from the past," she states enthusiastically. "My goal is to take old things that some people want to get rid of by throwing them in the trash and turn them into beautiful newly 'loved' items for others to use in their homes. I consider myself to be one of many who are literally are into recycling things and saving them from being crushed and creating debris in landfills."
Nadine has always considered herself a creative soul with a love of producing artistically warm and inviting living spaces. At the age of nineteen, she studied Visual Presentation at Inter-dec College in Montreal, QC, and went on to have a career creating eye-catching store displays for many years. "Combining my love of visually appealing items and drawing on my staging background is a big part of what I do here at Nadine's Touch," she states, waving her hand around her shop which is jam-packed with a wide array of collectables and curios. "My clients, who range in age from twenty to sixty years old and up, love to spend time browsing through the store. I've even been told that friends from outside the province who follow my Facebook page contact their relatives living here to come to my shop and purchase such and such. The younger people think that some of the things I showcase are 'cool' or retro, while the more mature people always seem to find items that trigger a memory from their youth. I like to say that I'm in the business of either creating new memories or rejuvenating old ones!"
Yet Nadine will be the first to tell you that she was very hesitant to make the leap from working a traditional job into the role of being an entrepreneur. "I was really scared to open my own shop, even though it's what I've always wanted to do," she says. "A friend had told me about the CBDC and how they could help me turn my dream business into a reality, so I decided to contact them. The great people at CBDC assisted me not just financially through their loans program, but also by helping prepare me for what was to come through the Business Development Seminar. It's great knowing that someone else believes in me and is just a phone call away should I need further training or advice. Since my business is growing so fast, I'll probably be in contact with the CBDC soon as I'm soon going to need a bigger building."
So if you happen to be looking for that old baker's tin where your grandmother stored her fabulous sugar cookies, or the wooden china cabinet that was home to all manner of wonderful things, be sure to visit Nadine's Touch to browse through her treasure trove of collectibles.
After all, eventually everything 'old' becomes 'new' again and you'll be doing your bit for our environment at the same time as adding some beauty to your home.
© Copyright Marlene Oulton 2017