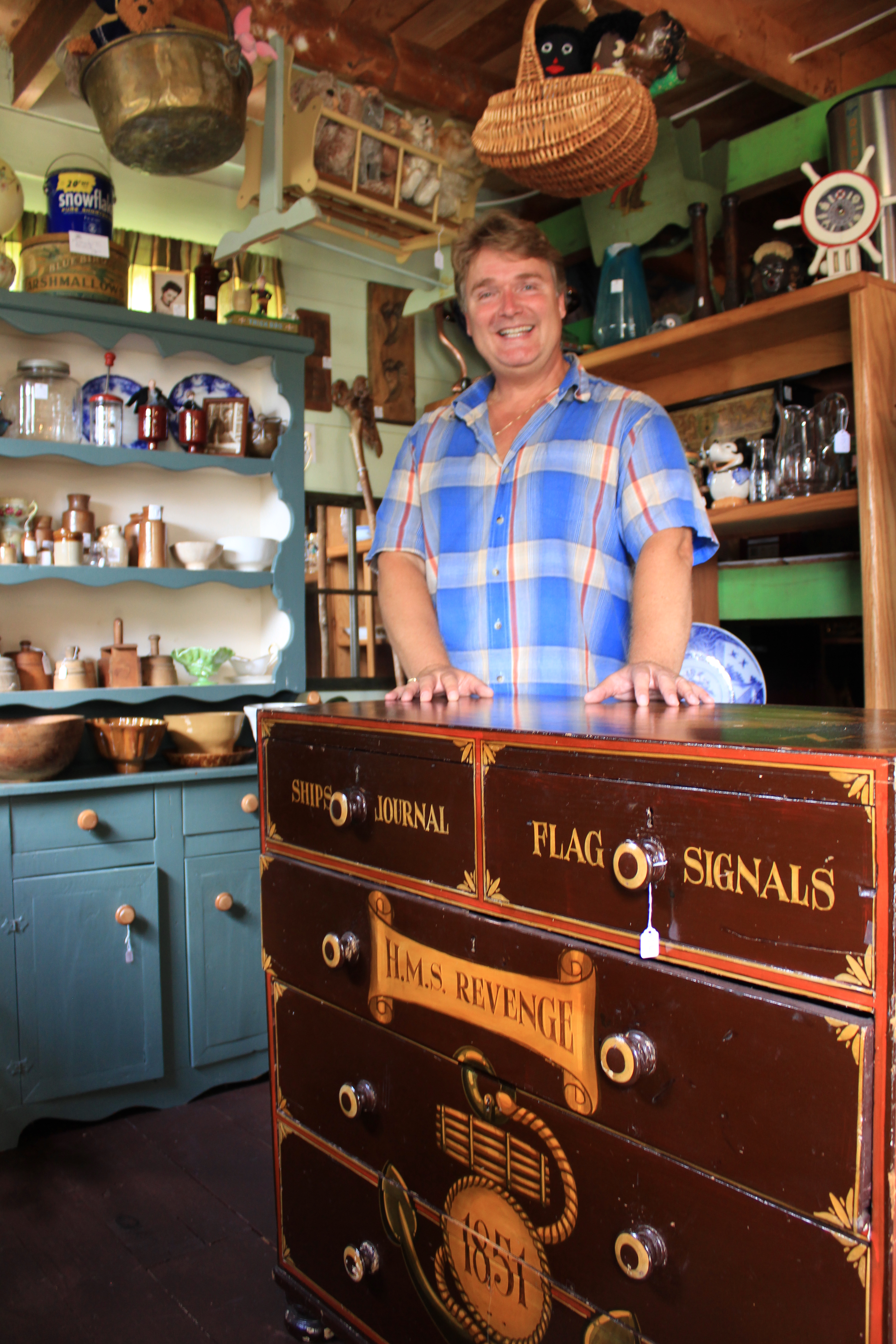 Treasure hunting pays off
The opportunity presented itself in 2010. Needing a life change, Bevaart decided to leave Ontario and establish roots in a new place. "I found this property in Brighton on the Internet—and fell head over heels in love. It had everything I was looking for to support my dream," he says. 
That December, the self-confessed treasure hunter moved into his new home. Luckily, there was a barn as well as a large space in the back of his new digs that could house the various collections, memorabilia and antiques he had amassed over the years. 
Now referred to as the "Barn Store," and the "House Store," they make up Bevaart's business, Forgotten Memories Antiques & Collectibles. To top it off, the setting just happens to be a 5-acre spread that includes two ponds, an original 1700s wishing well, boxed gardens, walking paths and a formal rose garden. Forgotten Memories is easily identified on the road by whimsical "Pole People" found on both sides of the road and a barn that sports a huge Maud Lewis-style painting on one side.
Although opening a business was a logical thing to do, it didn't happen overnight. "One of the main challenges was the simple act of getting started. There was so much to do. I made a list of activities that needed to be completed. This kept me focused and gave me a sense of pride because I could see my accomplishments on paper—even when they were not always easy to see physically." 
Bevaart is grateful for the assistance provided by CBDC. "They gave me the financial support that allowed me to invest in both stores and do things properly from the outset. I've tried to invest the monies wisely, laying the foundation to be here for a long, long time."
Forgotten Memories Antiques & Collectibles opened in May, 2012. With more than 10,000 items on display, buyers and browsers love discovering the selection of old toys, glass and porcelain, jewellery, Beatles memorabilia, black Americana, coins, antique furniture, and more.
Aside from spending hours with visitors, Bevaart spends his waking hours sourcing items, cleaning them, doing research, pricing, arranging things in both stores and working in his beloved gardens. Open less than a year, Forgotten Memories is talked about from one end of the province to the other—and further afield.
The new entrepreneur adds, "I live and breathe what I do, and I love it! Life's a journey. But we shouldn't know where we are going to end up. That would take the joy and learning away. But I also realize that when everything could have gone wrong, everything went right. I am truly blessed."