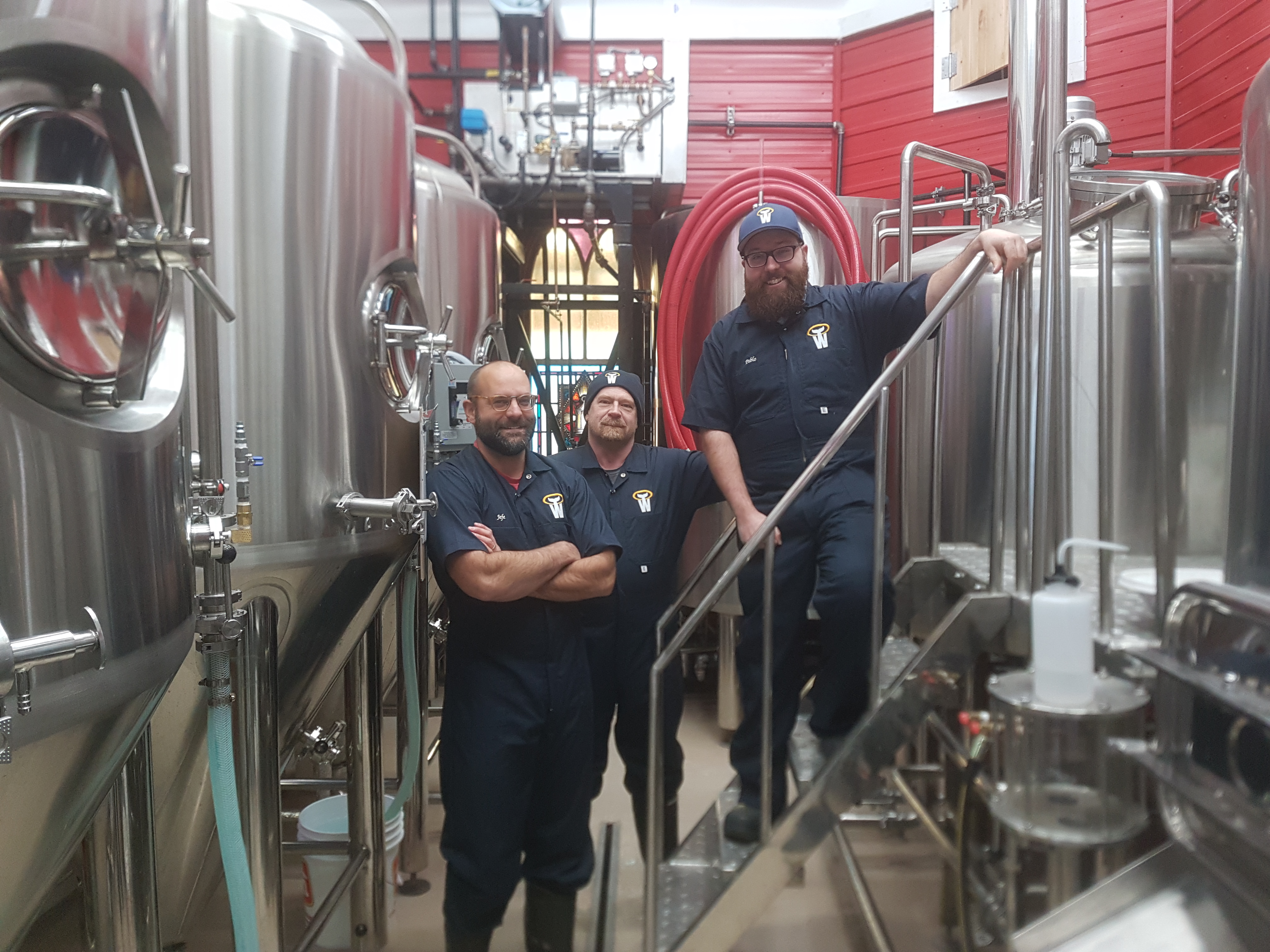 The Place Where Coffee Meets Craft Beer
Great entrepreneurs usually start a business based upon their passion for something they truly love, and that certainly was the case with Jeff and Peter Grandy along with their business partner, Ian Hillier. Their love of a freshly brewed, aromatic cup of coffee in the mornings and a smooth, refreshing beer on a hot day or one shared with friends and family in the evenings seemed to go together like peanut butter and jelly sandwiches. Combining those two intriguing ideas with their childhood love of visiting the village of Alma helped them to create Holy Whale Brewing/Budda Bear Coffee Roasters in 2016 near Fundy National Park.
Yet the best part of this entrepreneurial story might very well be where they've set up their operation Holy Whale Brewing/Budda Bear Coffee Roasters – in the former St. Stephen's United Church. "While some people were a tad skeptical about our company setting up operations in a church, we felt it was the perfect spot for us," says Jeff. "We knew from day one that we wanted to incorporate as much of the original architecture as possible into our renovation plans. We definitely appreciated the sanctity of the building even though it had been decommissioned before we purchased it. Keeping the stained glass windows, arches, and high ceilings has certainly added beauty to our café, while using some of the pews and the pulpit as a cash station have added to the overall ambience. Incorporating these things into our design ended up costing us extra dollars and extended renovation time, but the end result was totally worth it."
Originally working in the field of insurance marketing, Jeff decided that it didn't quite fulfill his passion. He went off to Olds College in Alberta where he studied the art of brewing and brewery operations management, traits that are proving to be invaluable as they set up their craft beer brewery. Ian's background as an electrician and general contractor proved to be vital, especially during the renovations/start-up phase, and he continues to be the leader in the overall brewery/retail extension. Peter's expertise in engineering, quality control, and systems operations round out the value that each of the three partners bring into the business.
Both brothers are strong people persons and enjoy interacting with their customers. "We want everyone who visits our café and samples our products to feel comfortable and relaxed – as if they've just dropped in at a friend's house for a visit," Jeff states with a smile on his face. "We want them to sample some of the craft beers we currently bring in from other microbreweries in New Brunswick and Quebec, or have a cup of deliciously roasted and fresh brewed coffee paired with a meal from our ever changing menu. In short, we want their Alma experience to be one they'll remember… and hopefully return again another day. And we can't wait to start serving our own brew in the near future."
One thing is certain and that's their gratitude to the CBDC Westmorland Albert organization. "The people at the CBDC were the first to offer us funding and much needed business direction. Their willingness to help enabled us to secure funding from other financial institutions to make our business become a reality. We are truly grateful for their initial and ongoing help," states Jeff.
So if your travels take you down Route 114 or you're looking for a fresh take on two Maritime favorites namely coffee and beer, drop into Holy Whale Brewing/Buddha Bear Coffee Roasters on Main Street, Alma, NB. Your taste buds will thank you for making the trip!
©Marlene Oulton