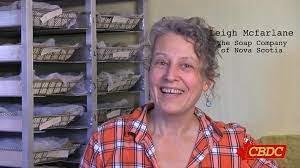 The Nova Scotia Soap Company
Leigh says that "It can be really isolating as a small business person and knowing that there are people who I can pick up the phone and call and say I have this going on and they listen and suggest ideas that I didn't even know were possible". It's so encouraging to have that support network.
She can't imagine accomplishing that without the support she's had from CBDC Guysborough. Leigh was able to obtain financing from the CBDC and also accessed training support for marketing and e-commerce.
"My goal for starting this business was to create economic development right here in rural Nova Scotia. I believe firmly that there is no reason we can't have very successful businesses running here. My goal is to have at least 10 people working in my company with me, people who are passionate about helping other people feel content. It's a very positive place to work; and I work hard to stay positive. I want to grow this company and I want to see it be a big success from here, from rural Nova Scotia", says Leigh.