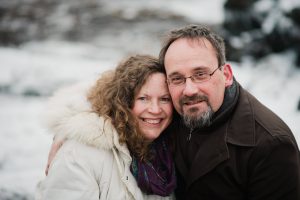 This concert venue, recording studio, and former CBDC client has been making waves in Lewisport since its inception in 2001. This year the esteemed musical powerhouse has been named an East Coast Music Awards 2017 Venue of the Year Nominee as well as an East Coast Music Awards 2017 Company of the Year Nominee. We chatted with husband and wife team Dean & Stephanie Stairs to learn more about their work.
Dean says his passion for music started young, "I played guitar throughout my teen years. When I was 18, I started going into studios to record for soloists as a session player.  I was immediately hooked on both the technical and creative aspects of the business from the very first session." He then went on to intern with a number of studios in Saskatchewan and Alberta before joining the Canadian Forces. After some time with the forces Dean went back to pursuing his dream.  Dean says he joined the industry at the right time, "The growth of the Internet as well as digital audio recording came together at the right time for me to plant the business in a relatively new area and to grow it as the technology matured." This growth has been easy to see. We're all aware that there are heaps of musical talent in Newfoundland & Labrador and most them spend some time at The Citadel House. Dan says they typically host about 30 evenings for touring musicians as well as 10 to 12 evenings for up and coming musicians.  "We also record about 4 to 6 projects for independent musicians."
The Citadel House doesn't stop there; Stephanie explains that they are venturing into new markets. "An area that has a lot of potential growth is corporate work.  We have done limited work for other businesses and we would like to do more.  We can provide everything from commercials, to voice-over and "mood-music" for presentations.  I think businesses are beginning to see the value in owning these types of assets as opposed to having them provided by the content deliverer." It's easy to see why the Stairs have been successful with their business venture; their work ethic and ability to identify opportunities within their network is a work of art in itself.
However, they did have some help along the way. Dean explains that the CBDC provided them with workshops directed towards bookkeeping, networking opportunities, and funding. They used the funding to hire a marketing company to develop a strategy for them and develop a new website & logo.
Business Tip from The Citadel House:
"Have a goal. Build a strategy to achieve that goal that looks at least 2 years ahead.  Do something every day that is directly related to carrying out that strategy. Re-evaluate and adjust your strategy every 3 months or so.  Don't be afraid to be "the first one" at something."
Dean & Stephanie Stairs are fearless. Will you #BeFearless?