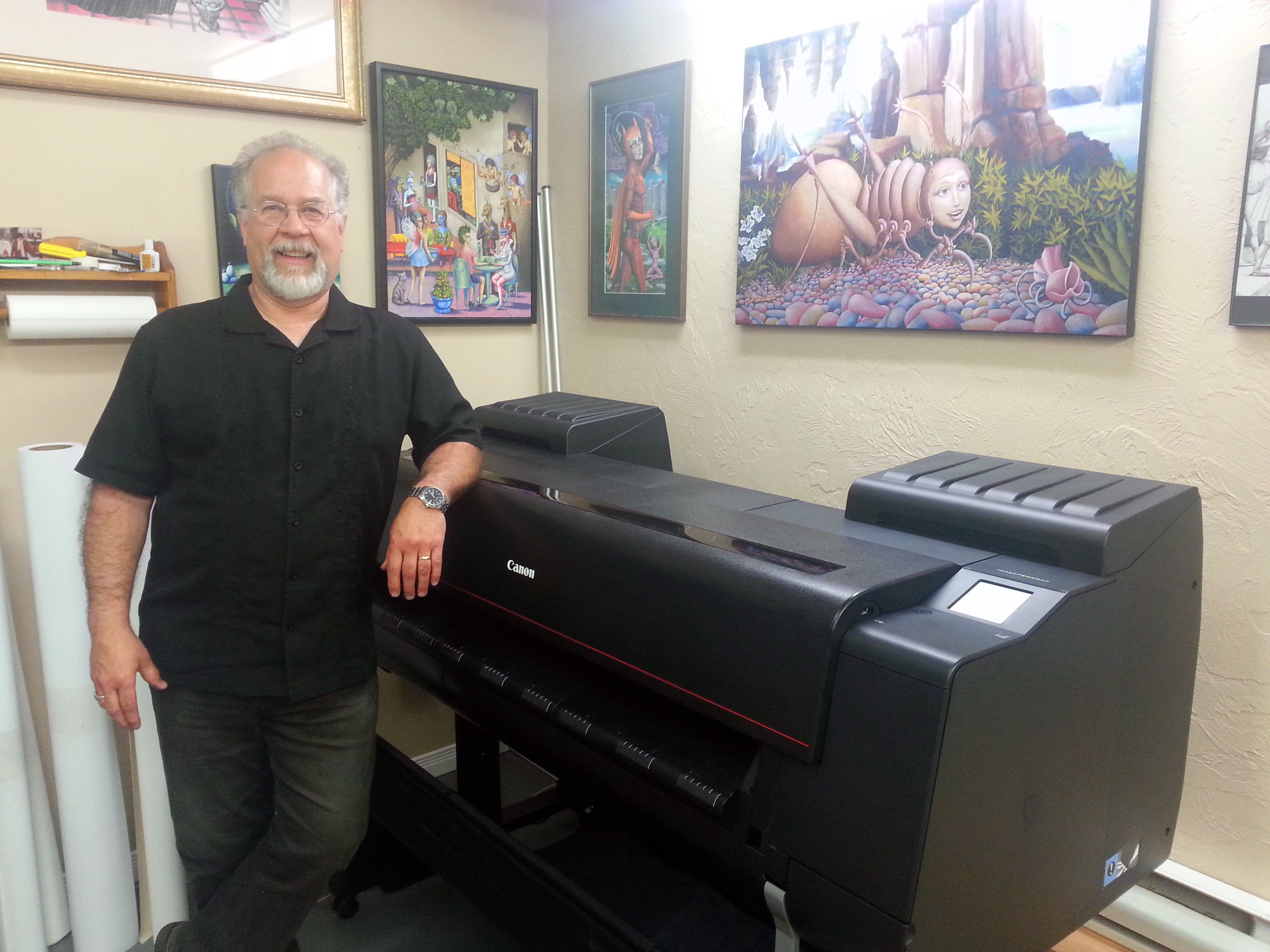 The Art of Capturing Creativity
A true work of art captures the heart and soul of its' creator, and Kevin Frenette, owner of Altron Color Imaging in Moncton, NB, is all about printing and preserving fine art and photographic printed memorable pieces for his clientele.
"My son is an artist and I had some of his work printed by the original owner whom I found out had a desire to sell his business. Initially, I was looking for some type of enterprise that could be operated from my home base – something to fall back on in case of unemployment or as a retirement job. Little did I know it would morph into a full-blown operation," Frenette says with a laugh.
All reproductions that are created in his shop come with a Certificate of Authenticity stating the kind of printer, ink and substrates used plus information on proper print care. The certificate is signed by the printmaker as well as the original artist or photographer. This is a guarantee to the end consumer that the artwork they're purchasing is indeed a "true" copy or print of an original and not a black-market copy. "Reproductions that come from my business are also more colour accurate than the average print shop. Different printer profiles are used for each kind of substrate resulting in a superior product. I also specialize in canvas prints as well as watercolour and photographic papers that are PH balanced and quality controlled. They're tested by the Wilhelm Institute for longevity with the kinds of inks used in my 44" printer ensuring that your cherished work of art will last 100+ years."  
Altron Color Imaging can also reproduce old black and white/colour photos that may have small tears or cracks in them, or make prints from time worn negatives from the past. As long as the original works haven't suffered major damage, Frenette can fix them so the final photo looks as if it was taken yesterday.
One of their biggest demands is for flat or mounted canvas prints from scanned original images which they produce in either ¾" or 1.5" archival quality canvas. Their stretcher bars are hand-made from kiln-dried pine wood and fastened together with framing staples. "Our customers needn't worry about odd sizes", says Frenette. "We size the frame to order and usually offer a 24 hour turnaround time after the proofing process is complete which makes for very happy clients."
Frenette is grateful for the help he received from CBDC Westmorland Albert. "The CBDC were instrumental in helping me obtain training in the areas of particularly accounting and business planning, two areas where I felt I needed help. I also appreciate knowing I can contact them at any time as they are a valuable resource centre in assisting me to continue to build a better business."
  
Whether you're an artistic person looking to reproduce fabulous prints of your latest work of art or an amateur photographer who has snapped a wonderful photo, check out Altron Color Imaging's website at www.AltronColor.com to see how they can best help you capture all the colours of the rainbow… and then some.
© Marlene Oulton