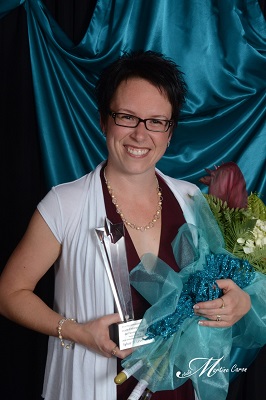 Sylvie D. Levesque, chartered accountant
In 2011, Sylvie D. Levesque was in her early thirties and made the leap in the Grand Falls area by starting her own firm. This decision is no small detail considering she had always wanted to have her own business.
"I love being an entrepreneur. I love what I do and the flexible working hours", states Sylvie with great conviction. Her entrepreneurial spirit is obvious: "When I say I worked 90 hours during the week, it's because I really worked 90 hours. There is no shortage of work. I sometimes even wonder where I find the time. It's a passion!"
Before starting her business, Sylvie provided training to entrepreneurs of the region for the CBDC Victoria Madawaska-South. She then had the idea to apply for a start-up loan with the CBDC. Her experience with the officers was conclusive: "The service was excellent. If the CBDC hadn't been there for me, I wouldn't be where I am today. Finding funding through traditional financial institutions is not easy, especially if you haven't been in business for at least two years. With the CBDC, it wasn't complicated. I only needed to provide all the necessary information concerning my field. Once everything was submitted, I was able to obtain the necessary financing to start my business, with my computer, my desks, my filing cabinets, etc." In 2014, the CBDC Victoria Madawaska-South awarded her the Young Entrepreneur of the Year Award for the Grand Falls region.
Sylvie founded a small accounting firm that sets itself apart from its competitors; she doesn't suppress her enthusiasm when she highlights her strengths: "My services are user-friendly. With me, clients can talk to me every day. I return my calls and my emails the same day, in 90% of the cases. I make every effort to satisfy my clients in a timely manner."
When we ask her where her vitality comes from, she doesn't hesitate to mention her uncle, Luc Morin. He is her role model, the person she aspires to be like. Tax specialist and chartered accountant, he is an example of success she has followed closely.
If she had to offer advice to New Brunswickers who, like her, wish to become entrepreneurs, Sylvie says they shouldn't be afraid to leap: "When we believe in our ideas, everything is achievable." At this time, this young entrepreneur would like to move her office to a commercial space or restructure her existing space. She would also like to hire a professional to join her two existing employees: an administrative assistant and an accounting technician.
Sylvie D. Levesque, CPA, CA provides consulting services, preparation of personal tax returns, bookkeeping, preparation of government reports, payroll deduction, etc. The company also offers the year-end preparation services, such as Compilation (Notice to reader) and Review Engagements as well as corporation income tax return preparation. The firm focuses on everything related to numbers and managing a business, according to the needs of her clients and the different areas of operation.
To contact Sylvie D. Levesque, CPA, CA
(506) 475-2694
186, Chapel Street, Grand Falls