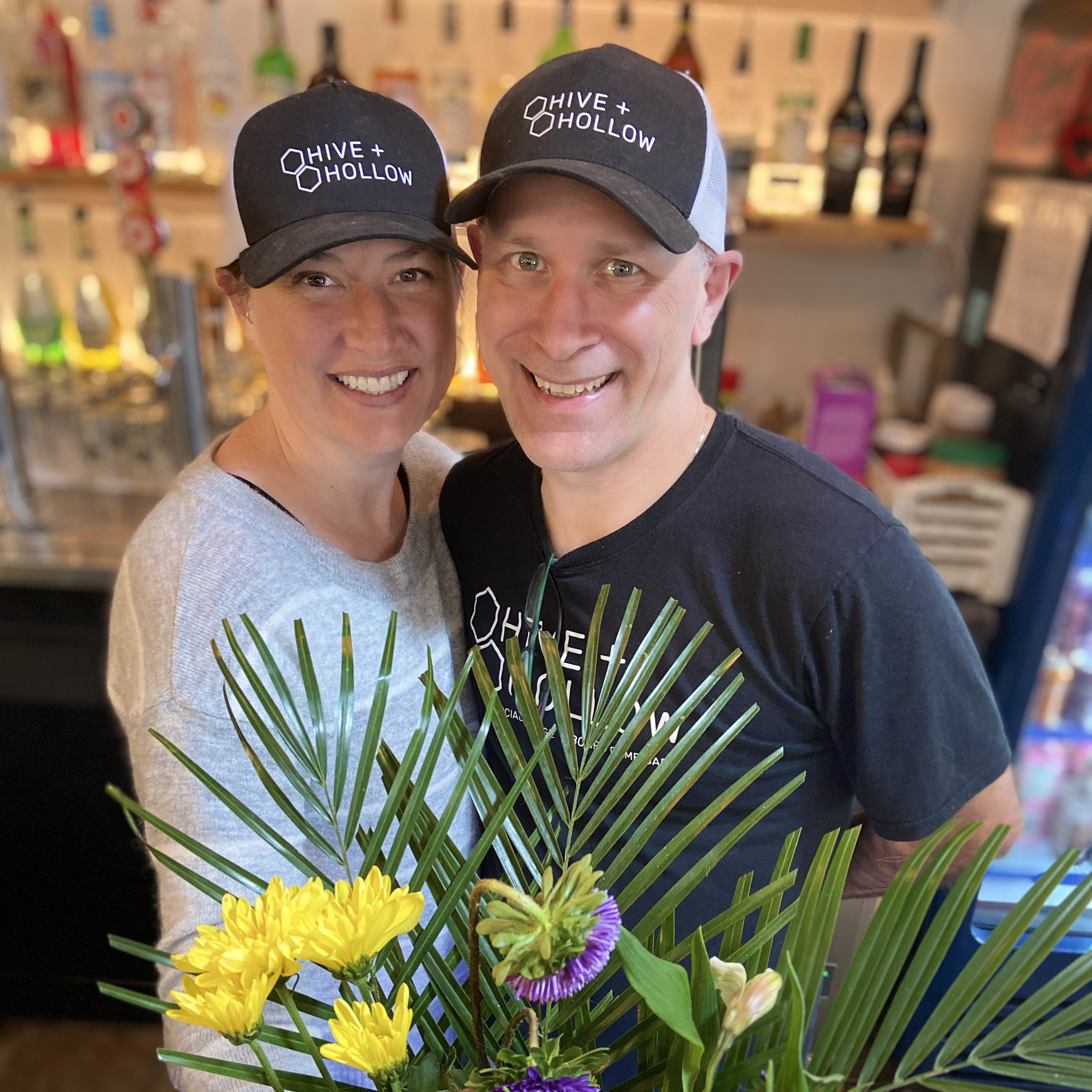 Success Story: "Hive and Hallow"
Unexpected is how Amy Seymour described her entrepreneurial journey. "I wasn't one of those people that knew what they wanted to do when they grew up, and there is no history of entrepreneurship in my family", she explained. Originally from New Brunswick, Amy graduated from a Classical Studies Degree at UNB in 2007. She has since tried her hand at many different jobs, one of which was a corporate communications position in Toronto where she lived after graduating. Herself and her husband then moved to P.E.I where she went back to school to become a graphic designer at Holland College. Tapping into her creative side, she began freelance designing for clients and started her own Etsy shop. Her endeavours connected her with many other small entrepreneurs on the island, which became a catalyst in creating a craft workshop collective called the Mobile Makery. This entailed hosting workshops led by island crafts people at venues across P.E.I. Wanting to establish a more permanent location for these workshops, Amy decided to purchase the Small Print Boardgame Café in Charlottetown with the hopes of converting it into an event space for the group. She had already scheduled events for macrame, water colour painting, life drawing, comic drawing, and board game tournaments when the pandemic hit.
Hindered by COVID restrictions, Amy was forced to rethink her plan with the space. Having purchased the facility in 2019, her and her husband chose to renovate and then rebrand into a slightly different boardgame café which now also includes pottery painting and a lounge feel for a more mature crowd. This decision was inspired by Amy's own love for boardgames which she developed while attending a weekly game group night at the former establishment, the Small Print Boardgame Café. To remain engaged with the local community during this transition amid the pandemic, they also began hosting online trivia where they saw the local community really rallying around their business. The feedback gave them much-needed assurance, confirming they were taking a leap in the right direction.
They officially opened in June of 2020 as Hive and Hollow. Today, the café caters to both locals and tourists, especially on rainy or snowy days. This makes them quite opposite to other touristic businesses which typically fill up during the hotter summer months. Fortunately, local hotels recommend their establishment to visitors who are looking for activities to do during cozier weather. However, to catch a wider audience, Amy applied for the Tourism Activation Grant through the CBDC to expand their business space. Presently, the Hive and Hollow is located on the second floor of their building, and while they do receive younger families, the business caters more so to an older crowd looking for an alcoholic beverage. The money from the grant is currently being used to renovate the downstairs area that will soon become a more family friendly space that can also better facilitate their takeout menu, making it a lot easier to take advantage of peak tourist season. "It will give us an opportunity to cater to each of the demographics while still offering our base services", explained Amy.
Now that the renovations are under way, Amy can safely say that her dream for the business is currently in the works. In the meantime, she loves creating a welcoming environment for both her customers and staff. "The other night I came in and there were eight of our staff all hanging out on their only day off… there is a community that has grown within and around this place that is probably what I am most proud of" mentioned Amy. Whether this business came to her unexpectedly or not, most of all, Amy loves to be surrounded by the laughter and fun that goes on at the Hive and Hollow. All things joyous that will most definitely be present in the expanded space as well.