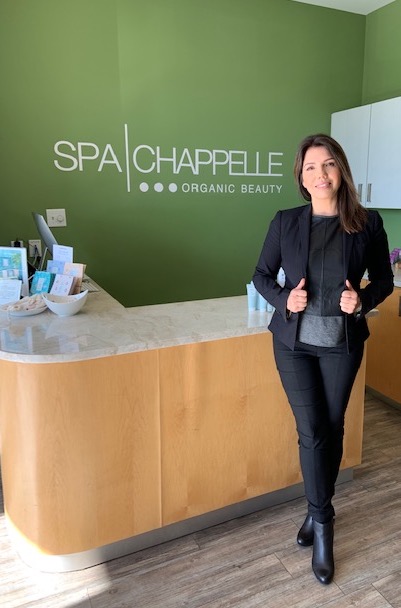 Spa Chappelle - 13 Years of Entrepreneurial Growth & Success
Shannon started her entrepreneurial journey thirteen years ago when she opened the doors of the first Spa Chappelle in a small upstairs location of another business. At that time, she was a solo aesthetician and was tasked with all aspects of starting a business. Overwhelmed with growing clientele, Shannon's team of 1 grew and grew as she hired more professionals to meet Spa Chappelle's demand. 
Spa Chappelle has since grown to successfully open two locations — St. Margaret's Bay and Bedford where they offer everything from their famous organic beauty facial to serving Shannon's signature Sweet Skin Tea - to help you look and feel your best inside and out. Spa Chappelle's succes is the product of Shannon's hard work and perseverance as an entrepreneur. At Spa Chappelle they believe that "self care is how you get your power back". 
After 25 years in the spa industry, Shannon is excited to extend her expertise to other entrepreneurs and has developed an online Spa Business Master Class course for spa owners and aestheticians. When asked what advice she would give to new entrepreneurs, she states "Ask for help when you need it, and know your numbers! Numbers tell you where you are and where you need to go to meet your goals" she also stresses "You need to learn how to say no sometimes — prioritize your self-care". This is what Spa Chappelle's mission is all about. 
CBDC Blue Water is happy to support Spa Chappelle in growing and expanding their business. At CBDC Blue Water we offer support to businesses in many different ways including business advisory services, training and financing. 
"CBDC Blue Water gave me the break when I needed it, I wouldn't be standing here today if they didn't have faith in me. They have always supported me, taught me how to create a business plan, and I never felt judged". - Shannon Chappelle of Spa Chappelle
For more information on Spa Chappelle visit:
Website: https://spachappelle.com
Facebook: https://www.facebook.com/spachappelle/
Instagram: https://www.instagram.com/spachappelle/
Twitter: https://twitter.com/Spa_Chappelle