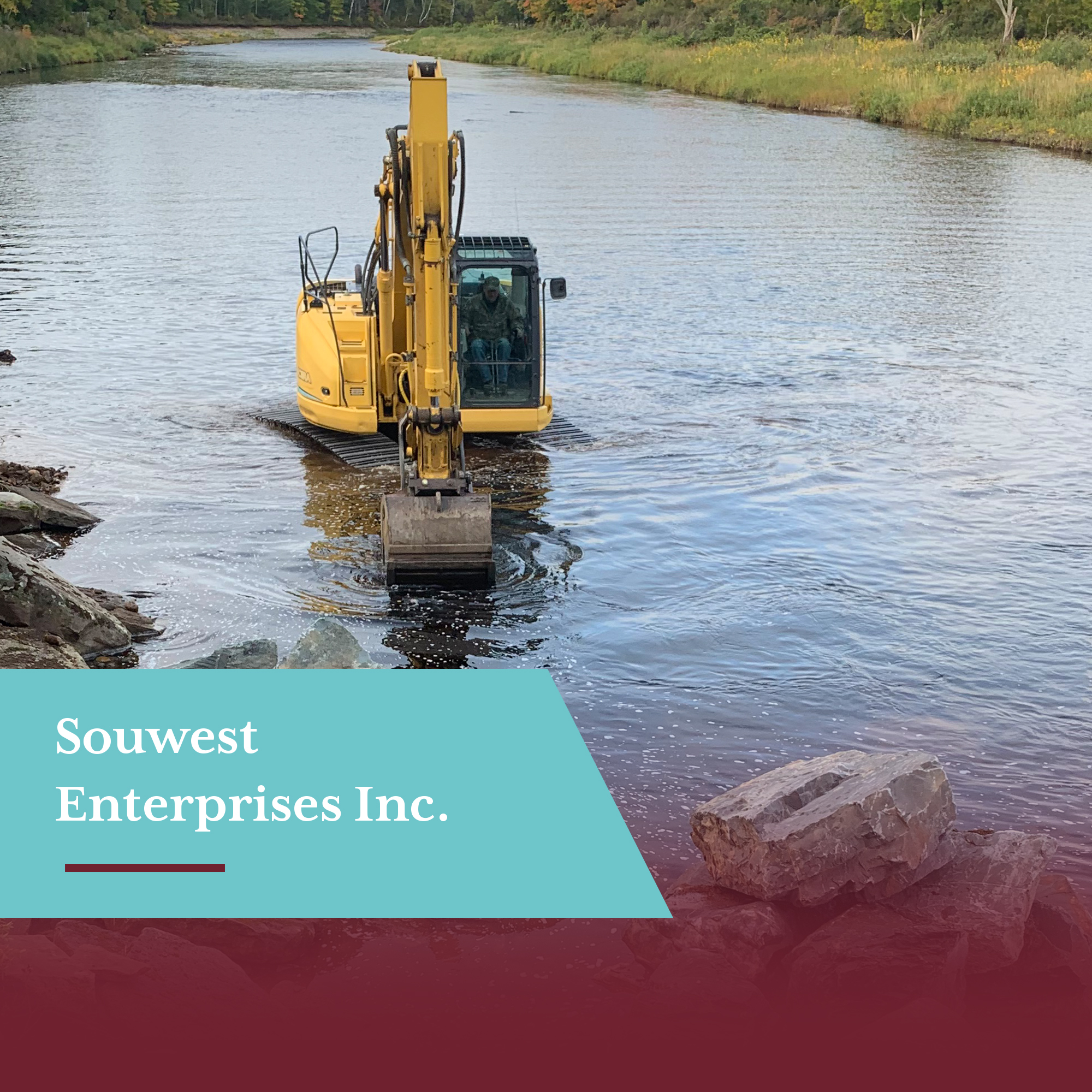 Bulldozing a Path Right Through the Pandemic
Renting a small tractor to complete a "weekend warrior" project is just great, but when you want to install an in-ground pool or dig a drainage ditch, that's when residents of Doaktown, NB and the rest of the province call in the experts from Souwest Enterprises Inc.
Everett Taylor and his crew have extensive experience in everything from standard landscaping and onsite property work to salmon pool restoration and stream crossing construction, along with all types of forestry road building and maintenance.
"After 30 years of operating heavy equipment in all types of projects, I thought I'd seen everything," says Everett. "We've rebuilt natural stone dams due to excess drought and installed new culverts to allow for better drainage after torrential downpours and flooding. But I never expected to have to close down altogether due to an unseen force like a pandemic. We were prepared to start our usual spring work and had contracts lined up, but then COVID-19 hit and those plans went awry. We do a lot of subcontracting plus we had quite a few private projects in place for the summer season. Understandably, people put all that on hold due to their own job insecurity. Like every other employer, our first concern was to keep our employees healthy and safe. We certainly didn't want anyone to become ill simply by trying to make a living."
For a while, things looked fairly bleak for all concerned. Thankfully, the forestry sector has always been one of Souwest's most stable clients and the company was able to use its staff to do machinery maintenance during the spring shutdown "That way, we were ready to meet the demands of our forestry clients in late April and early May once the ground had dried up a bit. That kept us going until we could pivot our business plans and come up with alternative work so we could rehire some of our employees."
Knowing that Souwest would need a cash infusion to bridge the gap between shutting down and returning to maximum work capacity, Everett turned to his local CBDC to see if there was anything they could offer him during this stressful time. "It was great to discuss our situation with the CBDC and to receive a loan under the New Brunswick government's Small Business Emergency Working Capital Program. It's allowed us to keep our team together for the most part and will hopefully give us the financial space to grow in the near future. We're still not operating at full capacity but we've hired back at least 25 of our employees. That's significant when you consider that we're located in a relatively small town," says Everett.
Now that things have almost fully reopened in the Atlantic provinces, Everett is cautiously optimistic and is even giving thought to a new business venture. For a company used to moving boulders and building bridges, it's highly likely that Souwest Enterprises Inc. will be bulldozing a path right through the pandemic and for a long time to come.
©Marlene Oulton 2020