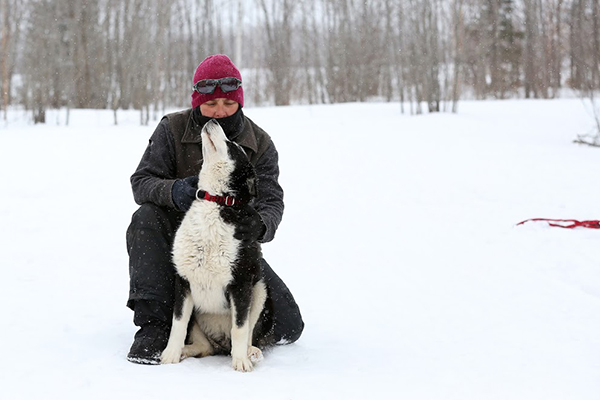 Sled Dog Adventures: a growing company
Moving back to New Brunswick, while actively contributing to the economy of her community: This is a challenge that Diane LeClerc has successfully achieved. Her story is fascinating and will inspire more than one.
In 2014, Diane started her own company in Allardville, in the northeast of the province, where she was born. To listen to her inner voice, she decided to leave a steady job at the Zoo of Granby, Quebec, as an Animal Health Technician and Animal Keeper.
Her passion for dog sledding goes all the way back to 1993 in Sainte-Cécile-de-Milton, Quebec, where this activity is a true industry. With long experience, Diane arrives in her native province with eight dogs. As a result, her company is expanding.
By 2017, Sled Dog Adventures already offers a wide range of services: group packages with dog sledding and accommodation, meals and guide/musher service, as well as alternative activities such as cross-country skiing, ski joëring, snowshoeing, snowmobile, ice fishing in the company of a trapper, dog-sitting, hints and tips to train your pet, etc. In short, the business mission is definitely to share the passion for sled dogs, and to awaken all five senses; Acadian cuisine is also part of the experience, and Diane is pleased to contribute to this cultural exchange that arouses great interest for her clientele.
In summer, the company does not hibernate, since visitors are always eager to be in contact with these magnificent dogs, and to learn more about the basics of this essentially winter activity. It must be said that Sled Dog Adventures welcomes visitors from around the world; people come from as far as Australia, Netherlands, Ukraine, France, Belgium, Switzerland, United States, Mexico.
Above all, passion is what guides Diane. But knowing her product was not everything; she had to start somewhere to get the business up and running. In 2014, when she moved to New Brunswick, she went at the CBDC Chaleur and applied for the Self-Employment Benefit (SEB) program. Quickly, she gets confidence. In the fall of 2016, she took out a loan from the CBDC and go ahead with her plan.
Diane is positive. She believes that great potential for development is there: It is only necessary to set up all the investments required. Her product is unique in northern New Brunswick and she witnesses a continued demand. She wants to increase her capacity to host larger groups. "Usually people want to live close to dogs. We are accommodating already, but we could do much more. We have to increase our lodging capacity, while thinking about our dogs' camp with the laboratory and gears/equipment. We also have to think about the musher who needs to stay on site at night."
In her former life, Diane managed work teams and major projects. However, working for herself is a very different matter. "The advantage of being in business is to be your own boss. I invest where I think I need to and I can put priorities in the right place. It is much faster to see the results."
Diane is proud to show that it is possible to succeed in business in the north of the province. In her view, New Brunswick has great potential, and she can demonstrate to young people how staying here is a good choice, and encourage those from outside to settle here. "The key is to believe in our abilities. We must keep thinking about our life projects, even if it's been a long time, and dare. By working hard we can achieve anything."