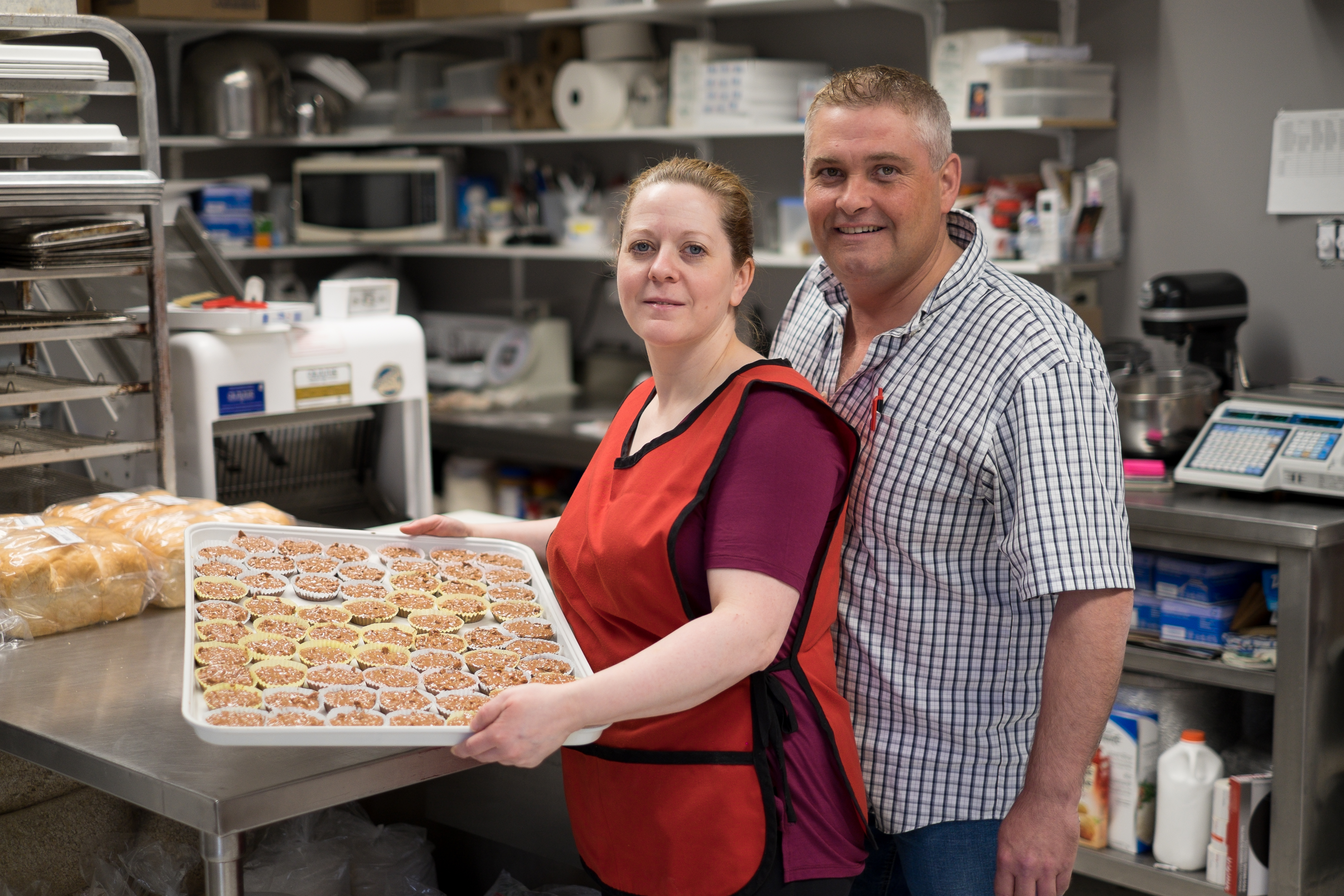 When did your business start?
Our current business location is quite recent since we only opened our doors in mid February of 2016. However, our business history goes back much further to 1999, where we got our first start with the help of CBDC and is what led us on the path we have taken.
How many employees do you have?
Currently, we have 2 full-time and 2 part-time employees, in addition to ourselves, who work at the business full-time. We have, however, found that we require additional help and plan to search for another employee in the near future.
Where did the idea for your business come from?
Our business experience actually began back in 1999 with the idea of a coffee shop. My love of baking and desire to find work during the winter months of unemployment from my summer job as a payroll clerk, which I held for 10 years prior, is what led me to pursue a career in business, initially. This business turned out being successful enough to employ both, myself, and my husband full-time and the 17 years to follow has brought about the many changes that has led us to where we are today.
How did you get started with your business?
With financial help from CBDC, we were able to acquire a small building and renovate it to operate as a small coffee shop called Connie's Cafe. We operated this way for a few months until the opportunity arose to buy equipment from a takeout that was closing down. We received further funding, through CBDC, to make an addition to our building and operate as a take-out/coffee shop for a year and a half. In December of 2001, we were presented with another opportunity which involved leasing to own a retail grocery store and, by the spring of 2002, we, again, received funding from CBDC to renovate the upper level of that building to accommodate a restaurant with seating for 44, relocating Connie's Cafe and operating under two business names, Simms Cash and Carry and Harbourview Restaurant. A short time later, we added a small bakery and within a few years had, also, leased to own another business that had closed down, in order to acquire their meat cutting facility. This location is where we decided to build our new store which houses all aspects of our business under the one roof and on one level, operating asSimms Cash & Carry Inc. Just two months after opening, we were successful in obtaining a Liquor Express license, as well.
What is your favorite part about owning your own business/ your work?
I really enjoy interacting with the customers on a daily basis and, everyday, I get to do what I enjoy; baking. It's very rewarding when you get to see your hard work pay off in the form of repeat customers; suggesting that we must be doing something right. My husband, Jason, as well, loves what he does and he is very good at it. We both feel blessed with the support from our customers and we try our best to accommodate them in any way possible, which can be a real challenge in rural Labrador, especially with regards to fresh produce.
What is your advice for anyone wanting to go into business?
My advice is to be prepared to put in plenty of hours...it is so important to be dedicated to your business, to be present and to not expect more from your employees than you are willing to give yourself. It is my belief that you only get out as much as you put in.
How did the CBDC help you reach your goals?
From the very beginning, 17 years ago, we have received, both, financial, and I would say, moral support from CBDC which is huge when you are trying to build a business. You have to know that someone believes you have what it takes to succeed and are willing to speak on your behalf. It can be very daunting when trying to secure funding and sometimes you wonder if it's worth it but the exceptional service and support we received from CBDC urged us onwards.
What sets you apart from your competitors at the big box stores?
I believe that the one-on-one interaction with our customers gives us that personal aspect that they appreciate. I like to believe that they always feel welcome and free to offer suggestions, which we take seriously, whether it be regarding additional items or services they would like to see offered or an additional service they would like to have provided. We accept and appreciate constructive criticism because this is how  we learn and grow.
What is the impact (in your opinion) of buying local as opposed to spending money outside the community?
It is so important for customers to support the local economy because this is what helps us prosper and grow, enabling us to better accommodate our customers needs. Without their support, we run the risk of failure and, I believe, life in a rural community without small businesses would be devastating, if not unbearable.
Thanks Connie for sharing your story with us!
If you'd like to learn more about Simms Cash & Carry Inc. you can find them @ 135 main street in Mary's Harbour, NL.
or
reach them @ 709-921-6959