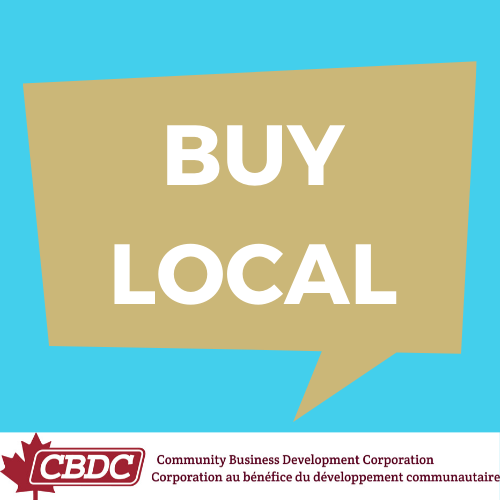 Shop Local: Support Local Business
Shop Local
The CBDCs hope everyone continues to stay safe and protect against COVID-19, even as we work to support our local businesses and re-open our economy. 
As CBDCs, we assist in the creation of small businesses and in the expansion and modernization of existing businesses by providing financial and technical services to entrepreneurs.  We are not-for-profit community-based organizations run by volunteers from the local business community who firmly believe in improving the economic viability of their communities.
To support local small businesses in our rural economy, the CBDCs will be encouraging shopping at local businesses on our social media with our Shop Local campaign that we will be running every Tuesday throughout the summer.  Please follow us on Facebook, Instagram, Twitter, YouTube and LinkedIn to learn more about the rockstar businesses in rural Atlantic Canada.
If possible, please consider supporting local businesses by shopping locally!
Learn with Us
One of the services CBDCs provide is learning and advisory opportunities.  Businesses thrive when they're run by people who are lifelong learners.
We've curated some of our top webinars, learning tools and videos for you!  These learning resources include a social media tutorial, a webinar on how to write a business plan and more! 
If you have any questions or would like to connect with your local CBDC, don't hesitate to ask, and you can follow us on Facebook, Instagram, Twitter, YouTube as well.
Stay safe and protect against COVID-19!
Although COVID-19 restrictions are easing, we must remain vigilant!  Always comply with public health guidelines and take safety precautions to protect against COVID-19. 
Thank you for stopping by our website, if you're a small business owner in rural Atlantic Canada, or interested in becoming one, the CBDCs are here to help and we'd love to hear from you.
Don't forget to follow along with us as we promote local small businesses this summer through our Tuesday Shop Local campaign on Facebook, Instagram, Twitter, our rural Atlantic Canadian economy would love your support?