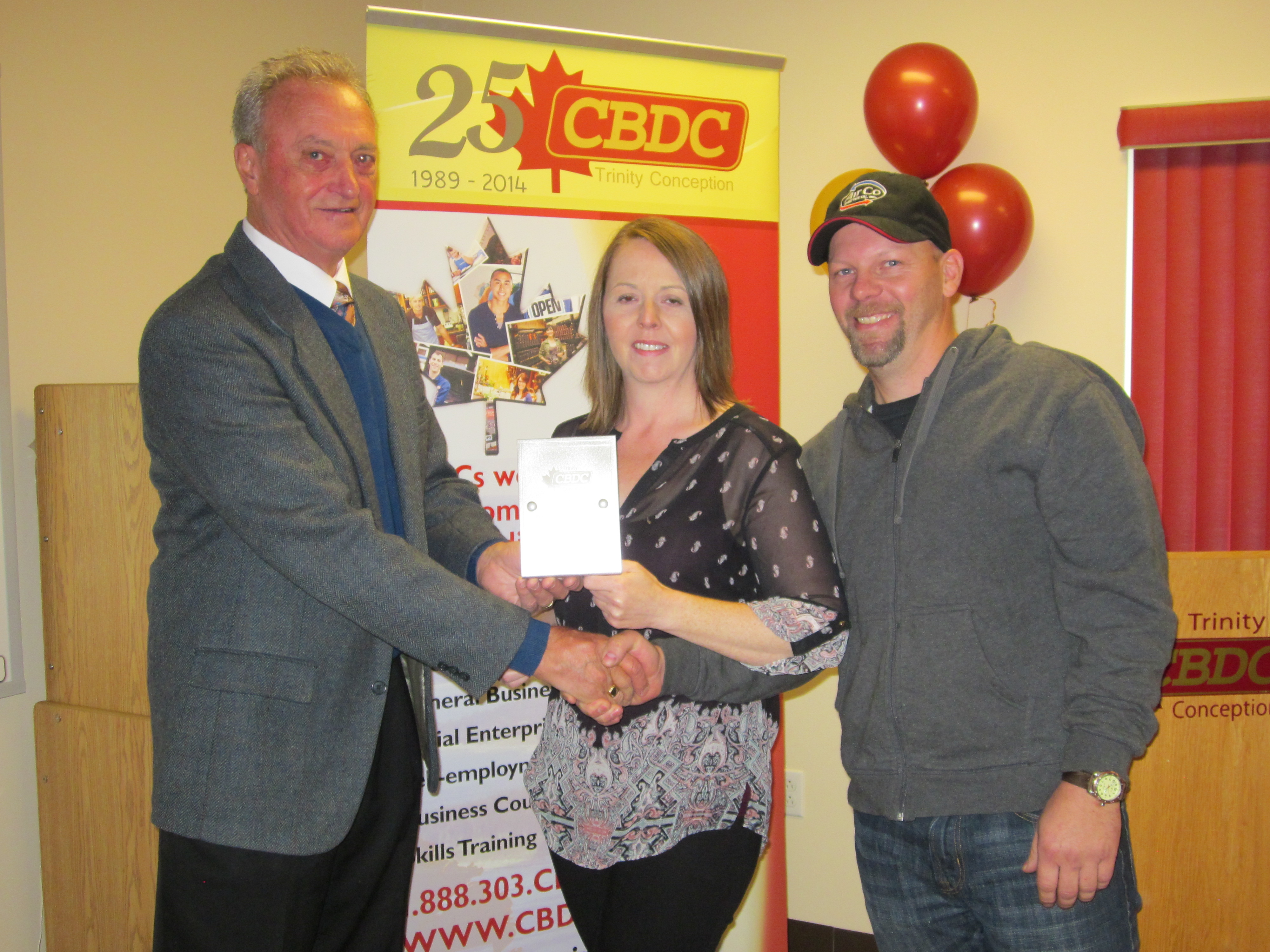 Shane Green and Jennifer Hillier of AirCo Sheetmetal Inc. accepts the 2015 Business Distinction Gold award
Shane Green and Jennifer Hillier of AirCo Sheetmetal Inc. accepts the 2015 Business Distinction Gold award from Ray Tuck, Chairperson of CBDC Trinity Conception.  The awards were presented at the Annual General Meeting held on October 20, 2015.
AirCo Sheetmetal Inc. was started by Shane Green and Jennifer Hillier in May of 2010 from a small garage on the client's property in Greens Harbour, NL.  Having 17 years in the sheetmetal business and holding a Red Seal Journeyman Certificate in the field, Shane decided to give self-employment a try.
The company specializes in producing and installing to specification, sheet metal components including heating, ventilation and air-conditioning duct systems on behalf of its customer base which includes general contractors, home owners, government departments and other companies around the Avalon Peninsula and St. John's.   AirCo is COR certified (Certificate of Recognition) through the Newfoundland and Labrador Construction Safety Association (NLCSA). which allows them to bid on government jobs, or work for general contractors who work for government.
With the success and steady growth of AirCo Sheetmetal over the past 5 years, the size of the shop has more than doubled and sales activity has increased over 200%.    It started out with 3 full-time and 1 part-time employees and has grown to employ 9 full-time individuals.  Two of the employees are 1st and 2nd year sheetmetal apprentices working under Shane.  Shane works alongside his spouse and co-owner of the business Jennifer Hillier.
The shop started out with some pre-owned equipment and has grown into owning 3 new cargo vans, as well as 2 other vehicles, 3 trailers, a scissor lift, and new sheet metal shop equipment.
Also both Shane and Jennifer are very active on local volunteer initiatives, Shane being a volunteer fire fighter, and Jennifer being Treasurer on the Local Service District Committee, Crescent Collegiate School Council and the Ridgewood Park Playground Committee.  AirCo Sheetmetal generously offers financial support to community volunteer groups.
AirCo Sheetmetal Inc. is happy to have been assisted by a small SEED Capital loan during start-up in 2010 and by a larger General Business Loan in 2013.