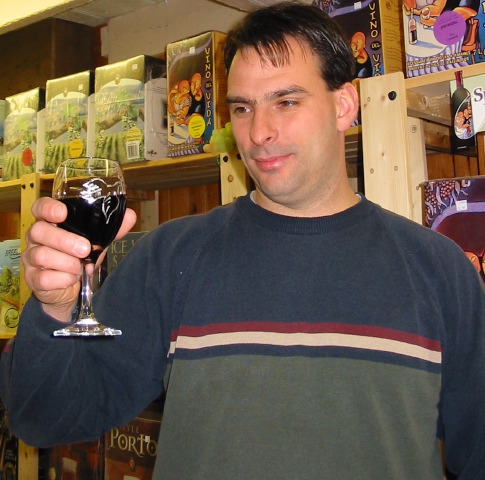 Rheal Caissie knows his wine and beer. He should. He owns and operates Brew Chez-Nous, a wine and beer supply store in downtown Shediac. In his rustic, 400-square foot shop, he has wine and beer kits and accessories galore.
So if your tastes run to Australian-style Chardonnays or Shirazes, California Sauvignon Blancs, Italian Barolos and Chiantis, Caissie has them, plus lagers, ales and coolers. Not to mention, corks, labels, bottling equipment, everything the home wine and beer maker needs.
"It was a whole learning process," he says talking about both making wine and running a business.
The 30-year-old entrepreneur started making his own wine several years ago and opened his store last year.
"I saw an opportunity and thought, 'I may as well open my own business and work for myself.'" He looked around at what he was doing for fun, making wine, and saw that friends and acquaintances were doing the same thing. But they, like Caissie, had to travel to Moncton or Dieppe to get their supplies. Bingo! Why not bring it all closer to home.
He saw this "as a good opportunity," and so apparently do his customers, people like Raymond Doiron, who drops in to chat and have a good cup of coffee. "I am a chef-cuisinier at the Memramcook Institute. Making wine is my hobby," says Doiron.
"A good batch is part art. It's not a hard process and there are little tricks here and there," says Doiron, including lots and lots of sterilization of equipment and bottles. Like many hobbyists, he gives a lot of wine away, since one kit makes about 23 litres of wine, or about 30 bottles. Doiron and Caissie are even talking about planting various grape varieties, "as an experiment" they say.
Then there are people like Ian Ferguson, who's been producing wine for six years. "Brew Chez Nous is closer to where I live and I've known Rheal for a long time so I'm supporting him. I know his product is as good as what I was buying before, so it's practical," says Ferguson.
He prefers making his own wine to buying it. "Making a bottle costs in the range of two to three-and-half-dollars a bottle, and I get the same quality as paying $15 at the liquor store. My friendshave tried it and liked it."
For Rhéal the road to satisfied customers began with a trip to Vancouver which turned into an extended stay. He started working there for a national retail chain, moving up the ladder until he became a White Goods co-ordinator. "Dealing with customers is all about service and keeping them happy and that motivates me," he says of his experience.
After several years away and a change in jobs, the pull of the Maritimes was just too strong, so he came back and came up with this idea. The people at CBDC Westmorland Albert, (a Community Business Development Corporation) liked what they saw in his business plan when he approached it for financing.
"Rhéal found himself a niche," says Karen Robinson, CBDC's executive-director. "He had the enthusiasm and the knowledge plus a good business plan, so we were happy to help."
What keeps Rhéal happy is the repeat customer. "My friends support me.  They keep coming back. And so do people who were strangers at first but aren't anymore. They now feel comfortable and confidence in buying at Brew Chez Nous. Most have a lot of questions. If they have any problems I fix them up."
There are some perks, besides having a satisfied customer. "Some of them give me a bottle of wine to try and it's not even from one of my kits! Some of them offer me a bottle and say, 'Try this one' and we trade bottles. Hey, why not trade wine with a customer," he laughs.