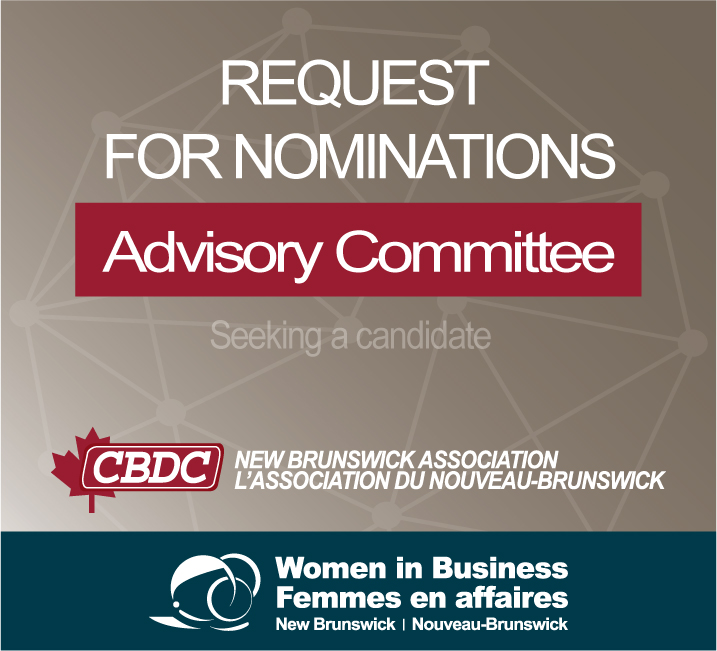 Advisory Committee – Women in Business New Brunswick
Women in Business New Brunswick (WBNB) is now actively seeking a potential candidate to fill the position on their Advisory Committee. This Advisory Committee meets in person four times a year and reports to the New Brunswick Association of CBDCs' Board of Directors. The key responsibilities of the Committee are to establish the Strategic Direction and provide leadership to the Director.
We are currently seeking women entrepreneurs and stakeholders:
with various business backgrounds and years of experience managing a business;
who have demonstrated business success and leadership in the Province of New Brunswick, in Canada or abroad;
who have an in-depth knowledge of needs and challenges faced by underrepresented groups;
who are resident of New Brunswick and at least 18 years of age.
Interested candidates can send the nomination form and a letter of presentation describing their interest and professional experiences before Friday, June 2nd , 2023 at the email address below. Candidates can also send out any other document supporting their nominations.
Please send the nomination document, motivation letter and any supporting document to Rebecca Preston, Director of WBNB, at rebecca.preston@wbnb-fanb.ca