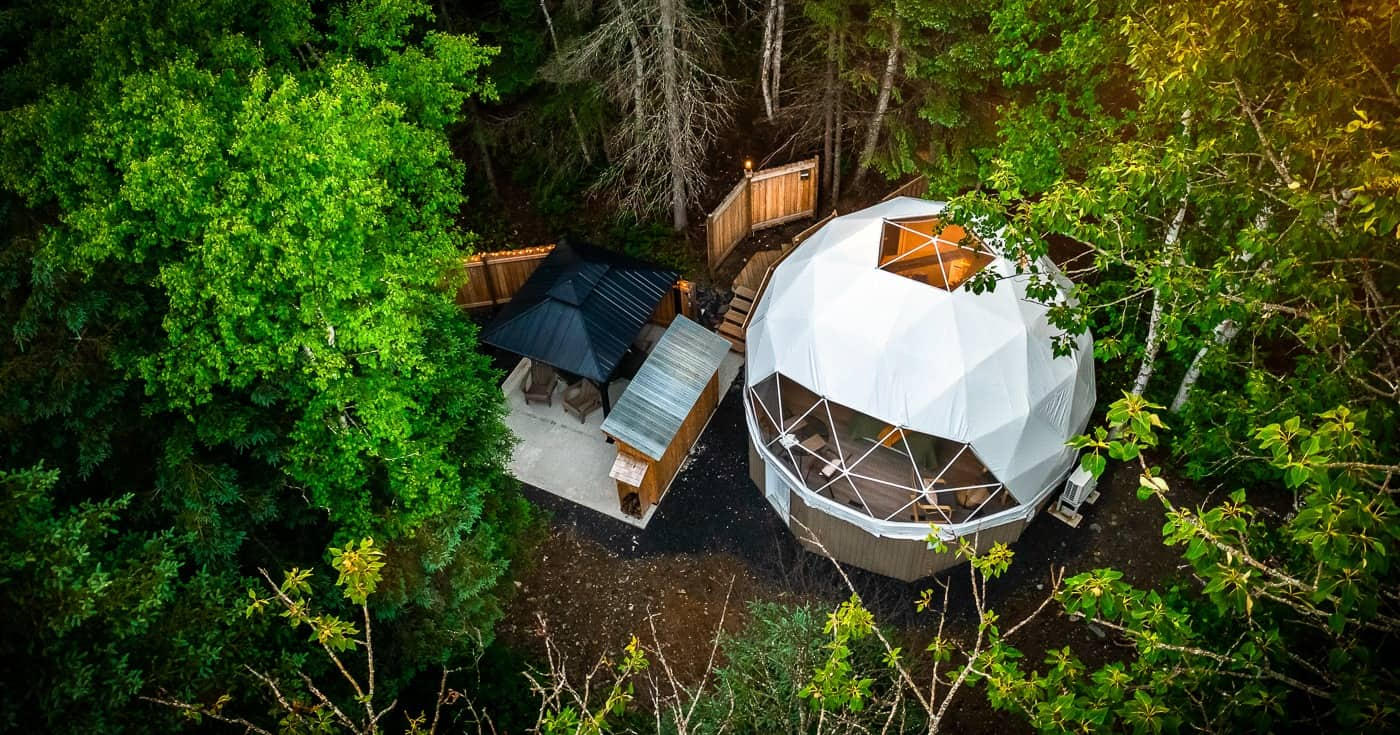 All visitors coming to the east coast on the TransCanada highway pass through Edmundston. Some never stop in New Brunswick at all, let alone the northwest of the province. If they only knew what they were missing. 
"Everyone from Ontario and Quebec have to pass through us," said Bruno Landry, the co-owner of Quisibis Domes Glamping. "It's an opportunity to build something new."
Quisibis Domes Glamping are six luxury glamping domes, secluded in the woods, beside a river, in Rivière-Verte, just south of Edmundston. Each dome has a covered jacuzzi, barbeque, and table. So even in the rain, you can turn on the hanging-coloured lights, and enjoy your time in nature. 
The domes are fully equipped with a kitchen, bathroom, heating, and a giant window, so you can enjoy your isolated piece of nature, even in the winter. There are four two-person domes, and two four-person ones. There is a two-night minimum, so you get the chance to actually settle in, and relax for a little while. 
After years working in tourism, and then property management, Bruno saw the need for unique accommodations like these. 
"If you ask me if I wanted to build it again, I'm not sure I would," he said. "But I'm happy I did it."
The location is next to the river, with remnants of an old dam used back in the days when logs were floated down that river. So, visitors can take in some of the history, while cooling off in the summer months. But everything had to be dug up and prepared, with water, sewage, and special heating solutions to keep the domes cool in the summer, and warm in the winter. 
"The land was not prepped for that, so you have to prepare it," Bruno said. "It's not easy, and we built it during COVID time, so everything was a little bit more complicated."
Thankfully, Bruno had good partners financing the project. CBDC Madawaska was one. 
"Everyone made you feel like they care," said Bruno. "If I have a question, I can call them. They give me the information, or where to ask. They have other contacts."
Aside from an initial loan for cashflow, CBDC (Community Business Development Corporation) helped with marketing programs, sharing expertise, and assessing the feasibility of a project like this in the area. CBDCs are closely tied to their local markets.
"They are there to help you start your business in a good way," Bruno said. 
Even with a good start, some things are just out of our control. As prices climbed Bruno and his partner ended up needing to get another loan. Having positive, understanding, knowledgeable people in your corner makes all the difference. 
"You always have to be positive and see the solution where people see the problem," Bruno said. 
The business is now set up and taking in customers. The next step is reaching an even wider audience, especially those driving by who wouldn't usually think of stopping in the area. They need to know this paradise exists. Bruno knows it would be worth their time. 
"People tell us that we have a nice place, and it's very beautiful, and it's very cozy and relaxing. Very clean," he said. "It's fun when people give you good feedback. That's the best paycheck I know."