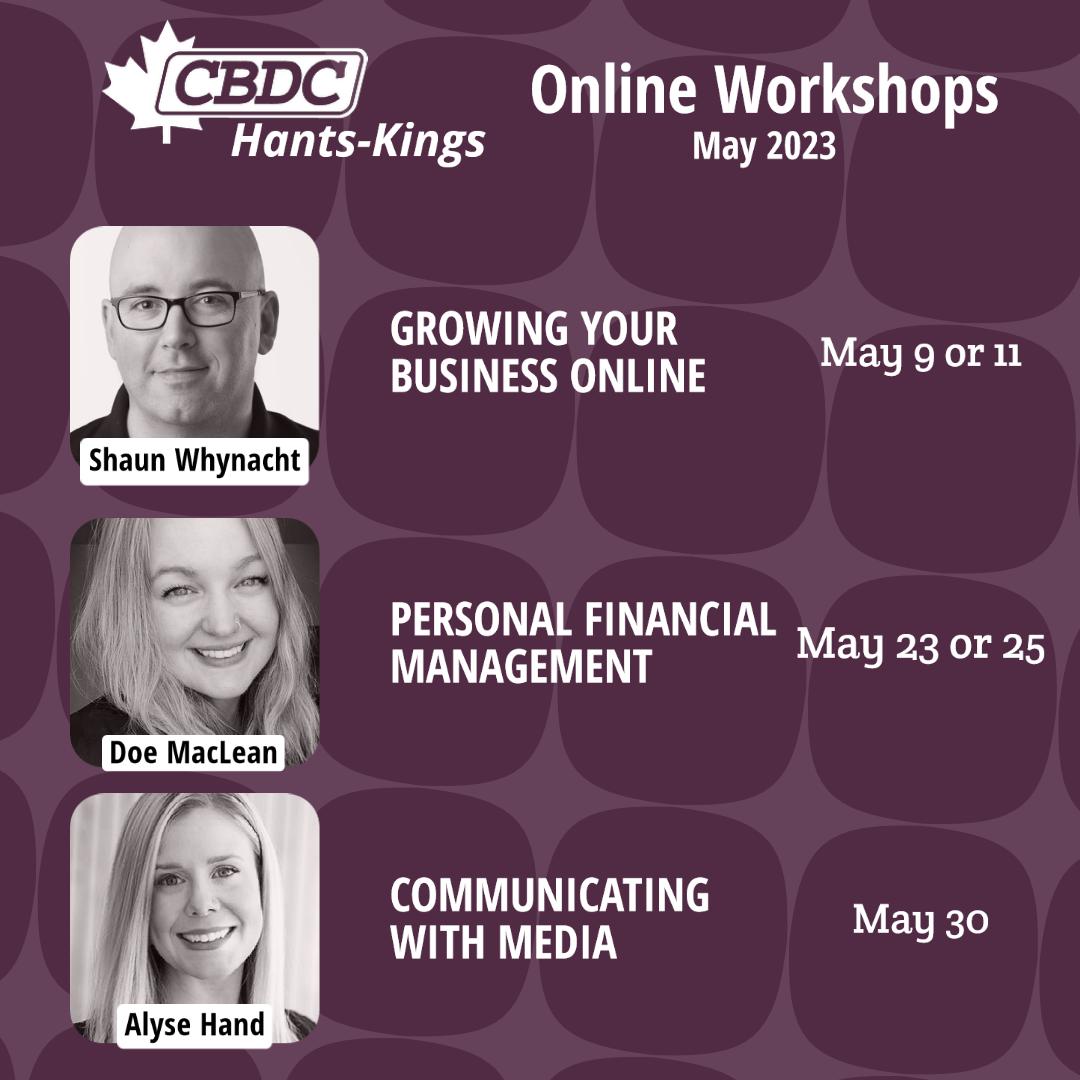 Online Workshops May 2023
Join us for one of our new upcoming business basics workshops:
- GROWING YOUR BUSINESS ONLINE with Shaun Whynacht on May 9 or 11
- PERSONAL FINANCE with Doe MacLean on May 23 or 25
- COMMUNICATING WITH MEDIA with Alyse Hand on May 30
Workshops are up to 2 hours long and take place on Zoom. Courses are FREE, you must register to get the Zoom info. To reserve your spot, contact Allison.Hirschfeld@cbdc.ca.
GROWING YOUR BUSINESS ONLINE
Presented by Shaun Whynacht, Blue Cow Media
Online Amplification: Turbocharge Your Business Growth with Dynamic Internet Strategies
If you're new to business and not familiar with online marketing, this session is for you. Get an introduction to online marketing, including understanding your potential customers and how to make your online presence stand out. You'll learn strategies for sharing your message through engaging content, and how to track your progress and make smart decisions. Get inspired by real-life examples.
Four Options, choose one:
Tue, May 9 at 10 am or 6 pm
Thu, May 11 at 10 am or 6 pm
PERSONAL FINANCIAL MANAGEMENT
Presented by Doe MacLean, Credit Union Atlantic
In this workshop we will be discussing what it means to have control over your finances. You will gain information and helpful tips to help you feel as comfortable and confident as possible with your current personal financial situation and have a clear understanding of what you need to do to obtain your financial goals. Topics include budgeting, investments and savings, understanding your credit score, and how to get approved for lending (personal and business).
Four Options, choose one:
Tue, May 23 at 10 am or 6 pm
Thu, May 25 at 10 am or 6 pm
COMMUNICATING WITH MEDIA
Presented by Alyse Hand, ON-Q Communications
This workshop will include:
WHY MEDIA MATTERS: Overview of the media landscape in Atlantic Canada in 2023, how to cultivate and build relationships, and how to effectively pitch to media outlets.
PREPARING FOR THE INTERVIEW: How to properly prepare for a media interview, and how to look and sound your best on-air.
TYPES OF INTERVIEWS/ CHALLENGING SITUATIONS: How to deal with challenging situations in a media interview and understanding various types of media interviews/how to handle each one.
This workshop will take place on Tue May 30 at 10 am