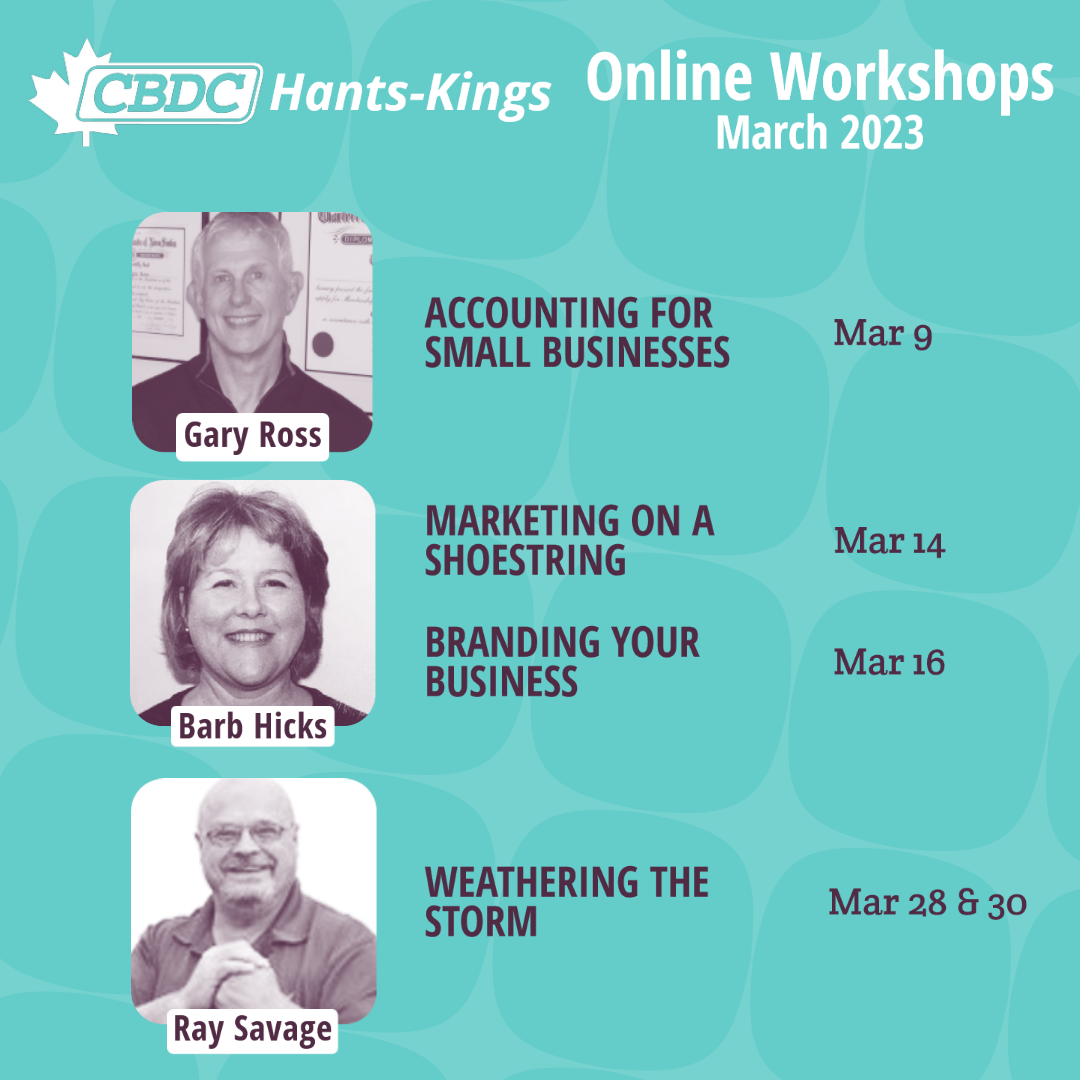 Online Workshops March 2023
Join us for one of our four upcoming business basics workshops:
- ACCOUNTING FOR SMALL BUSINESS with Gary Ross on Mar 9
- MARKETING ON A SHOESTRING with Barb Hicks on Mar 14
- BRANDING YOUR BUSINESS with Barb Hicks on Mar 16
- WEATHERING THE STORM with Ray Savage on March 28 & 30
Workshops are up to 2 hours long and take place on Zoom. Courses are FREE, you must register to get the Zoom info. To reserve your spot, contact Allison.Hirschfeld@cbdc.ca.
ACCOUNTING FOR SMALL BUSINESSES: Basic Accounting Information and Activities to Keep your Small Business on Track
Presented by: Gary Ross, CPA: Accounting, Tax and Business Advisor
This class will cover why accounting is important to your business, and go over the basics of:
- Financial Statements
- Profit and Loss
- Journal Entries & Ledgers
- Cloud Based Accounting Systems
- Accrual Vs. Cash Accounting
- Daily/Weekly/ Bookkeeping Tasks including Invoicing/Purchasing/Bills/Payroll and Cashflow
Thursday, March 9 at 10 am
MARKETING ON A SHOESTRING BUDGET
Presented by: Barb Hicks, Hicks & Young Associates
This session will cover how to develop a marketing strategy for your business. We will examine the marketing principles, including segmenting your market, understanding consumer behaviour, developing promotional messages, and reaching your potential clients.
Tuesday, March 14th at 10 am
BRANDING YOUR BUSINESS
Presented by: Barb Hicks, Hicks & Young Associates
What is business branding and why is it important? This course will cover the basics of branding for your small business, including:
- Importance of Branding
- Defining Your Brand
- Brand Placement
- Slogans and Tagline
- Keeping Your Brand Strong
Thursday, March 16 at 10 am
Weather the Storm
Presented by: Ray Savage
We are in an ever-changing world that is testing our business fortitude. This course is formulated on the empirical instruments of Positive Psychology and Whole Person Wholebeing and will provide tips and techniques to help you flourish now and into the future.     
To optimize the benefits of the session, you will be asked to complete prework of individual tools and instruments.       
Four Session Times Available. Choose one:
Tuesday, Mar 28 at 10 or 6
Thursday, Mar 30 at 10 or 6