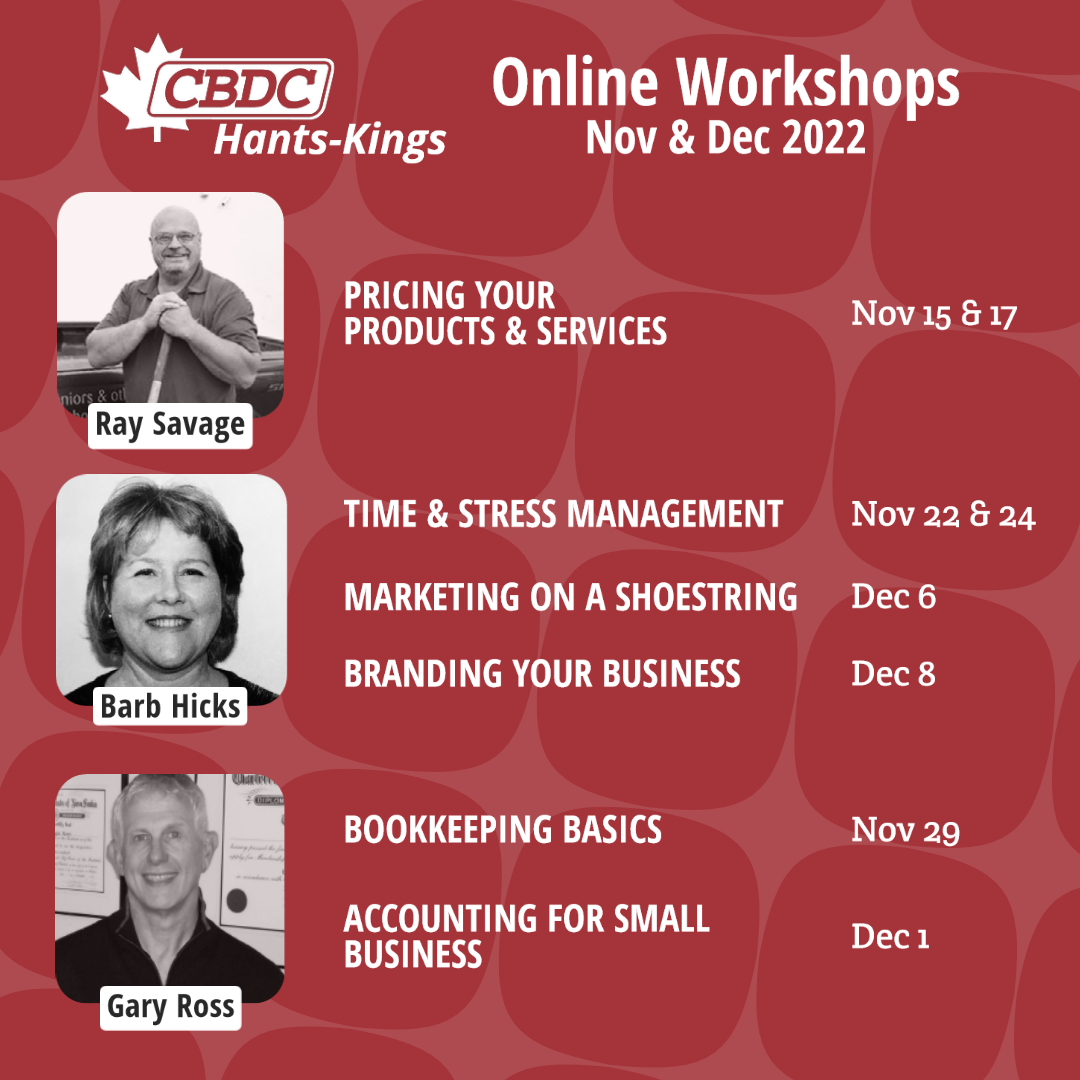 November & December SE Workshops
Online Workshops: November & December
CBDC Hants-Kings is offering six introductory small business workshops before the end of the year: 
- PRICING YOUR PRODUCTS & SERVICES with Ray Savage on Nov 15 & 17
- TIME & STRESS MANAGEMENT with Barb Hicks on Nov 22 & 24
- BOOKKEEPING BASICS with Gary Ross on Nov 29
- ACCOUNTING FOR SMALL BUSINESS with Gary Ross on Dec 1
- MARKETING ON A SHOESTRING with Barb Hicks on Dec 6
- BRANDING YOUR BUSINESS with Barb Hicks on Dec 8
Workshops are up to 2 hours long and take place on Zoom. Courses are FREE, you must register to get the Zoom info. To reserve your spot, contact Allison.Hirschfeld@cbdc.ca.
PRICING YOUR PRODUCTS AND SERVICES
Presented by Ray Savage
This course will help you establish optimum pricing in your marketplace, ensure you cover your expenses and earn maximum revenue, and encourage repeat purchases, referrals and customer loyalty. The course will introduce the four keys to proper pricing and guide you through three pricing strategies.
You will leave the workshop with:
•    an understanding of some of the guiding principles of price determination
•    tools to help you establish your pricing to ensure you do not lose money in your business
•    a detailed action plan to get started   
Four Session Times Available. Choose one: 
Tue Nov 15 and Thu Nov 17 at 10 am or 6 pm
TIME AND STRESS MANAGEMENT
Presented by Barb Hicks, Hicks and Young 
Barb will help you think about where you're spending time, and if your activities are helping you achieve your goals. Learn how to gain perspective when you're feeling overwhelmed, how to navigate through difficult times, and how to stay motivated. Participants will be provided with practical tips to resolve and reduce stress. 
The session will cover:
- Making the Most of Your Time 
- Goal Setting & Prioritizing
- Beating Procrastination
- Addressing Difficult People 
- Importance of Perspective 
- Assertiveness Techniques 
- Rejuvenation & Relaxation Tips
Four Session Times Available. Choose one: 
Tue Nov 22 & Thu Nov 24 at 10 am & 6 pm
BOOKKEEPING FOR SMALL BUSINESSES: Bookkeeping is Key to the Success of your Small Business
Presented by: Gary Ross, CPA: Accounting, Tax and Business Advisor
This course will cover the basics of small business bookkeeping, including: 
- Monthly Bookkeeping such as: reconciling bank accounts, accounts receivable & collections, HST, CPP, payroll, and tracking inventory
- Annual Bookkeeping such as: business use of personal vehicle, home office expenses, financial statements, cash flow & projections, and depreciation & amortization
- Finalizing your Year End Numbers
Two Session Times Available. Choose one:
Tue Nov 29 at 10 am or 6 pm
ACCOUNTING FOR SMALL BUSINESSES: Basic Accounting Information and Activities to Keep your Small Business on Track
Presented by: Gary Ross, CPA: Accounting, Tax and Business Advisor
This class will cover why accounting is important to your business, and go over the basics of: 
- Financial Statements
- Profit and Loss
- Journal Entries & Ledgers
- Cloud Based Accounting Systems
- Accrual Vs. Cash Accounting
- Daily/Weekly/ Bookkeeping Tasks including Invoicing/Purchasing/Bills/Payroll and Cashflow
Two Session Times Available. Choose one:
Thu Dec 1 at 10 am or 6 pm
MARKETING ON A SHOESTRING BUDGET
Presented by: Barb Hicks, Hicks & Young Associates
This session will cover how to develop a marketing strategy for your business. We will examine the marketing principles, including segmenting your market, understanding consumer behaviour, developing promotional messages, and reaching your potential clients.
Two Session Times Available. Choose one:
Tue Dec 6 at 10 am or 6 pm
BRANDING YOUR BUSINESS
Presented by: Barb Hicks, Hicks & Young Associates
What is business branding and why is it important? This course will cover the basics of branding for your small business, including:
- Importance of Branding 
- Defining Your Brand 
- Brand Placement 
- Slogans and Tagline 
- Keeping Your Brand Strong
Two Session Times Available. Choose one:
Thu Dec 8 at 10 am or 6 pm