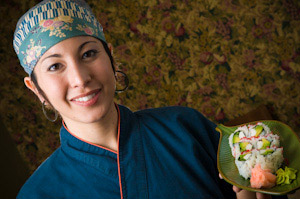 Mitchan Sushi Inc. opened its doors in 2005 in an area where seafood and more traditional 'meat and potatoes' are usually the main offerings on the menu's of local restaurants. Yet Ms. Takatsuka wanted to offer the residents a different culinary choice, namely freshly prepared mouth-watering sushi.
After training with a reputable Japanese restaurant in Toronto, ON, Ms. Takatsuka longed to return to the Acadian peninsula as she missed her community and the lifestyle. Yet she knew that if she wanted to thrive in this area, she would have to create her own employment, hence the idea for Mitchan Sushi Inc. was born.
"I knew what type of menu choices I wanted to offer right from the beginning," says Ms. Takatsuka. "I was confident that the local residents would be open to trying some of my specialties and I was right. Once they taste an authentic Japanese dish, one of my specially prepared sushi's, or perhaps sample a vegetarian creation, they always come back for more."
Ms. Takatsuka knew from the beginning that she'd need some assistance to get her dream of owing and operating her own restaurant off the ground. "I contacted CBDC Peninsule Acadienne, made an appointment, and presented them with my idea. Not only were they receptive, they've been my main source of encouragement throughout the whole process," states Ms. Takatsuka. "They assisted me in arranging for a start-up loan, gave me sound business advice, and also provided me with additional business training courses so I would be better prepared to handle the full operation of my business. I was also glad to be involved in quite a few networking opportunities that the CBDC provided as that helped spread the word that there was a new taste experience to be had in Caraquet. Without their initial and ongoing support, I definitely know I'd have had a tougher time opening my restaurant."
Mitchan Sushi Inc. is located at 114 St-Pierre Ouest Blvd., in Caraquet, NB, and seats approximately 40 people. Ms. Takatsuka suggests that people make reservations ahead of time, especially from Thursday through to Sunday, as sometimes there isn't enough room to seat everybody and she really dislikes having to turn people away.
So, the next time you're in the mood to try something different to tantalize your taste buds, be sure to check out the reasonably priced culinary delights at Mitchan Sushi Inc. Your satisfied stomach will thank you for it!
Copyright Marlene Oulton © 2009