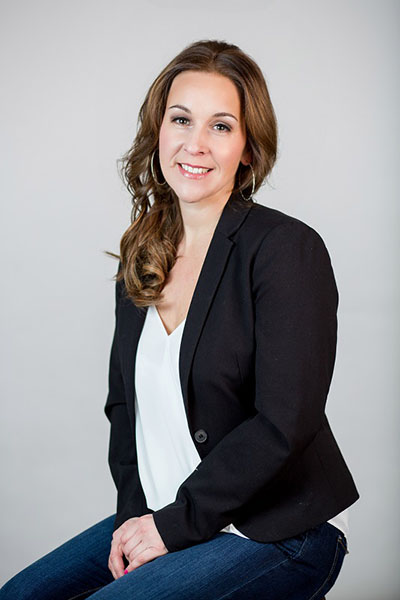 Lulujo Baby: A World-Renowned Local Business
Lulujo no longer produces the wrap carriers, although this was the product responsible for getting the venture off the ground. A friend recommended she try her luck and present her product to a Fredericton retailer. "I was asked several questions by the retailer on price and other details, but I didn't quite know what to answer at the time. Six items from my production were selected by the vendor. Two weeks later, the store called me requesting twice as much. Everything had already been sold."
 
Dawn's story is one of vision and determination. After this first successful experience, she felt a very strong feeling inside: the gratifying thrill of creating and selling her own product. She was quick to give her new company a name, by combining the nicknames of her two children, and Lulujo was born. Soon, she was working with a local graphic designer on the creation of a logo, brand, and web site.
Lulujo's products quickly got the attention of retailers and in 2010, barely one year after landing that first retail store, Dawn was already setting out to conquer the national market. She focused her efforts on a new product, a muslin swaddling blanket, that she had a good feeling about. To expand in the market, she had to be willing to take some risks. It was imperative that the business secure manufacturing in order to fulfill orders on time. To do so, she connected with a foreign manufacturer and adapted to production constraints such as limited range of colors and minimum order quantity. She subsequently found herself with a delivery of no less than 4,000 items in her basement of two different product SKUS.
This first expansion phase was instrumental in the success of the business. In 2012, Dawn Marie signed with one of the top Canadian distributors of baby products, giving the company access to almost 1200 stores in Canada, including the chain Toys "R" Us. In 2013, investors in Toronto approached her to export her product, specifically to the United States. Close to 900 US retailers opened their doors to Lulujo starting in 2014. That same year, Lulujo ranked third among the top selling brands in Canada among her distributor's products.  In 2015, the company opened warehouse in California to fulfill orders to their American customers. After this first export phase, doors opened to countries like Australia, New Zealand, China, Honduras, Ireland, Iceland, the Netherlands, Belgium, Luxembourg, France, Poland, Russia, Taiwan and the United Kingdom. Dawn Marie can barely remember them all.
It bears remembering that this thriving business was built from a very small seed that grew from one person's vision and passion. During her maternity leave in 2009, this aspiring businesswoman received the services of the CBDC Southwest through the Self-Employment Benefit Program, giving her start-up funding to familiarize herself with the basics of the industry. Next, she had access to funding from her local CBDC on two occasions. Dawn Marie still lives in the Fredericton area and represents a beautiful model of success for her community's economy. She employs approximately ten people in this region and the entire creative process involving product development, that now extends over many product lines, is implemented locally. "What fascinates me is that wherever we are on the planet, mothers are drawn to the same things. Mothers like (1) simple things, (2) good prices, and (3) practical things. And it's by focusing on these three elements that we try to set ourselves apart from the competition."
Down Marie Pottier is both a dynamic businesswoman and a young entrepreneur who took the gamble of starting her own business to gain more professional freedom, while playing an active role in the economic development of her region. She is a model of success both for women and young people who, like her, hope to start their own business. She would like to share the following: "My advice is to visualize in detail what you want. If you can see and feel what you want, you shouldn't give up on it. And this takes passion. However, passion alone won't guarantee success, you also need perseverance. If you have a vision of something, everything is possible. You can't let go of that vision. It takes hard work and perseverance. If there's an obstacle, it's normal, there will always be something in your path. At first, I was penniless and inexperienced; I had no idea how to sort everything out. It was difficult, but I met the right people. It's very important to have people who fully grasp your vision."