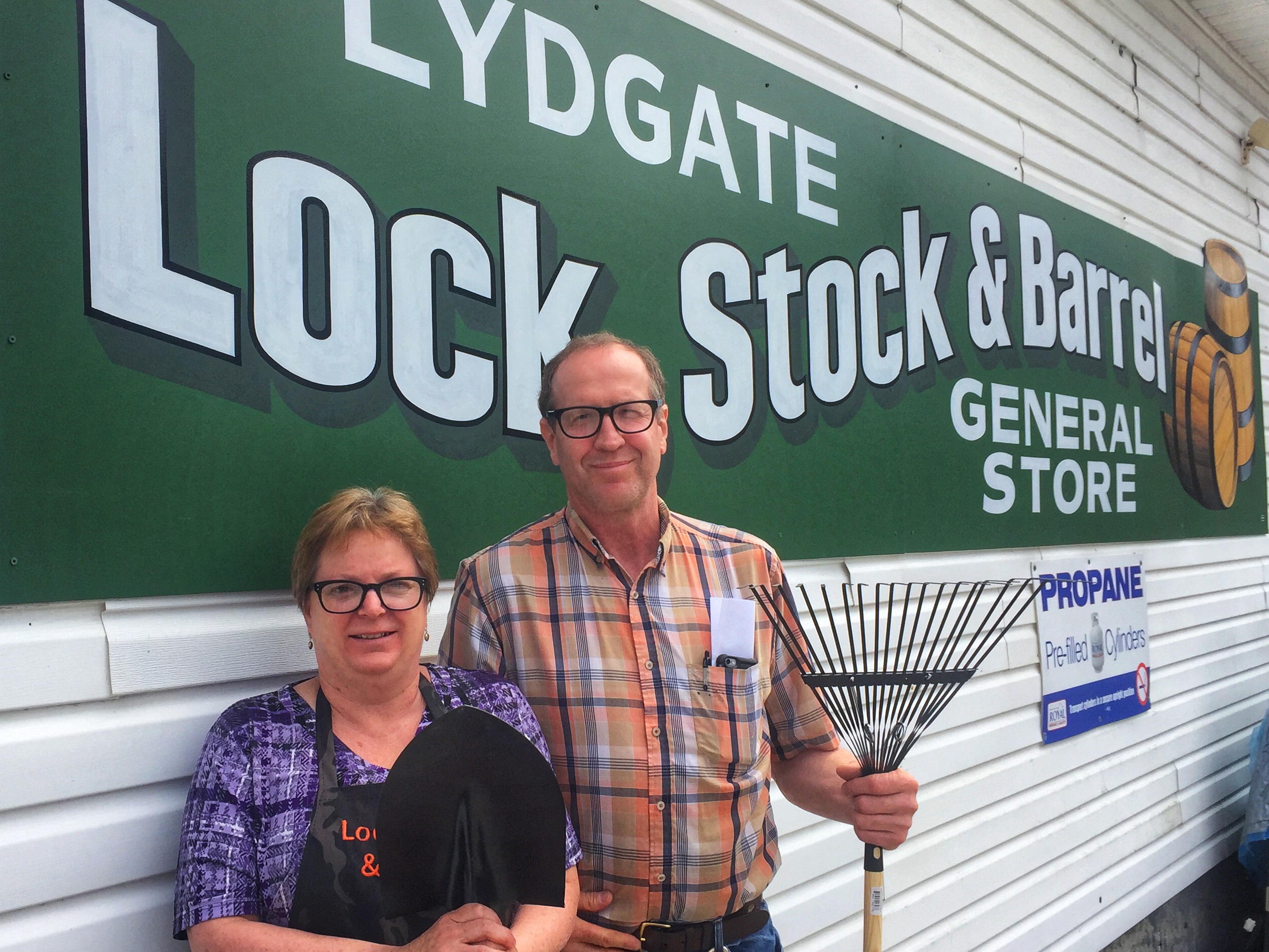 By Darcy Rhyno
When the store at the intersection known locally as Page's Corner near Lockeport closed several years ago, the community lost more than a convenience store. It lost the only local gas station too.
Around that time, Tim MacIntosh was feeling burnt out at his last job where one of the previous owners of the store happened to work. Tim thought he might like to take over the store. "We did some negotiating and I said, 'I want everything that's in it too, lock, stock and barrel.'"  
The concept for Lydgate Lock, Stock and Barrel was born. "We wanted to provide gas," says Tim, "because people were driving to Sable or Shelburne. Then we said, okay, the hardware store's closing down, so we need to bring in hardware." With the addition of a small grocery section, a drive through window and the return of the popular ice cream service, Tim, his wife Ruth and two business partners opened an old-fashioned general store with a couple of modern twists.
Tim and Ruth speak with pride about the astonishing variety of goods they stock in the small store. Tim says, "People are coming here, say, on a Sunday to get a hot water tank or a water pump. Once, I sold six hot water tanks in one day."  
To get Lock, Stock and Barrel off the ground, the MacIntoshes went to CBDC in Shelburne. "Before we opened, we went to all the training available," says Tim. "They provided financing and training like accounting, advertising and promotion. CBDC's been so helpful to us." Specifically, they speak highly of Ardith Van Buskirk. "Ardith's been there the whole time providing us with what we needed," Says Tim. Ruth adds, "She comes to the store and checks in."
Tim and Ruth opened in June, 2016. "I wish I had a dollar for every time someone came here and said, 'I'm glad you guys are here – you saved me a trip to Shelburne," says Tim. "It makes you feel good." The MacIntoshes see their store as a community service and give the example of the Christmas storm in 2017.
"Christmas day, early in the morning we were here providing gas until it ran out," says Tim. "I pulled every string I could and the next day I had gas here again. We had a generator providing gas for all the emergency vehicles in this area. They told me it was the biggest lineup they've ever seen on both sides of the road waiting for gas." Ruth adds, "We sold a week's worth of gas in one day."
For some customers, they deliver groceries. They give others a lift home with their purchases. "We've supported everyone who comes here for donations," says Tim. They even provide a barbecue, tent and some supplies at cost for those who want to hold a fundraiser outside the store. With Lock, Stock and Barrel, Tim and Ruth MacIntosh have created more than a variety store. They've become a hub of community activity.