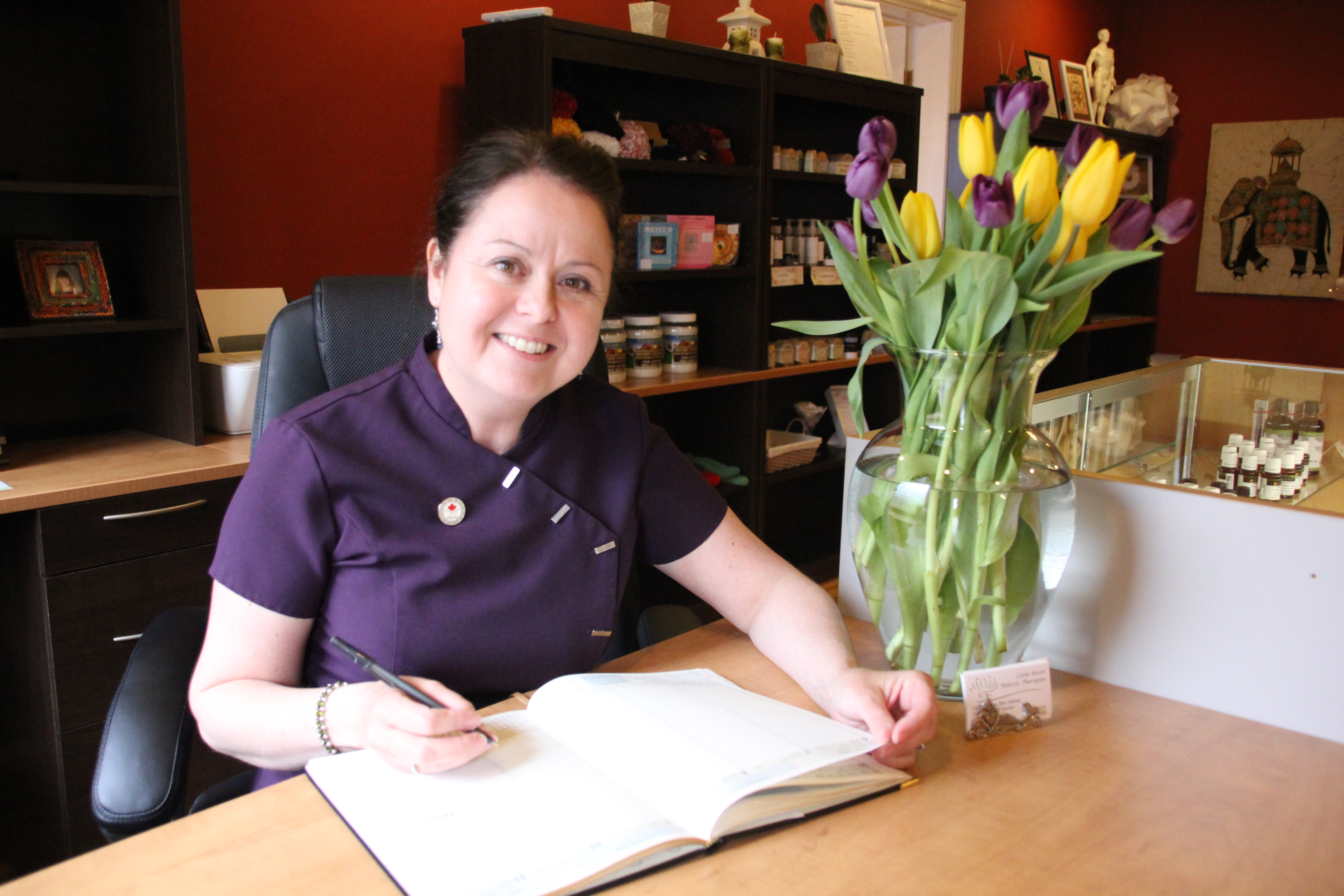 Little River Holistics Therapies
First, they bought a home in Little River, Digby County. They vacationed there and did repairs and renovations every summer until it was suitable to live. However, just before they were ready to leave England, Liz discovered a degree-granting program in Chinese Medicine at Glyndwr University in Wales.
"It was something I had longed to do but never quite had the opportunity. At the time my husband was a vice principle but teaching seemed a career with few openings in Nova Scotia. However, long haul truck driving was a favourable option. We both left careers behind and re-trained."
Fast forward to 2011 when the family relocated to Canada. It wasn't long before Liz was knocking on Wanda Pulley's door at CBDC asking, "Help! Where do I begin to start my own business here?"
At first, Liz had her business on wheels and felt like a little nomad going to people's homes. Eventually she rented a small office. This past November, the entrepreneur opened a clinic with multiples services called Little River Holistic Therapies in Digby. The roster includes Acupucture and Chinese Medicine, Aromatherapy, Massage, Reflexology, Reiki, Counselling, Hypnotherapy and Psychotherapy.
She's thrilled with the service from CBDC which provided everything from business counselling and courses, to assistance with setting up a website, purchasing equipment and a building.  
It's been hard work yet hugely rewarding. And there's been lots of humour along the way. For example, Liz recalls being asked to give a talk to seniors. She agreed, and offered a free treatment as part of a fundraising draw. Her only request was that the winner would be willing to be part of a small demonstration—assuming the winner would be a senior needing a foot massage or acupuncture for knee pain.  "The winner of the prize was a big burley lobster fisherman with a big personality to match. Typical of most lobstermen, he had serious back issues. Without hesitating he whipped of his shirt saying, So then, where do you want me?" She was sure the seniors would have multiple coronaries from shock or laughter.
The next day, Liz received a phone call from the fisherman's wife. "I was somewhat nervous. Thankfully she was amazed at how well his back had responded, and the family became one of my biggest promoters."
As one looks around this health practitioner's clinic, it's clear that business is growing and  her hard work has paid off. "I love being my own boss, setting my own standards, and doing what I have worked hard to achieve. I am blessed to have a supportive family, especially my husband; we are a team and work hard together."
Asked if she has any advice for others wanting to start a business, Liz says, "Get as much advice as you can, do your own research and homework. Be prepared to be flexible, work hard, and be open to change. Most of all, follow your dreams."