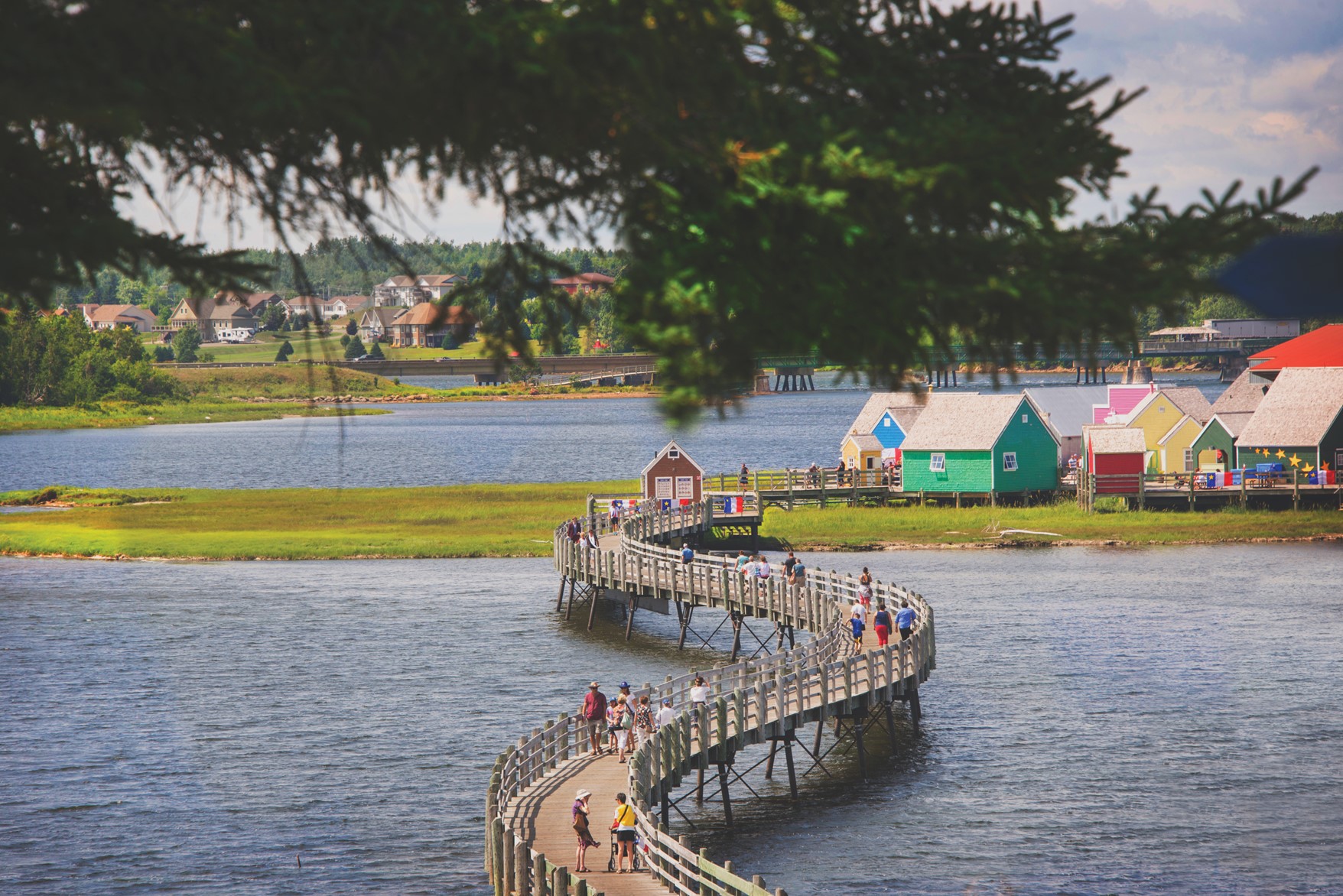 The iconic boardwalk leading to a small island that you see from the highway as you enter Bouctouche announces your entrance into "La Pays de la Sagouine." 
They call "La Pays de la Sagouine," a "theatrical village," but it is truly a multi-faceted celebration of Acadian Culture, and direct homage to Antonine Maillet's "Sagouine," and  Viola Léger's embodiment of the character, that made it known and loved around the world. 
It celebrated its 30th year in operation last year. 
"The most frequent comment I receive," said Monique Poirier,  the Codirector and Creative Director, "is, 'we had no idea the level of entertainment and how diverse and how jampacked one full day is here.'"
"La Sagouine," is a collection of monologues, published in 1971, made by the character only known as, la Sagouine. She is a fictional Acadian cleaning woman from rural New Brunswick, but was based on real interviews with women around Bouctouche. The monologues are filled with wisdom and insight, often just as relevant today as they were in la Sagouine's time. 
La Pays de la Sagouine stays true to the spirit of this work, while still exploring and celebrating all aspects of modern Acadian life as well. 
All the characters perform monologues several times during the day, but there are often performances with many characters on stage at once.  And then there's always music, musical theatre, children's theatre, food and celebrations of all sorts to experience. 
"She wrote because she wanted the whole world to know about the people, about the Acadians," said Piorier, ."We took that passion and the vision of Antonine Maillet, and we're expanding it as much as we can so as many people as possible can connect and discover and learn about who we are and what we do."
René Côté, the Executive Director of CBDC Kent remembers when La Pays de la Sagouine opened. 
"I was very young, but for a lot of people it was like a long time dream come true," he said.  
Côté takes every opportunity he can to show people the enterprise. He likened it to wanting to show guests your favourite part of your home. So whenever La Pays de la Sagouine needs anything, they know CBDC Kent is there to help, whether it is to develop something new, or just buy tickets to a show. It fits perfectly with the CBDC's mandate. It knows how important it is to the community, and the province. 
"La Pays de la Sagouine brings a lot to the area. It brings tourists in and it helps other businesses. It helps the community. They are a major employer," said Côté. 
"It's also a social enterprise, which we believe in also."
CBDC Kent provided a successful loan in the mid-2010's, so Côté was even ready to call on other CBDC's in the network to help fund a recent project. But it turned out, La Pays de la Sagouine didn't even need to access the approved loan from CBDC Kent alone. 
The biggest recent change is the addition of "Akadi Lumina," which opens on August 3rd.  It is a 1.5 km night walk, created by the Montreal entertainment studio, "Moment Factory." It will be the 18th one, worldwide. 
"The best explanation I have is sort of like going to see a Cirque du Soleil show and take the acrobats out," said Poirier. "But keep the whole magic, the music, the ambience, the kind of diving into some sort of imaginary, extraordinary world." 
It fits perfectly with everything La Pays de la Sagouine tries to be. 
"We still have the wooden spoons, and we still have the fiddle, and we still have the acadian jig, and then we have a production with Moment Factory, and we have everything in between," said Poirier. "It's just an Acadian explosion."