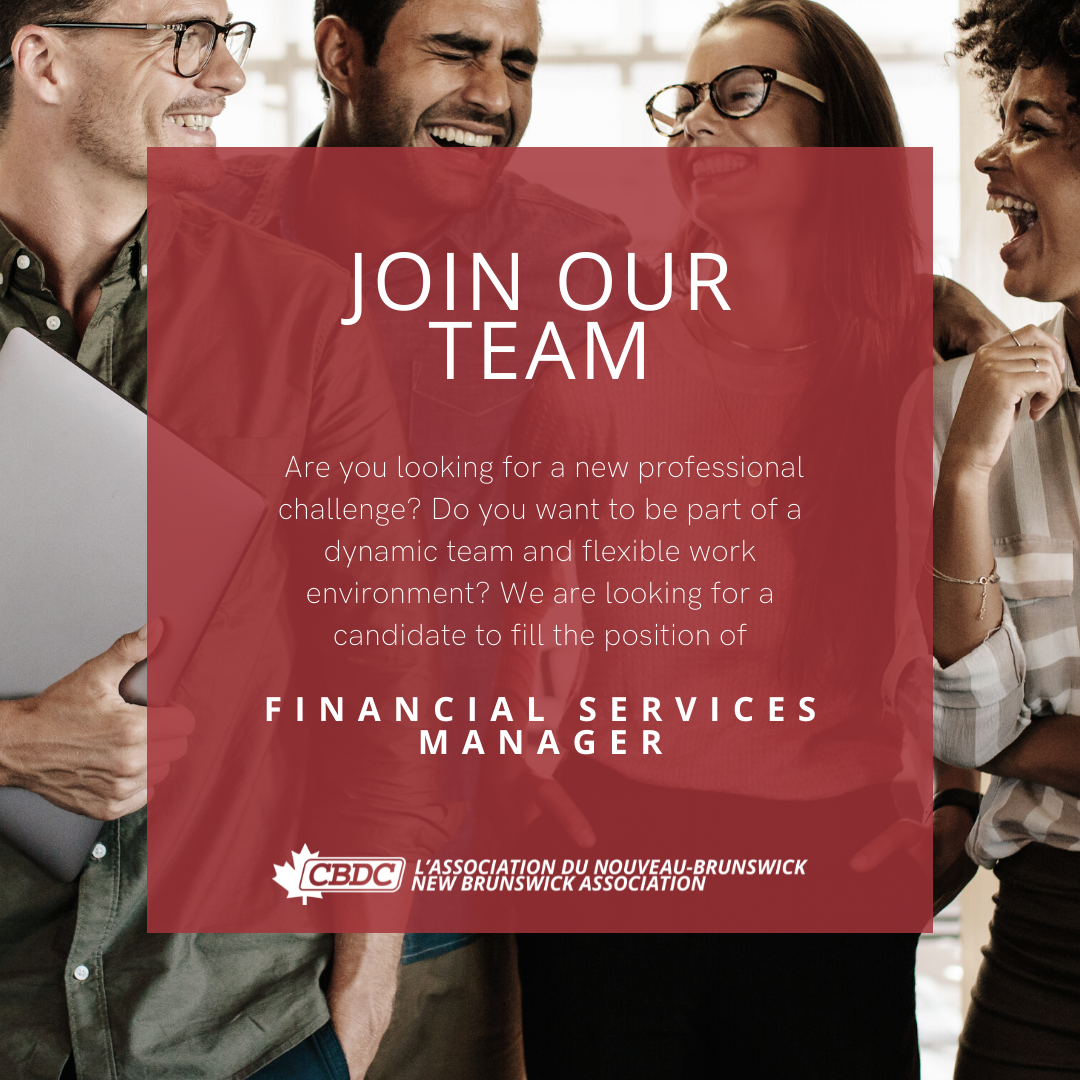 Job Offer - Financial Services Manager

Summary
The New Brunswick Association of CBDCs represents and supports ten (10) CBDCs located in rural municipalities across the province and led by volunteers who are members of the business community. We are non-profit organizations dedicated to potential and existing entrepreneurs who want to access capital and resources for their business. As the association grows, it must create a new position to better meet the growing needs of the organization and its team.
Therefore, are you looking for a new professional challenge? Do you want to be part of a dynamic team and flexible work environment? We are looking for a candidate to fill the position of Financial Services Manager.
Under the supervision of senior management, you will be responsible for the implementation of accounting controls, to produce financial statements, manage internal financial controls, produce financial and management reports, support payroll and treasury. You will also be responsible for maintaining the integrity and accuracy of all financial data.
Roles and Responsibilities
Among other things, you will be responsible to:
Supervise a team dedicated to accounting and administration
Work closely with the Executive Director on the organization's financial planning and provide various financial analyses oof the organization.
Monitor budgets and suggest corrective actions; update the operating budget and projects on a monthly basis
Manage the process and activities of external auditors, including preparation for year-end audit files
Respond to any verification (audit) of the financial partners on the various projects of the organization
Ensure the organization is in compliance with all rules and regulations
Collaborate on grant applications
Provide financial accountability towards funding partners
Plan, direct and coordinate all operations under his/her responsibility; among other things, see to the completion and delivery of documents such as T-4 slips, WHSCC, corporate registrar, group insurance documents, etc.
Identify opportunities to optimize financial processes by identifying and developing administrative and financial policies, guidelines and procedures
Work in conjunction with senior management and act as an advisory role
Support the development of management reports and performance indicators (reports and financial documents) to enable senior management and the Board of Directors to make informed decisions.
Produce monthly financial statements and participate in Board of Directors meetings
Coordinate various insurance policies
Requirements
Hold a university/college degree in administration/accounting or equivalent
Accountant title; (an asset)
More than five (5) years of experience in a controller, finance management or similar position
Experience with a non-for-profit organization, financial management of various projects and various funders' management, an asset
Demonstrate autonomy and be able to evolve in a growing environment
Ability to manage multiple files at once
Ability to influence, negotiate and communicate with all levels of authority
Be empathetic, enjoy a friendly environment, focused on fun at work and respectful
Results-oriented while taking into consideration your peers
Ability to present financial, strategic and comprehensive information
Advanced knowledge of the Microsoft Office suite, especially Excel and Sage accounting software
Bilingualism French - English, both verbally and written
Work conditions
Status: Permanent full-time position, located in Bathurst, New Brunswick
Salary: Competitive and negotiable based on experience and education, starting at $63,000/year
Benefits: Group insurance, pension funds
To apply
You have the profile we are looking for, do not hesitate to send us your resume accompanied by a letter explaining your interest in this position to the following email address: cv@reflexion-rhr.com. Please note that the closing date for this competition is April 15, 2022, midnight. All the information received will be treated in the strictest confidentiality. We appreciate the interest of each candidate, however, only those selected for the next step of the process will be contacted.
We encourage anyone who wants to work in a continuously evolving ecosystem and contribute to a healthy and inclusive work culture. We value a work environment that is fair, open and respectful of differences.