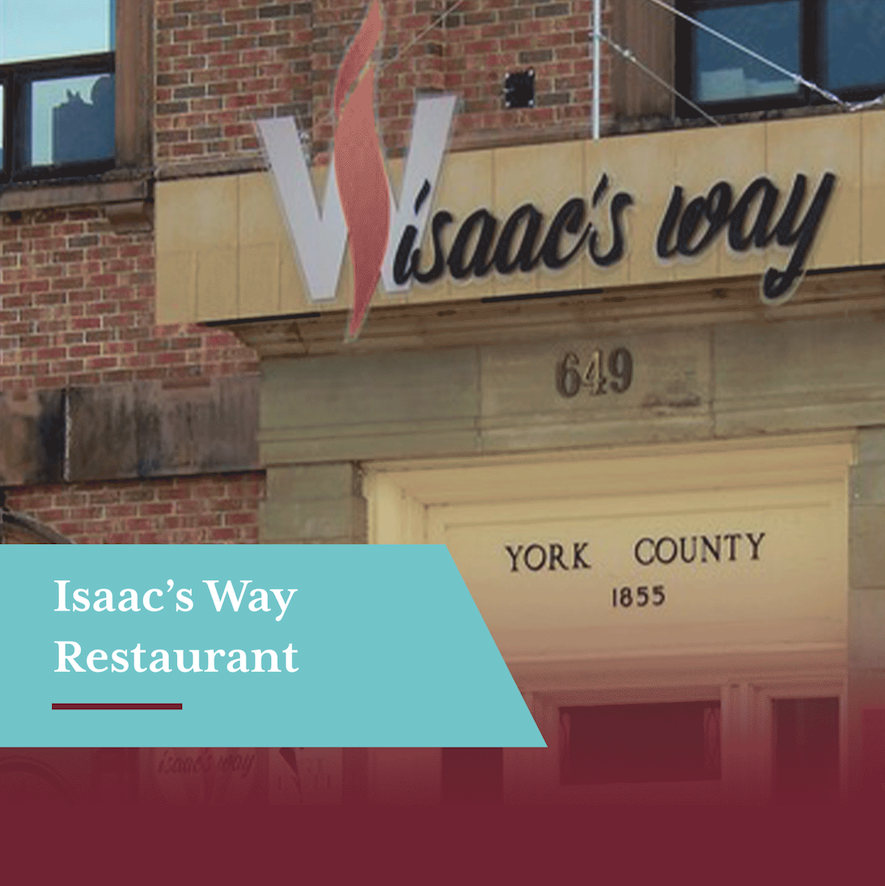 Nourishment for Body and Soul
Back in 2012, fire destroyed the original Isaac's Way Restaurant, along with Abbey Café, the first vegetarian eatery in Fredericton, NB. At the time, some thought that would be the end of Isaac's Way. Yet Tina and Jason LeJeune and Tabatha Smith, the original owners, were determined to find a new home for their creative talents and soon relocated their top-notch culinary operation to 649 Queen Street. 
When the LeJeunes decided to sell the business in 2018 and pursue other interests, Tabatha Smith, Jesse Demers, Laurie Richard and Kristin Thurlow decided to pool their resources and expertise and eagerly took over the operation of Isaac's Way. Little did they know that just two years later a pandemic would close every restaurant in the province and throw their hopes and dreams into disarray.
"Sales started to slow at the beginning of March. By mid-month, my entire staff had been laid off due to mandatory closures," says Ms. Smith. "While we quickly pivoted and started offering take-out and delivery, we still had outstanding supplier invoices, plus standard operating costs such as rent, electricity, etc. We were only taking in 20% of our normal revenue. During that time, we were losing money, despite our take-out business. As most restaurants rely on regular cash flow to stay afloat, this pandemic created major obstacles for us. For the first time ever, we were forced to decide which expenses got paid first, which was very frustrating and stress-inducing, to say the least. All four of us owners worked 6 or 7 days a week for the first 7 weeks just trying to keep the business afloat."
Thankfully, someone mentioned that the Community Business Development Corporation (CBDC) was offering support through the New Brunswick government's Small Business Emergency Working Capital Program. This proved to be just what the four owners needed to tide them over until the public health restrictions were lifted. "Grateful is the only word I can use to describe receiving that loan," Ms. Smith says with a smile. "It also gave us the funds we needed to open a summer patio extension, which also helped increase sales as it facilitates social distancing. We definitely needed that cash flow boost. Having the CBDC there to help certainly came in handy."
In keeping with their community-minded philosophy, Isaac's Way and Abbey Café are dedicated patrons of the arts, hosting an ongoing silent art auction that gives children valuable experience via lessons in dance, music, theatre and art. They also make monthly donations on behalf of their birthday club to the Community Kitchen. In addition, Abbey Café donates 20% of the proceeds from its on-site art sales to this worthwhile organization. 
When all is said and done, Isaac's Way and Abbey Café are not just providing pleasure to their patrons through the food they serve, but are also contributing to the well-being of the community as whole. In short, they're nourishing their satisfied patrons, body and soul, one meal at a time.
©Marlene Oulton 2020