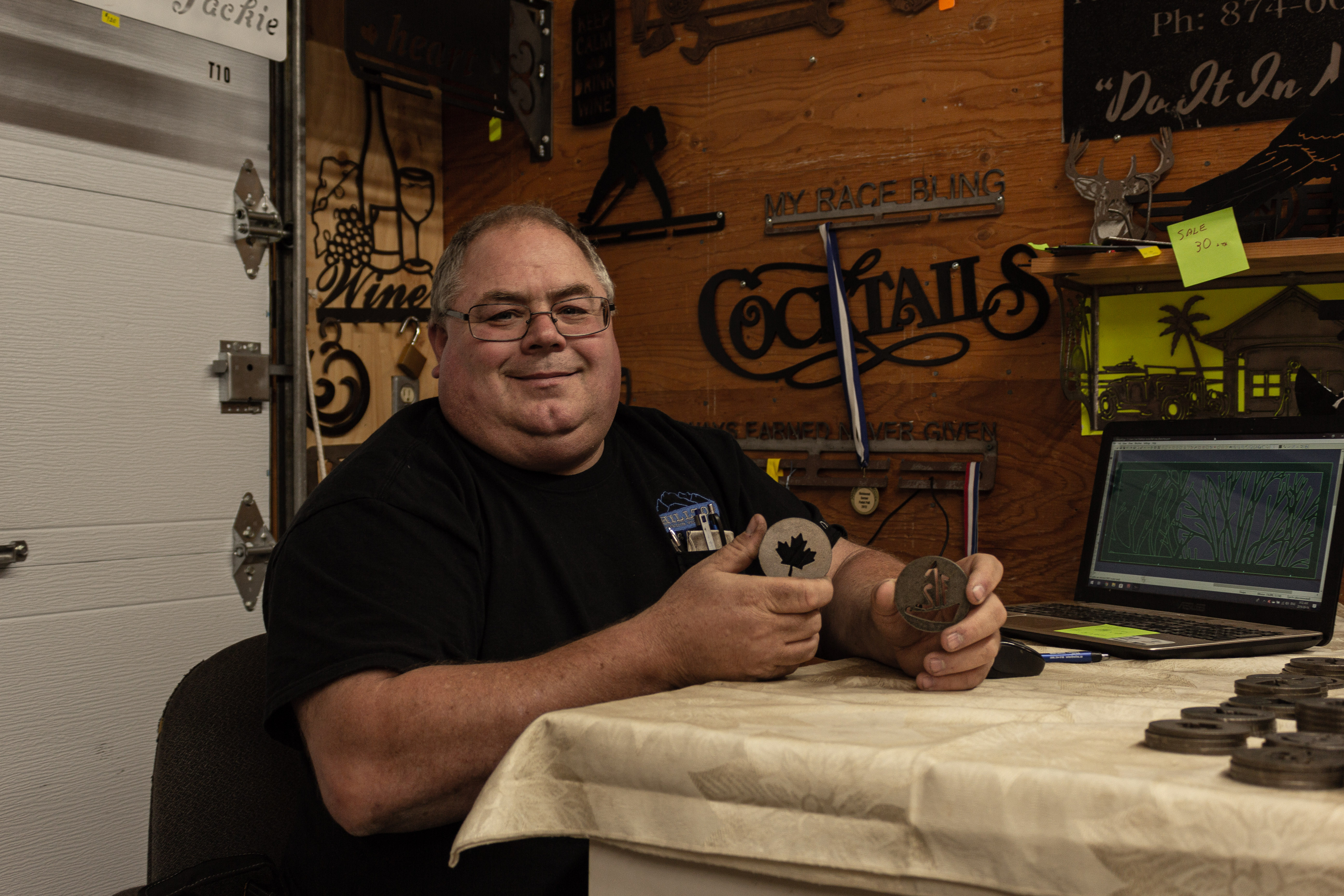 Hilltop Fabrication Welding & Repair Entrepreneurial Sparks of Inspiration
The old saying "Where there's a spark, there's a fire" could easily be changed to if you're seeing sparks flying that means Dave Kelly at Hilltop Fabrication, Welding & Repair located in Stilesville, NB is hard at work. Most days you'll find him applying his torch to some sort of metal, creating not only functional commercial staircases, ramps etc., but he may also be fashioning imaginative signs, outdoor fire pits, or even customized washers for washer toss games.
In some companies, doing just welding is the usual norm, but not for Dave. In his case he has to cut the metal to size, bend and/or roll it, and do all the forming of the piece on site in his shop. "Every day brings something different to do in this business", says Dave. "I love the variety of projects we get to work on, whether they're commercial based or customized jobs for individual clients. I love it when customers come to me looking for a unique piece and only have a vague idea of what they'd like done. I have to ask questions, get to know the customer and their own specific tastes, or the person they are buying for, and then coax out their idea of the final design. Most times they're not quite sure of the design other than a general theme. I have over 100,000 files for my clients to choose from, and chances are I'll be able to put together something that will make them happy. I take the same care with all my work as I know my reputation as a first class welder is always on the line. We often get repeat customers which are crucial to a business owner, plus they also tell all their friends where they got their cottage sign or fire pit. I thoroughly enjoy producing a one-of-a-kind design item as that's when the artist in me gets free rein. Trust me: this type of work is anything but boring."
The entrepreneurial bug hit Dave back in the spring of 2014. Tired of just putting time in at his job, he decided to take the plunge into becoming a business owner and he's never looked back. Having already obtained his welding engineering technologist certification from NBCC as well as having taught pre-employment welding and related welding for other trades, Dave decided to strike out on his own. Armed with a business loan he received from the CBDC Westmorland Albert, Dave opened the doors to Hilltop Fabrication Welding and Repair on April 15th, 2014. "I most likely would have started my company regardless of the help I received from the CBDC, but I can guarantee you that the end results might not have been the same. My consultant provided me with assistance in drawing up my business plan and helping me understand the ins and outs of being an entrepreneur. I felt comfortable calling them whenever I had any questions concerning running my business and was very glad they were there to help me, especially in that crucial first year. I highly recommend that anyone contemplating starting a business speak with someone from the CBDC before taking the plunge. It will be time well spent."
In the past couple of years, Dave's wife Donna and their son John have now joined him in running the business. Hilltop Fabrication Welding & Repair has morphed into a "go to" place for clients looking for unique finishing touches for their businesses, homes, and cottages. Signs are always popular and even the customized washers for the ever popular washer toss game are catching on.
The future does indeed look bright for Hilltop… with or without the flames.