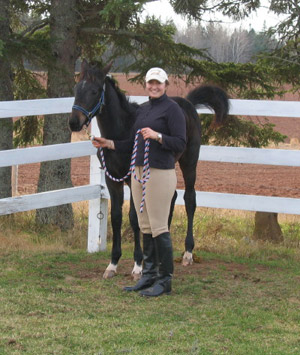 Hanoverian Farm
Regardless of your choice of sport, there comes a time when you need the best equipment to gain the podium, whether that is a top set of skates or a well-bred horse. Looking objectively through performance, Hanoverians have earned their 1st place rank in sport.
I became involved in horses from an early age, starting with the customary Shetland ponies. After moving to the city for years, I was pulled back into horses by grooming at horse shows for a competitive English rider. In the summer of 2000, I happened to purchase a horse of many breeds that was destined for the meat truck. This horse aptly called Strereotype was responsible for bringing my riding along. The next horse was where the love affair with a certain breed blossomed. I had heard through friends of a nice colt that was for sale, Hans, a Hanoverian/Thoroughbred cross. This colt was only a year and a half, but even early on, it was apparent that he could jump. The bond had formed and I started researching the Hanoverian breed. Originally a native of New Brunswick, I moved to Prince Edward Island to pursue a degree in Biology and to come a Doctor of Veterinary Medicine. I graduate from the Biology program this spring (2007) and have applied to the DVM program at the Atlantic Veterinary College. Between studies and as a full-time interest, I happened upon an internet ad that listed Hanoverians for sale on PEI, unbelievable. The ad belonged to Regula and Peter Strehler who have been dedicated breeders of Hanoverian horses for several years. I instanly was in love with these horses and ended up buying a fola in-utero (before it was born).
Hooked on the breed but with limited resources, I was faced with a challenge. Weanlings (foal weaned from their mothers around 4-6 months of age) range between $8,000 -$15,000 dollars, with the price increasing as they develop, and if they turn out especially talented it is reflected in the price. Having a horse background and the facilities but without the capital to buy stock...I was stuck. After months of financial letdowns for backing, I was kindly directed to the CBDC office in Eastern PEI. After submitting a business plan, I was on pins and needles for days, until the CBDC office called to let me know the plan had been approved for funding.
Breeding Hanoverians in Canada is not a new concept and many thanks are owed to many dedicated individuals for having paved the way for the breed over the years. It is because of these horsepeople that Canadians have access to some of the best German bloodlines. The farm now consists of two older broodmares, which are proven producers that have competed in dressage and eventing, a three year old filly, two unregistered geldings that are being trained for resale and the star of the farm a 2006 colt, Round Robin (Rotspon/Don Gregory/Bretano 2) the future stallion. The two older broodmares are booked to be bred this coming spring to approved Hanoverian stallions standing in both the US and Canada. Future fillies will be retained for breeding to replace the older mares down the road. Robin is being kept as a stallion because of his fantastic movement, mind, conformation, and pedigree. My aspirations for this colt are to have him approved for breeding with the Hanoverian Societies (AHS, and VhW), and to show him across Canada and the US. He will be bred to mares on the farm in a few years time to make his stamp on Hanoverian breeding in Canada. With all the advances in shipping semen, I plan to market Robin internationnally. So when you are in beautiful PEI, make a note to come visit the little horse farm that could.
The Hanoverian breed in Canada provides the competitive rider with another option, another choice of equine partner to take them into the ring or over the course. The horses are here to take an equestrian to the top of their levels in any sports horse discipline, be it jumping, eventing, or dressage. Raw talent is hard to beat, especially when you have decades of selection and performance behind a breed.
Ruth Hanselpacker
hanselpacker@hotmail.com