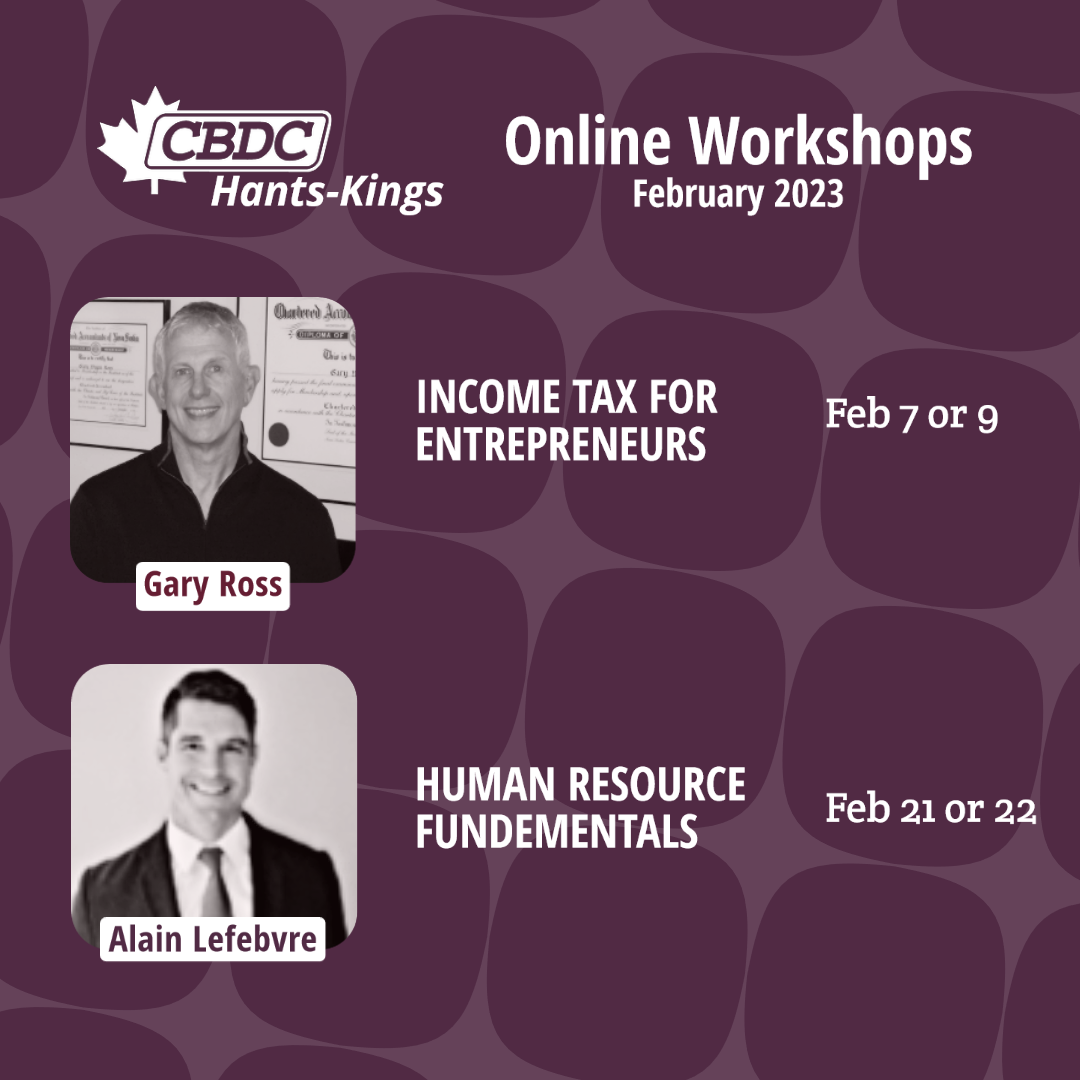 February Online Workshops
CBDC Hants-Kings is offering two business basics workshops in February:
- Income Tax for Entrepreneurs with Gary Ross on Feb 7 or 9
- Human Resource Fundamentals with Alain Lefebvre on Feb 21 or 22
Workshops are up to 2 hours long and take place on Zoom. Courses are FREE, you must register to get the Zoom info. To reserve your spot, contact Allison.Hirschfeld@cbdc.ca.
INCOME TAX FOR ENTREPRENEURS
Presented by: Gary Ross, CPA
Every small business owner needs to know about Income Tax. This essential course will cover business structure and taxes, HST, payroll, CPP, and capital vs expense items.
SOLE PROPRIETORSHIP INCOME TAXES:
- Statement of business activities
- Home office expenses
- Motor vehicle expenses
- Taxes & CPP contributions
INCORPORATED SMALL BUSINESS INCOME TAXES:
- T2 corporate income tax return
- Salary vs dividends
- Shareholders account
- Tax rates and owner/corporation integration
- Future sale of your business and taxes
Four Session Times Available. Choose one:
Tue, Feb 7 or Thu Feb 9 at 10 am or 6 pm
HR FUNDAMENTALS – WINNING THE WAR FOR TALENT
Presented by: Alain Lefebvre, ADpHRM, Associate, Fairwinds Training & Development
The current unemployment-to-job-vacancy ratio is at a historic low in every Canadian province, meaning that there is a historically low number of workers available to fill open positions. Businesses of all shapes and sizes are finding themselves competing for the available talent.
This workshop will explore both traditional and non-traditional strategies for attracting and retaining talent.
Four Session Times Available. Choose one:
Tue, Feb 21 or Wed, Feb 22 at 10 am or 6 pm