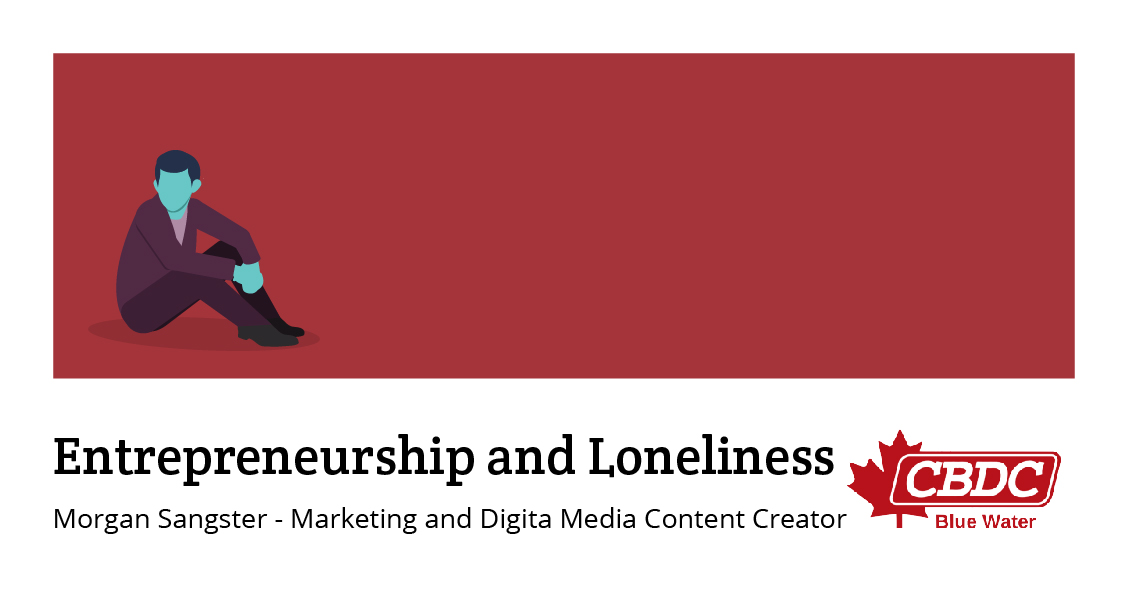 Entrepreneurship and Loneliness
The last few weeks have brought a lot of snow and grey weather. It's a hard time of year for a lot of people and the world has thrown us more than enough obstacles in the last year, and I'm sure that I am not the only one who feels… just over it. Since September, I have only been working in Blue Water's office once a week. A lot of my time is spent alone at home working on my computer. I have brief calls or quick Zoom meetings to share tasks and keep myself on track, but for most of my work day it's just me. In the midst of a pandemic, with not much going on outside of school and work, this feels extra isolating. I've been thinking lately about what this means for entrepreneurs and business owners.
When we hear the word entrepreneurship, the discourse typically revolves around the positives. You'll hear people say "You get to work for yourself", "You get to do something you love and get paid", "You get to learn new skills and be the boss", but it isn't without certain sacrifices. People talk about overcoming the "risks" of starting a business. The risks they are talking about often pertain to finances and financial security, but there are emotional risks you take on as well. Being a solo business owner comes with a heavy dose of isolation, even without the added challenge of a global pandemic.
If you are lucky enough to start your business with a partner, then that can help alleviate some of the loneliness of working and running your business. If you're finding you miss the community of your former workspace, you are struggling without someone there to hold you accountable or just need a little more guidance day to day, I'm here to take a deep breath with you. There are people out there experiencing the same thing, and while your day to day might look a little different than someone not running their own business, there are things you can do to cure the loneliness.
If you are feeling lonely in your business, make networking a top priority. Networking is not only a great way to form professional relationships but it gives you an avenue to meet other people who are experiencing similar things. Whether you look to other business owners in your industry or connect with someone doing something completely different, all entrepreneurs have things in common. Build business relationships, but from these seek mentorship or friendship. Reach out to businesses you admire and ask owners out for coffee (even if it has to be over Zoom). These connections allow you to form a relationship similar to what you may find in the average workplace, someone to bounce ideas off of or someone who shares similar aspirations or ambitions as you.
Another way to get in touch with like-minded people is to join a chamber of commerce or business association. Getting involved in your communities or reaching out to others doing work in your communities is a great way to feel grounded in what you do and less alone.
Taking advantage of resources such as workshops, webinars and conventions in your industry also opens the door to meet more people.
Lastly, I would encourage every small business owner to set strong boundaries when it comes to making time for yourself. You are the heart of your business and without you their likely would not be a business. Because of this, your health should be top priority. Ask for help from your network when you need it, check in with yourself often, and make sure you take breaks.
In my current position, I have been blessed to meet so many small business owners in my community. I am humbled and empowered by their resilience and innovative thinking. I hope that if you are to take one thing from this blog it is that your work never goes unnoticed, and that even in the times your work can feel lonely, your clients and your communities are rooting for you.