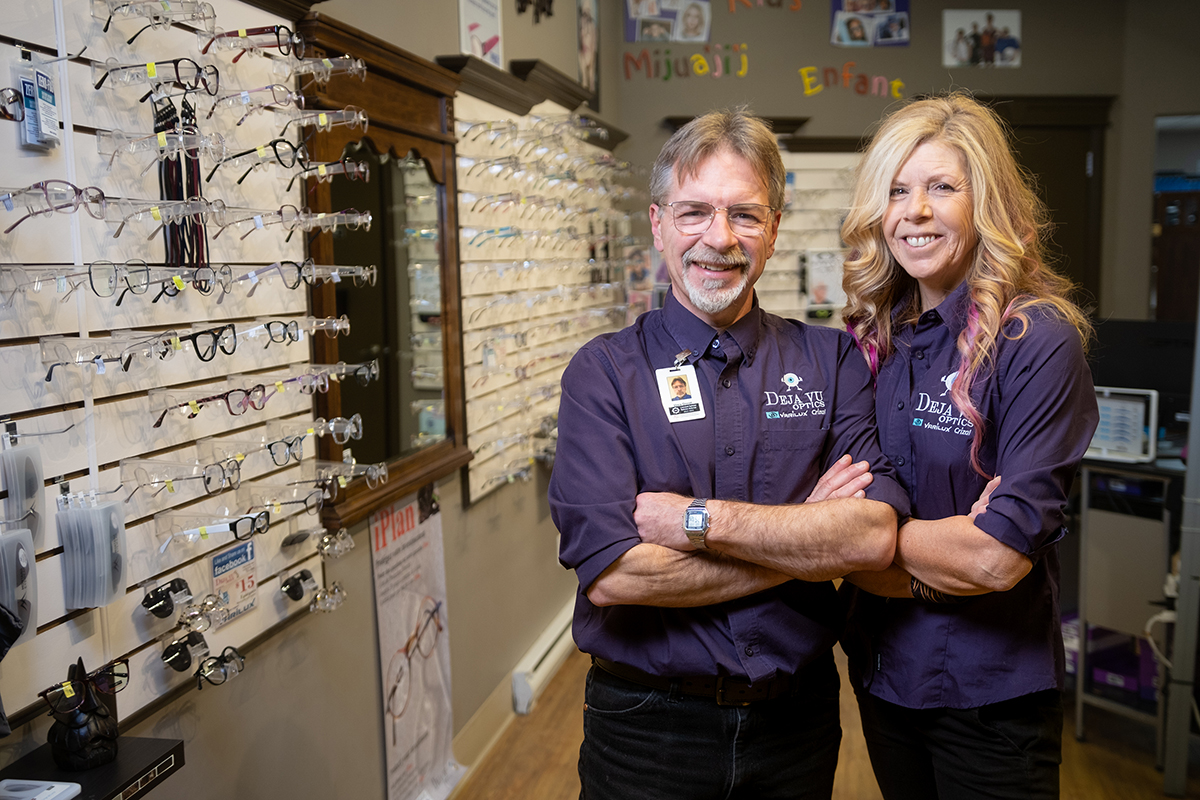 Deja Vu Optics: Entrepreneurs in Restigouche
What could possibly make two entrepreneurs from Halifax want to leave Nova Scotia to come live in Northern New Brunswick? For Vince Gionet and his wife Kim, it was the charming town of Campbellton, a place they thought was more in line with their lifestyle and personality.
When they lived in Halifax, Vince and Kim owned a successful renovation company designing and building custom Kitchens & Baths until 2008. There was also a business opportunity in 2008 that gave them the chance to discover the picturesque town at the mouth of the Restigouche River. For them, Campbellton was ripe with opportunity, as no one in the region offered affordable eyewear and optical services.
Before opening their business, the couple had taken nine months to build their business plan: "We turned to CBDC Restigouche for financing. It took a year to start up Deja Vu Optics, which opened its doors in April 2013. After that first investment from the CBDC, the business expanded rapidly. At first, we thought we could do it alone, Kim and I, but it wasn't long before we realized we needed to hire some personnel" Vince explained. 
In the spring of 2015, good fortune came knocking. A doctor from Grand Falls answering a request for an optometrist approached them at Deja Vu Optics. This proposition was quite opportune, as having an optometrist on site is a great advantage, one the business did not yet possess. Before opening their business, the couple had been looking to work with an optometrist in the region. Two and half years later, Doctor J. Gagné joined their team. This new opportunity called for new funding, and the business turned once more to CBDC Restigouche for help. With Dr. Gagné onboard, the team had to undertake renovations as well as invest in new equipment for eye exams, digital measuring tools for progressive lens and photo frame comparison for our clients, and computerized systems for certain eye exams. In short, the business now has cutting-edge technology.   
With the influx of business with an onsite optometrist they have also had to make the investment in the latest technology in their Digital Lab equipment for cutting lenses to keep up with the demands on the existing business along with increased future demands.
At the forefront of innovation, Vince wants to focus on computerizing his business making it more Eco Friendly. He considers himself savvy and astute: "I am good with computer science and technology in general. I am always on the lookout for new breakthroughs, and I even designed a program for keeping our clients' records and keeping track of our data, our files, our sales, etc. Rather than having to record these by hand, the system does it for you," explains Vince, proud of his finished product.
Being an entrepreneur can be greatly satisfying, as Vince puts it: "It is so gratifying to be able to explore your own ideas. I have been self-employed since 2001, and it would be difficult for me to work for someone else. I can now apply my own methods for conducting business." In Campbellton, the challenge is to promote your services in both languages on a very large territory. "Newspapers and radio ads can help you reach the local community; but with social media, you can reach a much larger market, from Gaspé (about 4 hours from Campbellton) to the Acadian Peninsula. These people also spend money at other businesses in the area, restaurants, gas stations, etc. which also helps to grow the local economy".
The couple also has another method to promote their business: Vince and Kim are both musicians, and through their band, Serenity, they are able to form new relationships with the people in their community on a different level.
In 2023 Deja Vu Optics will mark its 10th Anniversary. Now a full-service Optical Clinic offering eye exams with their optometrist, dry eye treatment, contact lenses, and prescription glasses. With an on-site lab, they can offer quick service for glasses in as little as 1 hour. With full-time staff along with Kim and Vince, they maintain a brisk pace of business.
We asked Vince if he had any advice for the people of Restigouche that might be interested in starting a business. His answer: "You need to be determined about what you want. If you have an idea, you need to try and see how you can bring it about differently, how you can do things in a way that will stand out from what other people are doing. You need to capitalize on what makes you unique, think outside the box, don't be afraid to be a market leader!"