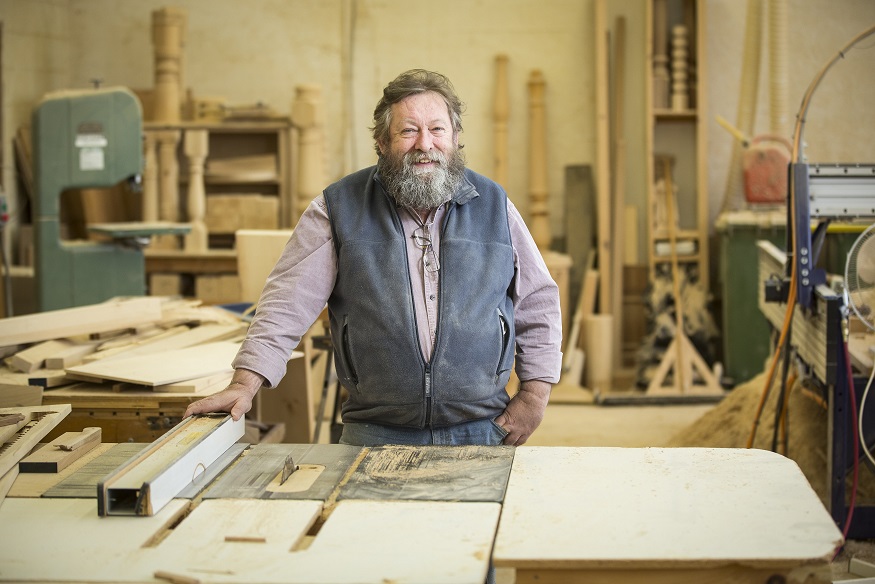 Stephen Mosher is living his dream. He doesn't own an alarm clock and likes it that way. He also sets his own schedule; if he wants to quit work at 2:30 in the afternoon or work half the night, he can.
Stephen owns and operates Cottage Woodworkers in St. Croix Cove, Annapolis County. Back in 1980, he was employed in a pet shop in Halifax. "I knew I didn't want to do this forever," Stephen says. Just before Christmas, he attended the Nova Scotia Designer Craft Council show and was smitten with the gorgeous pieces made out of wood.  He thought, "If those people can do it, I can do it."
Armed with his grandfather's wood working tools, Stephen began to make things. He started with wall shelves then graduated to making small bookcases and cabinets. Eventually he made a bed—and sold it.
Now, he produces functional pieces of furniture that are works of art from his 7000 ft. workshop housed in an old school house—where he also lives. "It even has the original blackboards."  His work includes everything from classical four poster beds to unique hutches, cabinets, dressers, tables, and more. Currently he has two part-time assistants, and hopes to hire someone full-time shortly.
Marketing has been a challenge for this entrepreneur, mainly because it's hard to find the right venue to showcase his work. Craft shows are more for people looking to buy gifts or small ticket items. Home shows are better suited for showing pieces of furniture but you have to go on a regular basis—which he now does. "Word of mouth is the best marketing tool. Using the internet and social media are also important."  He plans to make better use of the internet, especially as a sales tool, this coming year.
Looking back to when he began his business in the 80s, Stephen credits CBDC Annapolis Ventures Ltd. with getting him started and on the right track. "I would not be where I am today without their assistance. They provided business loans to help me buy equipment and buildings. They also provided valuable business advice and counselling."
The most recent assistance from CBDC has come in the form of a loan to buy a Computer Numeric Control (CNC) piece of equipment which allows Stephen to do some fancy carving that would otherwise take days and weeks to create.
The 60 year-old has learned many things over the years. First, it is important to know your limitations. Second, it is crucial to value your work. "Remember this at every step, from designing a piece to the quote you present to your customer. Don't let anyone devalue your work, or push you into doing something you can't do."  His third bit of advice?  "Always get a deposit!"
Looking back, the thing Stephen values most about being an entrepreneur is that he is his own boss. "I enjoy being independent—and not part of someone else's dream. This means the world to me."