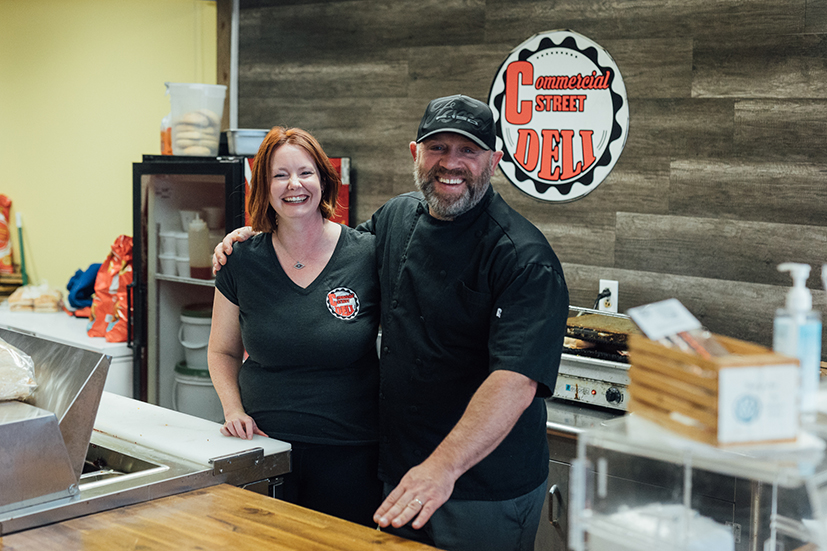 Amanda and Jimmy Donato saw a void in their community's restaurant industry that they were adamant about filling.
With Jimmy's background and passion for cooking—in an area surrounded by many fast-food options—opening a healthy restaurant seemed like a great solution.
"We felt like we would be filling a niche of healthy-to-go options that were affordable for people on the go," says Amanda Donato, owner of Commercial Street Deli.
In 2016, the couple opened Commercial Street Deli. This classic mom-and-pop shop serves anything from sandwiches, homemade soups, and salads to "fit bowls"- delicious bowls containing healthy food group items. Every Friday, the deli offers pre-ordered take-home suppers, which have been extremely popular and usually sell out.
Getting their restaurant up and running wasn't always easy. Although the couple wanted to serve the community healthy meals, they faced financial challenges along the way. Fortunately, CBDC Northside Victoria in North Sydney, N.S., was able to help.
CBDCs are not-for-profit organizations that support the success of small businesses in rural areas by providing financing, training and advice to entrepreneurs.
CBDCs strive to improve the economic viability of their communities. With local staff and volunteer directors from the local business community, CBDCs have specific knowledge and awareness of the community's needs.
"They believed in our business plan and thought we had something. They helped us get started in our first location," says Jimmy Donato, owner of Commercial Street Deli.
When the Donatos were looking for a new location for their restaurant, they found the perfect building for sale. They sought assistance from their local CBDC again to purchase the building and make their dream a reality.
The Donatos found CBDC Northside Victoria to be supportive, knowledgeable, and encouraging.
"If it hadn't been for CBDC, we wouldn't be anywhere now. We would have had to give up the business if it wasn't for them," says Jimmy. "We had some short deadlines to meet and they went above and beyond for us. It was just a very seamless transaction and they made it very easy."
Ryan Ivey, economic development officer at CBDC Northside Victoria says they cherish their clients and are always there to help.
"Whether it's before, during, or after the loan, we say you're a client for life," he says.
Ivey also enjoys the restaurant and adds that it's a pleasure to do business with people who create great products or services.
"There are few things better than stopping into someone's place and enjoying the product or service they offer," says Ivey. "The sandwiches that Amanda and Jimmy serve are absolutely delicious." 
Commercial Street Deli was named the best restaurant in Cape Breton for three years, as voted on by customers and awarded by the Chamber of Commerce.
Jimmy and Amanda are proud to have been recognized and are grateful for the support of their patrons. Commercial Street Deli is also honored to be one of three finalists for the Restaurant Association of Nova Scotia for Limited Service.
"We really pride ourselves on good food and good service," says Amanda.
Ivey enjoys seeing local businesses and the community thrive. He finds it rewarding to play a part in this and encourages potential entrepreneurs to explore their options with the CBDC.
"Come on in and have a chat if you have an idea in mind," says Ivey. "I'm looking for people who have a passion for something, who really enjoy what they do, and have a knack for it."
- Beth Suddard, SaltWire