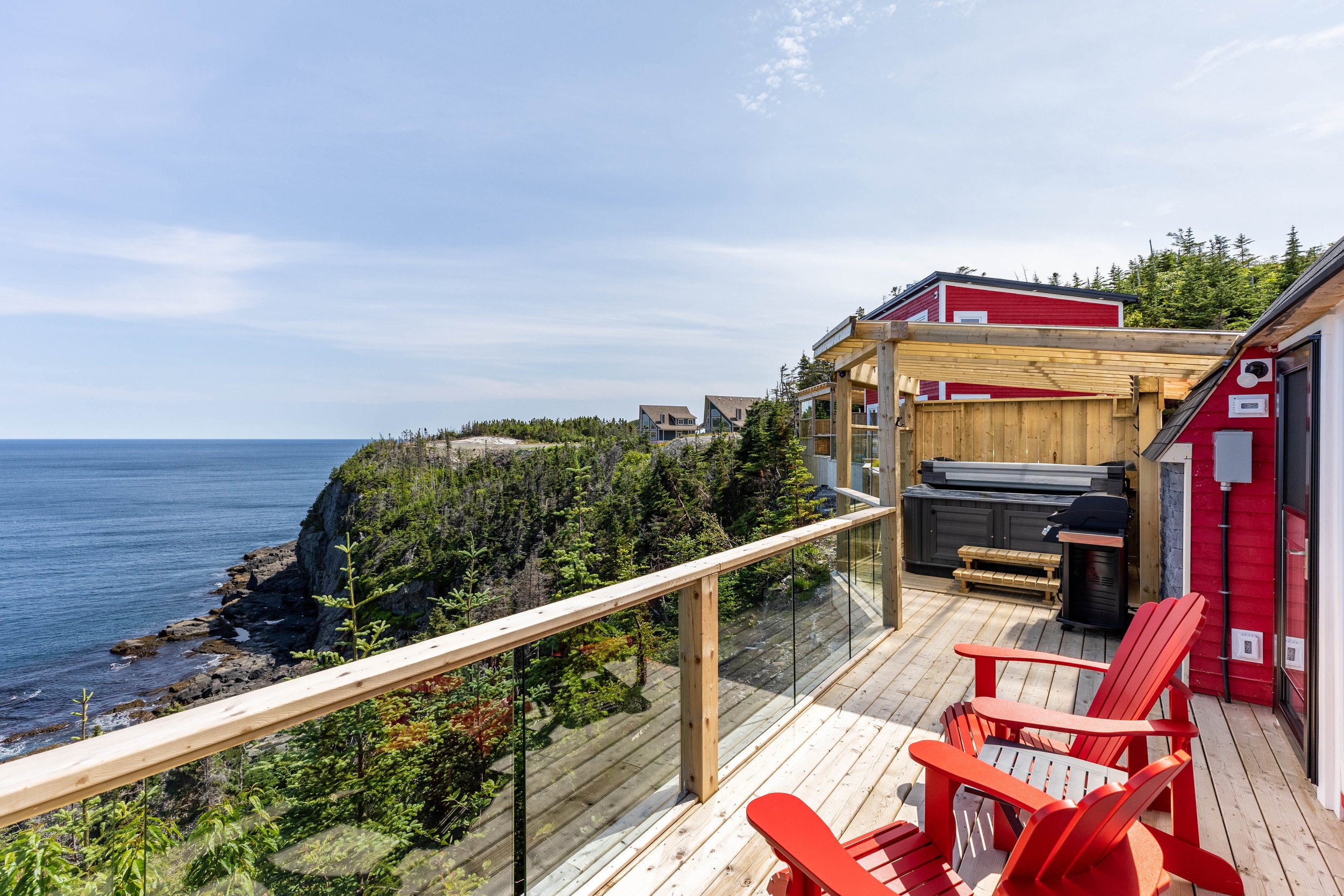 Trip of a Lifetime
The family who vacations together, opens a tourism-related business together! The March family were supposed to take a month-long RV trip in Newfoundland, but when they fell in love with a special corner of Bauline East in Tors Cove, they decided to not only make it their home, but also their business!
The family, including Craig, Devin, and Ryan March, and Paula Temple-March, launched Cliffs Edge Retreat by first purchasing the main house and immediately renovating the smaller buildings on the land at 9 Celtic Rendezvous Place, Bauline East. The family took their first booking on May 15, 2022.
A View From The Top
"We have a genuine love for Newfoundland and we really wanted to share that with others in a meaningful way," Craig says. "We aim to provide our guests with a Nordic/Scandinavian spa
experience, paired with the most luxurious and well thought out amenities - not to mention some
of the most beautiful views Newfoundland has to offer."
The luxury retreat – located close to La Manche Provincial Park and ecological reserves – offers not only saltwater hot tubs and saunas, but picturesque views of dancing humpback whales, migrating puffins, and impressive weather phenomenon. 
"There are many amazing aspects of running your own business, especially this type," Craig says. "One in particular is the joy of providing guests with an experience that you wish to have when you go on a retreat; providing a service where people don't feel like they've paid near enough, or feel they received a real personal touch from the host."
Bedroom Community
The family business has taken community seriously, relying on local suppliers for everything from signage to artwork, and they've partnered with and cross-promote other local tourism businesses in the area. Cliffs Edge Retreat's team has even pitched in and helped out with the annual puffin rescue during the two-week period when baby puffins mistakenly fly inland and have to be transported to the ecological reserve islands.
"With time we hope to build more programs that help preserve the coast of Newfoundland and the marine life that come with it," Craig says. "A Newfoundlander's community is on land and in the sea, and the better preserved it is, the healthier our community is!"
Pitching Inn
But Cliffs Edge knows a bit about getting some help to build something great. The family business was started with the support of CBDC Celtic and its General Loan Program.
"Without the initial funding they offered, the project would not have been able to launch as quickly as it had," Craig says. "We are working further with CBDC on other programs that they offer such as the Entrepreneurial Training Fund Program and then Consultant Advisory Services Program. CBDC as a whole has been a great support throughout the entire process and we look forward to continuing to work with them in the future."
CBDCs throughout Newfoundland and Labrador work with businesses in all stages, offering financial and technical support. Ready to start your business? Get in touch with one of our business advisors and let's talk about making your dream a reality.