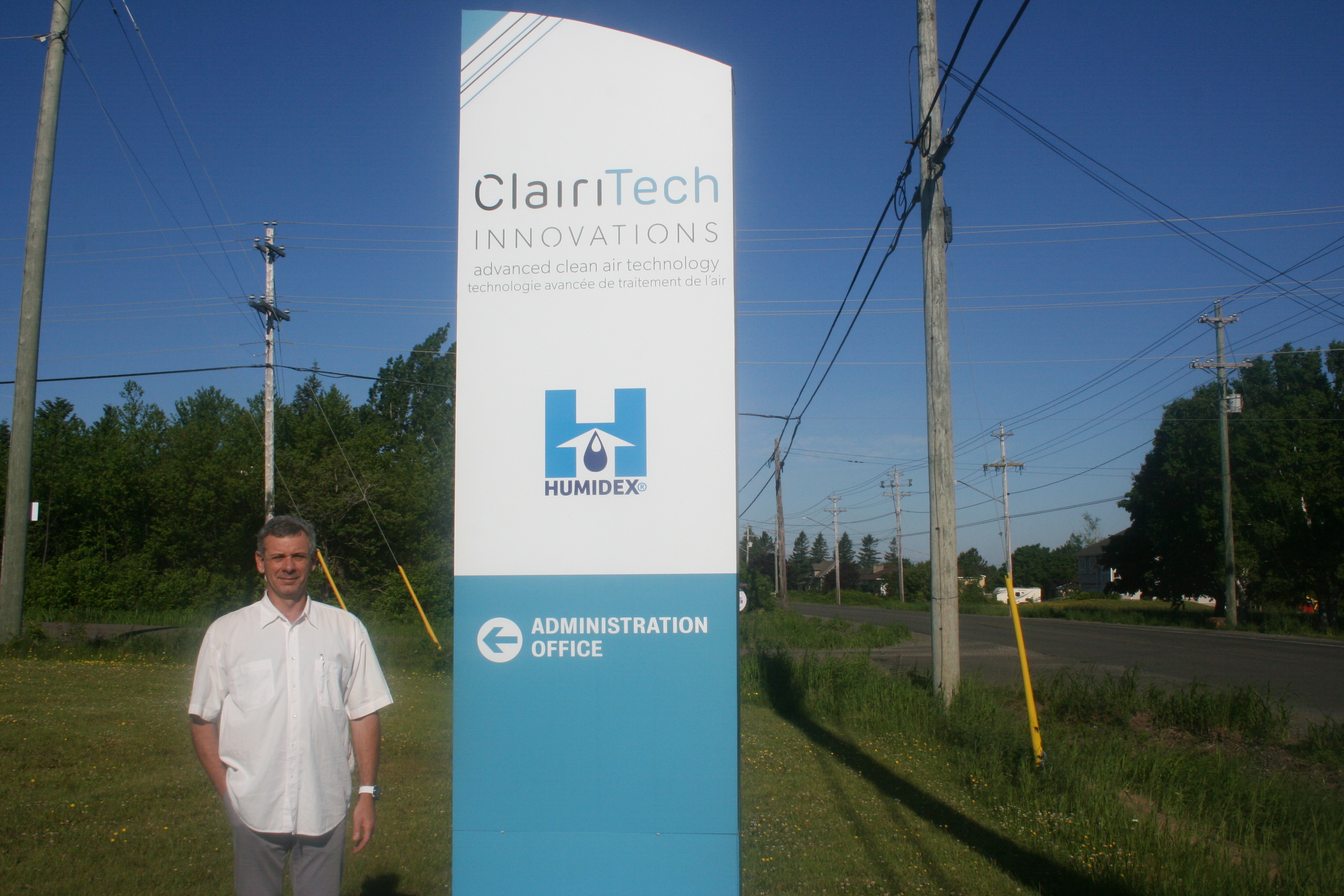 Clean Air with Every Breath
Clear air is something most of us take for granted. Outdoor pollution isn't that extreme (with a few exceptions in major cities), but what about the quality of the air inside the dwellings where we live? Exactly how 'clean' and fresh is it? And what about houses that have musty, humidity-laden basements emitting that certain odour one can definitely smell upon entering the home?
Well, there's a company that can solve all of these air problems. It's called ClairiTech Innovations Inc. (formerly called Air Tech Equipment), and they've been producing state-of-the-art air and moisture control systems since 1989 in Boudreau-Ouest, New Brunswick.
Originally started to provide solutions to problems of excess moisture and dampness in basements, ClairiTech has now expanded their lines to provide a wide variety of options to provide whole home air cleaning solutions. These units have been specifically designed to work in apartments, homes, garages, sheds and yes, even crawlspaces – wherever there's a need to remove moisture to prevent the growth of mould and increase airborn bacteria throughout the home.
"Not only do they provide good, clean air", says Serge Colin, President of ClairiTech, "They also are very quiet when in operation and are both energy efficient and economical to run. Our units are built to last, plus we also offer solid guarantees on workmanship as we have strict quality control guidelines in place in our manufacturing plant, combined with our selective process for choosing sustainable suppliers and implementing reliable components. It is the vision of our company, which also matches our values, that we are aiming to achieve the implementation of a supply chain that has the lowest carbon footprint making a real commitment to sustainable development activities."
One of their main products, the Whole Home Ventilation System called the HumiFresh Hybrid 120, is an all season, all climate unit that is both a moisture control system and an air exchanger which allows for energy/heat recovery ventilation (ERV-HRV). This system is currently the only product in the market that recovers energy from stale air while transferring it to fresh air. The installation of one of these units in a home will provide drier, odour-free air during the warmer months as well as deliver a healthier, more comfortable home in the colder months.
Keeping up with newer technology is one of the key components to ClairiTech's success. "We're currently working on a HumiFresh Hybrid 200 version", states Serge. "This newer model will have a sleeker design allowing it to be more easily installed in smaller or tighter spaces. We also have other designs that are in test mode at the moment, and are always on the look-out for ways to provide clean air solutions to our valuable clients."
Serge is the first person to say that if it wasn't for the support he received from CBDC Westmorland Albert, he might not be involved in this business at all. "Back when I was doing my research into purchasing an existing business, I had examined quite a few of them before making the decision to buy this one. However, traditional lending institutions were reluctant to take a chance on me. The CBDC helped by granting me a loan for part of the purchase price amount for which I am very grateful. They've also continued to support our business by providing us with funding to help us obtain training in Human Resources. It's good to know that they're willing to help rural businesses succeed with ongoing training resources."
These days things are definitely on track for continued future growth at ClairiTech Innovations Inc. By ensuring that complete customer satisfaction is always priority number one, their clients can get a good night's sleep knowing the air they're breathing in is clean and pollutant free.
© Marlene Oulton 2016