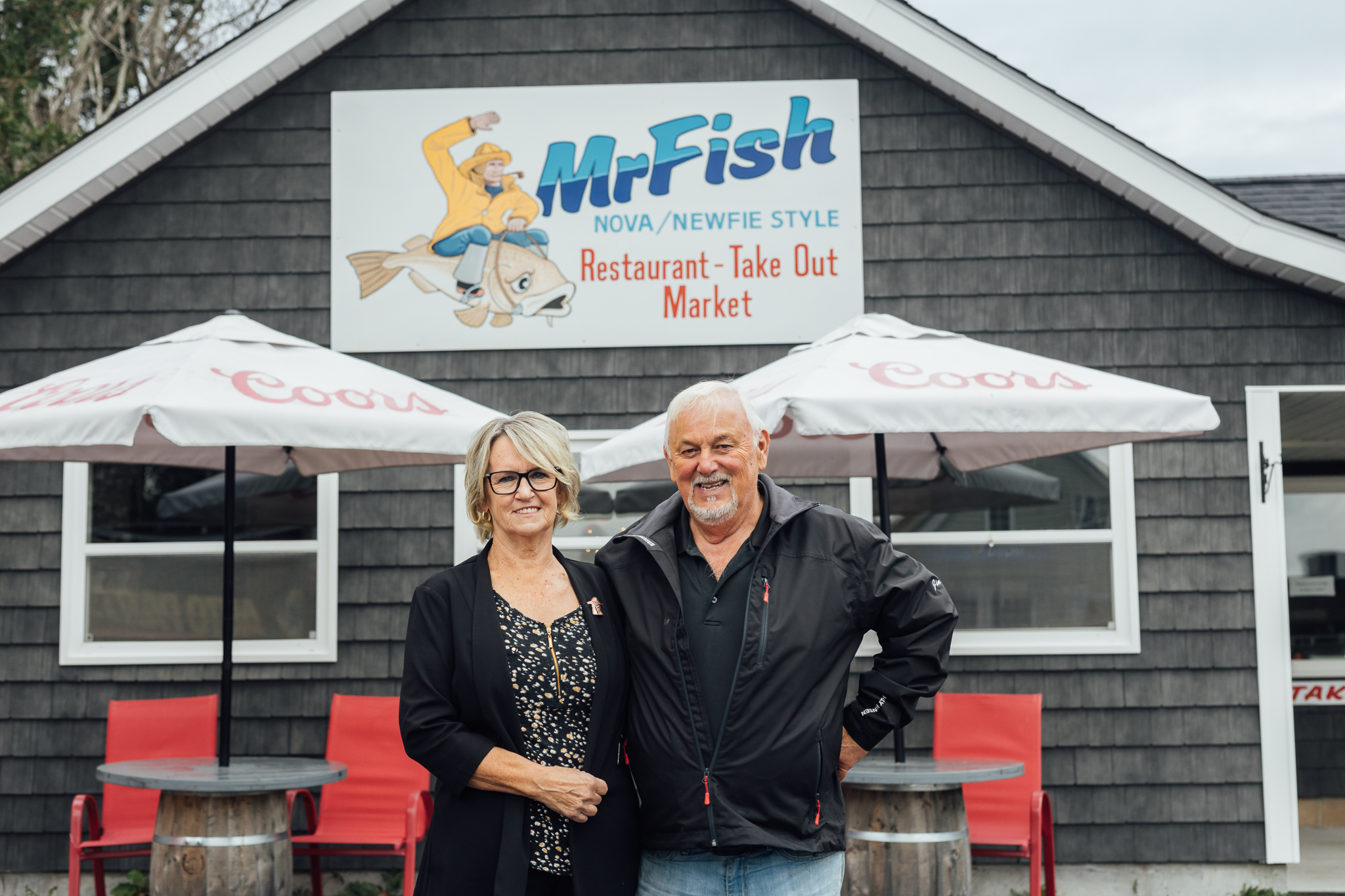 CBDC helps small businesses thrive in Shelburne
Mr. Fish is a local business that took advantage of help from the Shelburne CBDC to revamp its popular seafood restaurant.
Sandra and Jim Goodick knew that Mr. Fish, a seafood counter in Shelburne, would be an ideal place for people to gather and enjoy high-quality seafood. So they turned to their local CBDC to make their dream a reality. 
Jim opened Mr. Fish in 1997, but decided to sell the restaurant to pursue other pursuits. The restaurant has had several owners over the years. When Jim retired in 2019, he decided to make Mr. Fish the restaurant he always dreamed it would be. 
"When I retired, I wanted to buy the restaurant and expand it, because I always thought it could offer more than just a take-out window. I wanted to add rooms, a new kitchen and make it a place where people could sit and enjoy a good meal," says Jim. 
To expand Mr. Fish, the couple needed financial assistance, which CBDC Shelburne was able to provide. 
Non-profit organizations, CBDCs contribute to the success of small businesses in rural areas through financing, training and advice to business creators.
"Here at CBDC, we operate a little differently than traditional banks," explains Heidi Wagner, general manager of CBDC Shelburne. The CBDC focuses on the needs of the people and finds ways to support local businesses through financial loans, assistance with developing business plans, accounting and many other means. »
The Mr. Fish business grew out of the need to open a seafood market in the community, and the Goodicks are well known in the area. They've been very busy from day one, Wagner said. 
As a prominent business leader in the community, Jim was familiar with the CBDC staff and knew they could provide the support staff he needed for his business. 
"At the CBDC, we know who you are because we work with the community. It's a small town, so everyone knows each other. I knew I could trust the CBDC and they could trust me as a successful business owner in the community," Jim emphasizes. 
"When we started, we had to buy new equipment and renovate the building, which was a lot of expense at first. If we had not found support from the CBDC, we probably would not have been able to open the trade," adds Sandra. 
The restaurant is now a popular establishment offering quality locally caught seafood, fried chicken and Newfoundland specialties like the Jiggs dinner , which includes root vegetables, ham and mussels. 
"We offer fresh, local seafood, much of which is caught aboard our own boats," explains Jim . We do not purchase seafood that has not been caught locally. »
Jim has worked in the fishing industry for years and knows that quality makes the difference in seafood. He takes pride in knowing that he only serves the best and freshest produce available.
"We are different from other seafood establishments because I buy directly from the boats. We speak directly to the fishermen, which makes the difference in terms of quality," explains Jim . 
Mr. Fish also has a fishmonger which allows customers to see the fish that will be served to them, Sandra continues.
This year is the first time Mr. Fish has been open during the winter. Usually the business is seasonal, but due to its popularity in the surrounding area, the couple decided to keep it open.
"We were very busy and people were asking us, so we decided to stay open all winter this year. We received an extraordinary response, rejoices Sandra. Our locality is very supportive of us, which we love. » 
"It is the people of the region who make us live and that is why we are always listening to them. Tourists are a plus, but we always look forward to seeing our regular customers again," she says.
The catering industry is not easy, says Sandra. The pandemic certainly didn't make life as a small business owner any easier, but knowing the CBDC was ready to help was instrumental, she adds.
"The CBDC understands people's struggles and can respond to our needs, which adds a personal touch," says Sandra . The organization offers something other than financial services. I took their accounting classes and they taught me how to use social media, like a Facebook business page, and we feel like the organization is still behind us. »
https://www.saltwire.com/atlantic-canada/more/custom-content/cbdc-helpin...