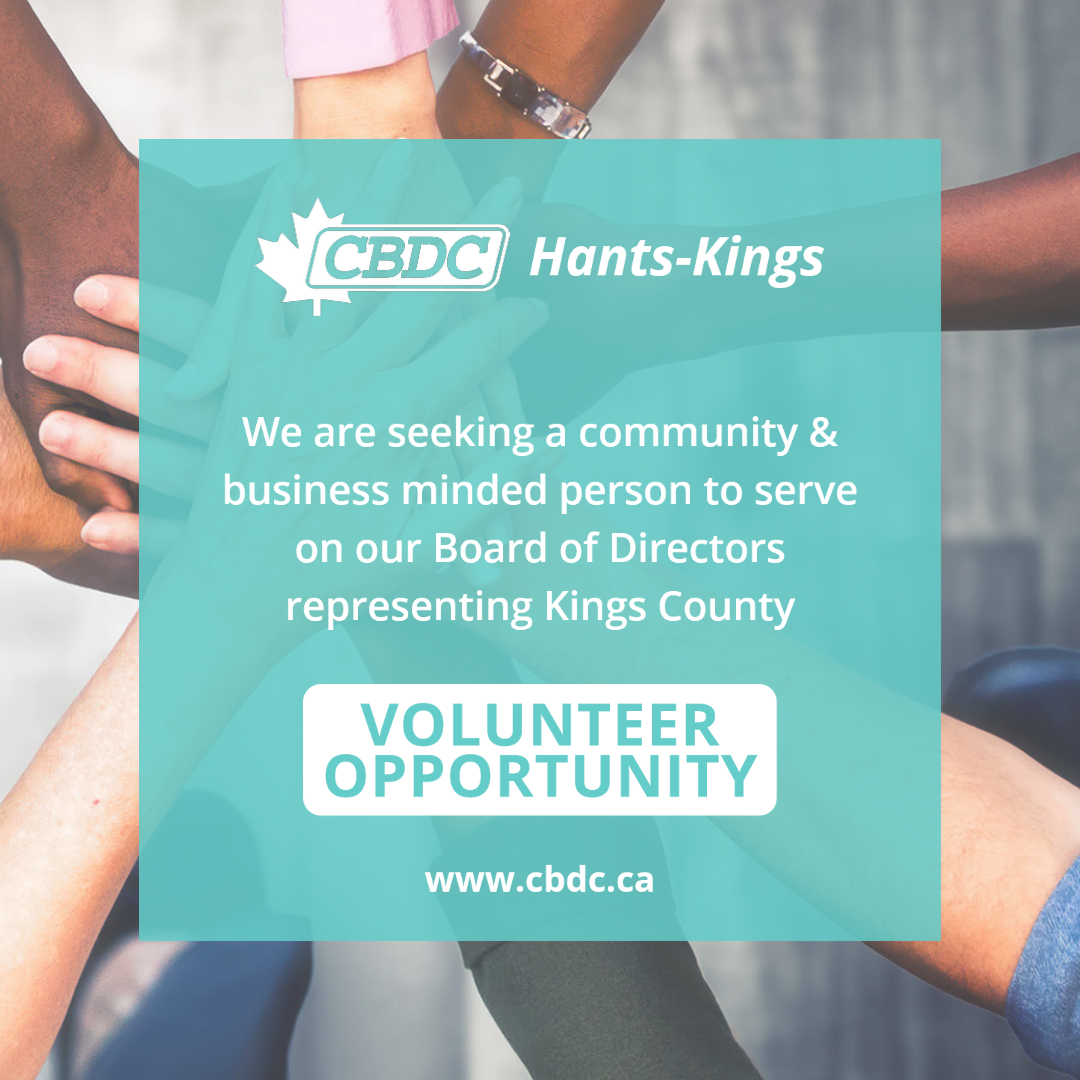 Board Member Recruitment – Kings County
CBDC Hants-Kings is seeking a community and business-minded person to serve on our
Board of Directors to represent Kings County.
As a volunteer Director, you will be part of a team that directly impacts your community by contributing to business development and rural job creation. We specifically encourage individuals with strong community connections, integrity, personal experience as an entrepreneur, and/or financial expertise to join our energetic and engaged Board.
CBDCs (Community Business Development Corporations) are a network of independent, not-for-profit organizations that work in cooperation with all levels of government and the private sector to meet the needs of small businesses. CBDCs assist with the creation of small and medium-sized businesses and in the expansion and modernizing of existing businesses by providing financial, advisory, and technical services.
CBDC Hants-Kings supports business development and growth in East Hants, West Hants, and Kings County.  We have 11 employees who serve our clients from offices in Windsor, Kentville, and Enfield. In addition to offering business financing, training, and advice, we also administer the Self Employment Program. Our Board plays a key role in our mandate to contribute to vibrant and prosperous communities by supporting business development, growth, and success.
Our staff and management are responsible for our operation and day-to-day activities. The board contributes by making local investment decisions and providing organizational governance and oversight. Board meetings are held monthly (or as required) at our head office in Windsor (Board members may also attend remotely). Board members review the loan applications prepared by CBDC staff prior to the board meeting, where the applications are discussed, and the board makes lending decisions. Travel to meetings is reimbursed in accordance with federal treasury rates and a meal is provided for in-person meetings. Board Members are appointed for a three-year term and may be reappointed for up to two additional three-year terms.
If you would like to join our team of committed volunteers, please complete our application form, and include your community engagement, background and any other relevant information. For more information on CBDC Hants-Kings, please visit our website (www.cbdc.ca) or Facebook page (www.facebook.com/CBDCHantsKings). Please reach out if there are any accommodations that would make the application process easier for you.
Interested individuals must submit a completed application form (attached) to:
Email: jennifer.nicholls@cbdc.ca
Mail:
CBDC Hants Kings
ATTN: Jennifer Nicholls
PO Box 2788
Windsor, NS B0N 2T0
Applications must be received by Friday, July 29th at 4:00 pm