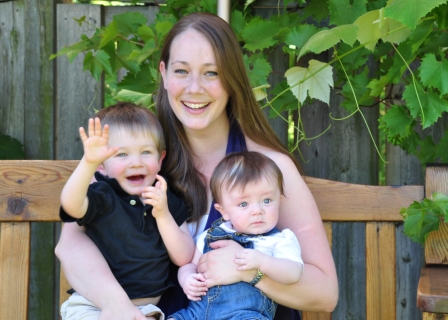 Bye Bye Fabric Softener – Hello Woolies Dryer Balls!
If you were to ask ten of your closest friends how much they enjoyed doing laundry, eight of them would most likely complain about how long it takes them to sort, wash, dry and fold their clothing.
Well, Woolies Dryer Balls of Berry Mills, NB, has developed a revolutionary product that will cut down on the length of time it takes for your clothes to dry which equates to reducing your energy costs and eliminating the need for often expensive fabric softeners. Plus, as an added bonus, they also manufacture a scent-free line for people who suffer from fragrance allergies.
These 10-inch round balls are hand-made and felted from 100% Canadian wool, they are non-toxic and chemical free. Simply toss 4 of these 'wonder' balls into your dryer with your wet clothing and they will cut your drying time by approximately 25%. Better yet, double up on your Woolies (use 8 of them instead) and you'll reduceyour drying time by 45% which will have a positive impact in lowering your electric bill. Best of all, just leave your Woolies in your dryer for the next load – no need to remove them because even though they absorb moisture from your clothes, by the time the cycle is finished, Woolies are dry and ready to be used again and again. (Shauntha is still using her original set 4 years later!)
Woolies are the brain-child of owner Shauntha Boyd who came up with the idea when she was looking for an alternative to dryer sheets to use when drying her second child's cloth diapers. She found a source in the US, but the shipping costs were so prohibitive she decided to try to hand-craft a similar dryer ball. With the help of her Nana who was a long-time felter of slippers, she constructed a ball from pure wool for Shauntha to use in her dryer, and much to her surprise, her laundry dried faster. An added bonus was there was no need to add potentially harmful fabric softeners or laundry sheets to remove static to her laundry.
At first, Shauntha made a few sets for friends as gifts, but word soon spread throughout the community on how well these balls made from wool worked, and in 2011 the company Woolies Dryer Balls was born.
 
When asked how she managed to take her innovation to the next level and turn it into a business, Mrs. Boyd had this to say:
"At first it was overwhelming. I didn't have a business plan and had no idea where to start. I did a Google search using the words 'starting a business in Moncton' and up came the CBDC Westmorland Albert and Greater Enterprise Moncton websites. I contacted the CBDC and started working with Nathalie Gallant who suggested I take the Business Development Seminar (BDS) offered through them as well as applying for the Self-Employed Benefits program. While taking the BDS I was able to network and made many great contacts which helped when I launched my company. I'm now in the process of securing a loan through the CBDC to mechanize my business. This will allow me to increase production by 125% once the equipment is designed, manufactured, and up and running. I'm incredibly grateful for all the assistance I've received from Nathalie and all the wonderful staff at the CBDC."
So if you're looking for a non-toxic, chemical free and eco-friendly way to cut the energy consumption of your clothes dryer, go to www.WooliesDryerBalls.com to place your order. Woolies are available in all natural white or coloured choices, and scented essential oils can also be added for those who prefer adding a fragrance to their laundry. They also offer custom designed Woolies for people who prefer a fun-looking dryer ball, plus all their products are backed by a one year warranty.
Give yourself a gift of extra time saved from doing laundry while giving the environment a break in energy consumption today – buy a Woolie!
©Marlene Oulton