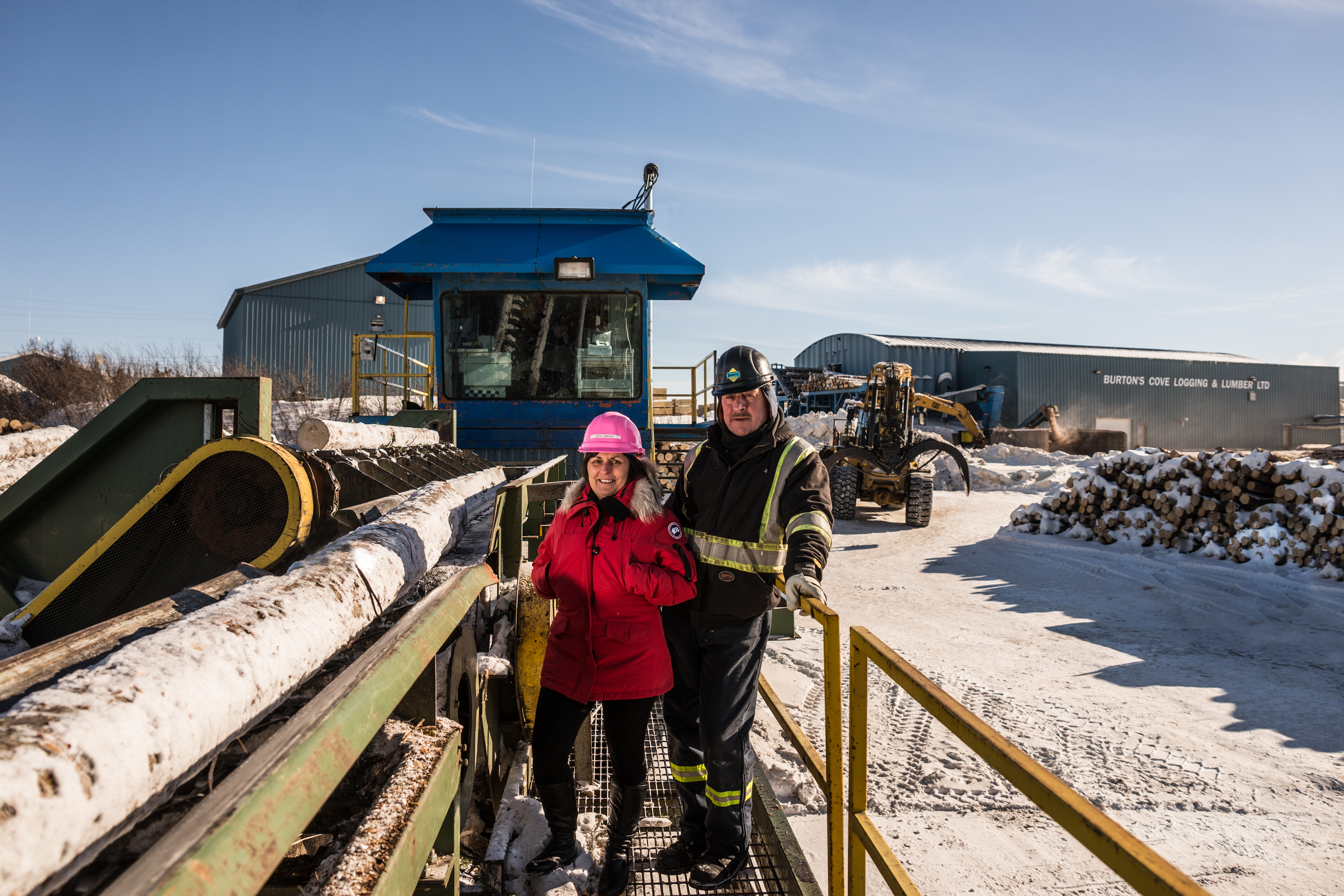 Burton's Cove Logging and Lumber Ltd
Born from a desire to make a living at home, the entrepreneurial career of Fred Osmond, owner of Burton's Cove Logging and Lumber Ltd, began with a single backyard sawmill. Now, more than 30 years later, Osmond's company has become the largest employer in Hampden, with more than 40 onsite workers from the region.
"My background was in construction, and at the time, those jobs were disappearing. I was faced with the option of chasing work or finding a way to make a go of it at home. What began as something small, has given me, my family, and many others from this region a decent living here where we all grew up. It's not easy work and it is busy, but there is a lot of satisfaction looking back from where it all started to where it is today."
-       Fred Osmond, owner, Burton's Cove Logging and Lumber Ltd
Over the years, from when the company was still establishing itself to today as Fred looks for new opportunities to grow, Burton's Cove Logging and Lumber Ltd, has worked with the local Community Business Development Corporation (CBDC). CBDCs provide a variety of services to help entrepreneurs start and grow their businesses including financial assistance opportunities, business counselling and advice, entrepreneurship development and training, technical assistance, and advocacy.
"CBDCs offer entrepreneurs a variety of supports and options for starting, growing and expanding businesses. To see the evolution of a company like Burton's Cove Logging and Lumber Ltd go from a backyard sawmill to a key regional employer shows how a single idea can develop into a successful venture. We are proud to offer our support to business owners like Fred Osmond and help strengthen rural economies all over Newfoundland and Labrador."
-       Roseanne Leonard, Managing Director, Newfoundland and Labrador Association of CBDCs
During the 2016-17 fiscal year, CBDCs in Newfoundland and Labrador have disbursed more than $20 million to help start, maintain, and modernize small businesses throughout the province. Over the past year, this funding has helped leverage an additional $14.5 million in funding from other sources and create and maintain more than 860 jobs. In the Humber region, CBDC has provided more than $1.3 million to businesses, resulting in the creation of 29 new jobs and helping maintain one existing position.