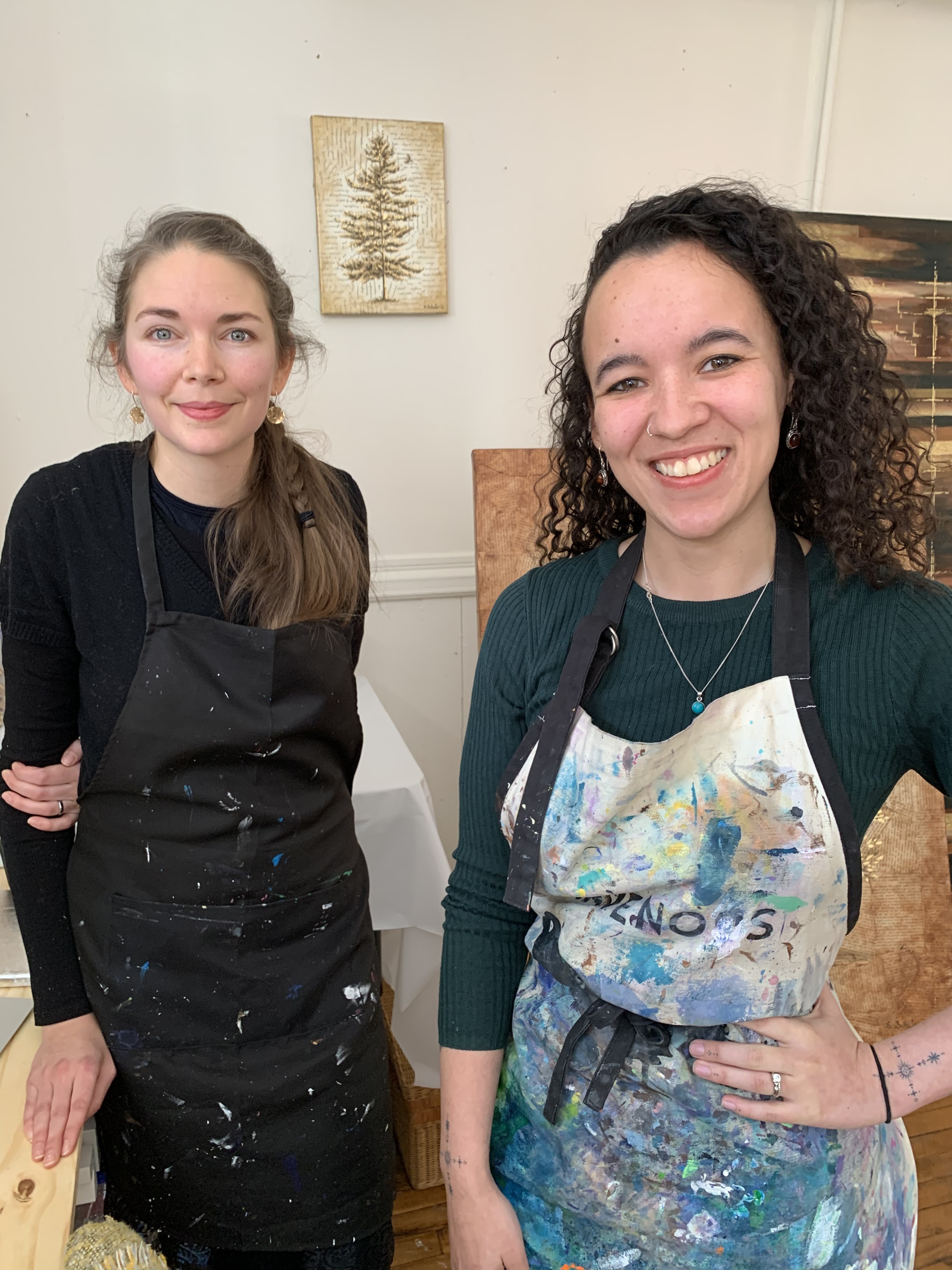 Brittany Schuler Art and Penny Heather Artworks
In an old building in downtown Fredericton you'll find the busy studios of two artists, both new business owners, successfully turning their passions into full-time jobs.
Brittany Schuler is a contemporary visual artist who works with a variety of mediums including acrylic, oil and collage on nature-inspired pieces.
"I like to explore how nature interacts with light and shadows, and the analogies that we can pull from that," she says.
Brittany grew up painting and drawing and says she was fortunate to have family members encourage her to discover art at an early age. She studied fine arts and education in university, but it wasn't until recently that she decided to make it her full-time career; teaching art, doing commission-based work and selling her own personal art.
"It's such a rewarding experience," she says. "Art is such a multi-faceted language and I love to see the impact it has for clients; people who have asked me to do commissions, teaching it to children. There's just something about it that's really magical."
Across the hall from Brittany's studio, another new business owner artist is working on her latest piece.
Penny Heather creates primarily paintings and sculptures but says she will work with any medium on spiritual nature-inspired pieces.
"I have sort of an undefined spiritualism and I try to create work that is inspired by my impressions of the environment that is around me," says Penny. "In that, I'm finding ways to connect with other people who have similar experiences with nature and in their environment. And just try to find a common ground between the two of us."
Like Brittany, Penny says her passion for art started at a very young age.
"I was very creative as a child; I was always drawing and painting and sketching," she says. "I was always passionate to turn this into my business, but you are told by society that you can't do that. I disagreed, so I started to think about how I could turn this into my full-time job."
Both Brittany and Penny turned to CBDC Southwest for advice on how to start their businesses, and both were accepted into the Self-Employment Benefit (SEB) program.
Brittany says the financial cushion of the SEB program enabled her to focus on things that are necessary to build a sustainable business, and the CBDC Southwest guidance she received helped point her in the right directions.
"They would contact me and say, 'What do you need in your business? What do you need to know? What are you struggling with?' And it's been really great because they have workshops and you meet other people who are doing their own businesses at the same time and it's been very resourceful."
Both artists say they highly recommend CBDC Southwest and the SEB program.
"They were extremely helpful and encouraging. They guided me on practices that are pretty universal to any entrepreneur's business; to help me build this business and this brand, and make it something I can do for the foreseeable future," Penny says. "The SEB program allowed me to not worry so much about paying the bills, and develop a portfolio of work. Now I am constantly working on pieces that I'm really excited about and I feel it aligns me with my clients very easily."
These two new entrepreneurs and studio neighbours are each realizing their dreams by doing what they love.
"You wake up each morning and you're excited about you're doing. So, I consider it a huge blessing to be able to do what I want to do. And to bring to reality the ideas that I have for my art. All of that is a gift, it really is," says Brittany.
Penny says every minute is worth all the work it takes to be a successful artist entrepreneur.
I'm just blissfully happy all the time, just being able to do what I love to do and what I believe I was meant to do, and reaching and connecting other people with work that I create, it's just exhilarating."
Find Brittany Schuler Art on Facebook, Instagram and at brittanyschulerart.com.
Find Penny Heather Artworks on Facebook, Instagram and at pennyheatherart.com
Funded by the Government of Canada and the Province of New Brunswick through the Canada-New Brunswick Labour Market Agreements.